An outline of Samsung Electronics' third foldable smartphone "Galaxy Fold 2 (tentative name)" has been made public. Although the overall design looks similar to that of Galaxy Fold that was released last year, its interior and exterior displays will be bigger than that of its predecessor. Performance of its display will also be improved, and it is expected that its level of completion will be much higher as it uses foldable glass for display. Samsung Electronics will probably not include an S Pen to the Galaxy Fold 2 that has drawn interests from consumers.
According to relevant industries, it was confirmed that the Galaxy Fold 2's interior and exterior displays are 7.7 inches and 6.23 inches respectively. The interior display uses foldable OLED panel while the exterior display uses a separate OLED panel so that one can make a call or use internet without having to open up the phone.
Both interior and exterior displays of the Galaxy Fold 2 are bigger than that of Galaxy Fold. Galaxy Fold that was released last year is made up of 7.3-inch interior display and 4.6 exterior display. Interior and exterior displays of the Galaxy Fold 2 are bigger by 0.4 inch and 1.63 inches respectively.
It is likely that Samsung Electronics made such decision in order to differentiate the Galaxy Fold 2 from the Galaxy Fold and satisfy requests from consumers who want bigger screens at the same time. It is expected that the exterior display especially will materialize a "full screen" when the Galaxy Fold 2 is folded.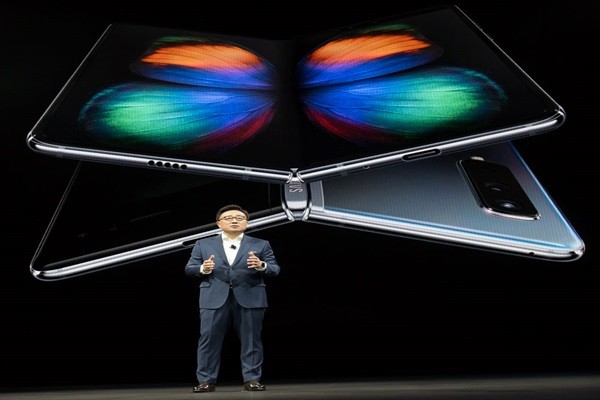 Changes in performance of the Galaxy Fold 2's display are also drawing eyes. 7.7-inch interior display will have a 120Hz refresh rate. Refresh rate is the number of times that a display screen shows frames in one second. As refresh rate goes up, a device can show a dynamic screen more smoothly. Considering the fact that the refresh rate of Galaxy Fold is 60Hz, the Galaxy Fold 2's refresh rate is about two times higher. The Galaxy Fold 2 also uses foldable glass for display cover window while the Galaxy Fold uses transparent polyimide (PI) for its display cover window.
It is understood that Samsung Electronics will sell about 3 million units annually. As a result, it started placing orders for necessary components that will be used for 300,000 units. Necessary components went into production starting from last month. Based on production schedules, it is expected that the Galaxy Fold 2 will be released after August. President Koh Dong-jin of Samsung Electronics also once said in April that the company will release a next foldable smartphone before fall.
It is heard that Samsung Electronics is looking into introducing its new strategic smartphones for the second half online on August 5. It is likely that Samsung Electronics will introduce the Galaxy Fold 2, Galaxy Note 20 series, smartwatch Galaxy Watch 3, and wireless earphone Galaxy Buds Live on this day.
Staff Reporter Yun, Geonil | benyun@etnews.com & Staff Reporter Park, Jungeun | jepark@etnews.com