As President Moon enters his third year of being inaugurated as the president of South Korea, President Moon announced that he and his government would focus on having the country become the "powerhouse in digitalization" that leads the world. He emphasized that South Korea would change the world's industrial map by transforming South Korea into a "global plant for high-tech industries".
Korean New Deal, which will be implemented to overcome the COVID-19 crisis, is defined as "digital new deal centered on data infrastructures". His plan during his remaining term is to help the country to lead the post COVID-19 era based on ICT infrastructures that are the world's best.
"Through innovative venture and startup companies, we are going to have our country become the "powerhouse in digitalization" that leads the world." said President Moon while holding a special speech at Chunchukwan on the 10th to celebrate his third year of being inaugurated.
His plan comes from his judgement that South Korea possesses excellent ICT infrastructures that are currently the world's best infrastructures. He also believes in the country's competitive edge in the bio field and the country's strengths in "untact" medical service, online education, online transaction, and epidemic preventive system that are mentioned as industries that will flourish after the current crisis eases.
"We have more than enough capabilities to lead digital economy by combining the fourth industrial revolution technologies such as AI and big data." said President Moon. He also added that future businesses will be created by promoting three new emerging industries that are system semiconductor, bio-health, and future car.
President Moon placed "digitalization" at the very top of the country's to-do list. He pointed out that digital economy is a trend that cannot be avoided and that it would have been a task that the country would have had to go through even if the current COVID-19 crisis did not happen. He also explained that Korean New Deal is a way to vitalize data economy by building digital infrastructures.
"Korean New Deal is our investment future investment to build digital infrastructures." said President Moon. "We are going to pursue early building of 5G infrastructures and data infrastructures that collect, gather, and utilize data as national projects." said President Moon.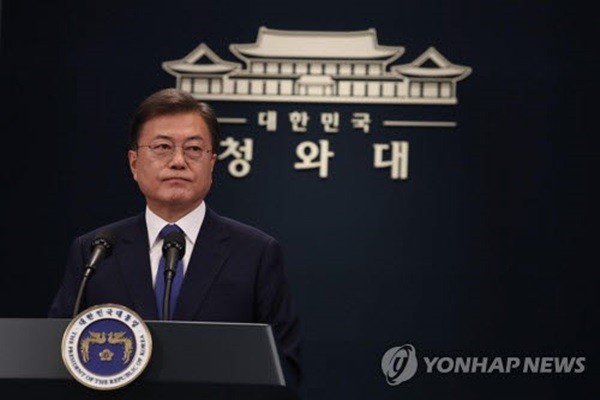 He also stated that he and his government will focus on promoting "untact" industries such as medicine, education, and distribution and actively create many jobs by applying AI and digital technologies to national infrastructures such as city, industrial complex, road and traffic network, and old SOC (Social Overhead Capital).
He also announced the government's plan to strengthen the manufacturing industry's competitive edge while mentioning South Korea as a global plant for high-tech industries because he believes that many countries have started to prefer innovative abilities and safe investments over cheap labor costs due to the current COVID-19 crisis.
"South Korea has become the world's safest and most transparent production base." said President Moon. "This is a golden opportunity for us." He also added that the government will pursue bold strategies in order to bring back "U-turn" companies and attract investments from foreign high-tech industries.
On this day, President Moon promoted Korea Centers for Disease Control and Prevention, which is currently standing at the front line to fight COVID-19, as the supervisory agency for disease control and prevention in order to enhance it professionalism and independence and announced that he would introduce multiple vice-minister system to the Ministry of Health and Welfare if the National Assembly agrees. The South Korean Government would also pursue building hospitals that specialize in infectious diseases and a national infectious disease research institute.
"We are going to establish a basis to "employment insurance era" where every worker will receive an employment insurance." said President Moon regarding the government's plan to respond to a current job crisis. He promised that he and his government will quickly resolve those who are in a blind spot to employment insurance and that they would pursue providing employment insurance to self-employed through social agreement.
Regarding North Korea, he hopes that South Korea and North Korea can become single community and a peaceful community while emphasizing the importance of inter-Korean cooperation that started from healthcare once again.
"This COVID-19 crisis has not ended yet and there are still many big challenges lying ahead of us." said President Moon. "We are going to become a country that can become a model and a leader for the world. I am going to walk bravely with the people in South Korea until I finish my term as the president."
Staff Reporter An, Youngguk | ang@etnews.com