"Blockchain technology can be seen as a double-edged sword. Although it can induce a successful project by becoming a sharp sword for a startup, it can also be used as just a marketing purpose and an incentive for a token and lead a startup to lose its concentration on the value of its business. Hopefully, startups can utilize blockchain technology as a sharp sword to have their projects become successful." said Team Leader Han Seung-joon of OKEx Korea's Marketing Team.
'TryAngle', a platform for startups to publicize their projects, recently finished its first season on the blockchain field and is preparing for its next season. StarinTech stated that 'TryAngle Blockchain Season 1', which started on the 18th of November, came to an end with its final episode on the 16th. Next TryAngle season will be on bio-related technologies.
"Blockchain is a technology that is already used in real life." said CEO Moon Kyung-mi of StarinTech. "Teams from the first season were DApp-based (Decentralized Application) projects that are used in various fields." She also added that use of blockchain technology and token economy in major and minor areas such as management of companion animals, learning of foreign languages, and shared lodging are some of examples that have shown potentials of the blockchain ecosystem in the future.
There were South Korean teams, Chinese teams, and Hong Kong teams from the first season. Some of these teams are Wehome, MEDIEUS, Ziktalk, ARTBLOC, AnimalGo, Elynet, CAMP GLOBAL, Baby Token, and Conflux Chain.
Not only they had introduced their projects through events that were held every Monday for the past five weeks, they had also had in-depth interviews with experts and Q and A sessions with judges. Representatives from multinational cryptocurrency exchanges such as BW, BitForex, Hanbitco, and OKEx Korea, blockchain companies such as Ethereum Classic Labs, and venture capitals such as SBI Investment had participated as the judges for the first season.
Judges selected teams that would participate in the first season after going through preliminary examinations. They first selected teams that received high scores in business model, team member, token economy, and construction of community. Blockchain projects that are selected as final candidates will be given opportunities to be listed on cryptocurrency exchanges that are participating as judges and other multinational cryptocurrency exchanges such as PROBIT, BITMART, and BITLEVEX that are participating as sponsors at no cost.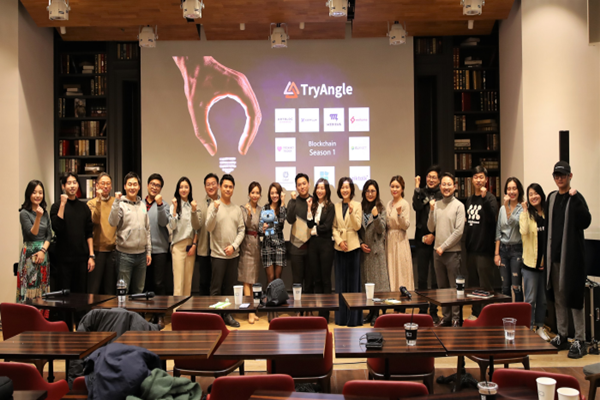 ▪Result of blockchain companies that were picked by judges and sponsors
1. AnimalGo/BitForex (cryptocurrency exchange) and BW (cryptocurrency exchange)
2. Ziktalk/BITLEVEX (cryptocurrency exchange)
3. ARTBLOC/OKEx Korea (cryptocurrency exchange)
4. MEDIEUS/Hanbitco (cryptocurrency exchange)
5. Elynet/BITMART (cryptocurrency exchange)
6. Conflux Chain/Ethereum Classic Labs (blockchain startup incubating platform)
7. Baby Token/PROBIT (cryptocurrency exchange)
Out of these seven blockchain projects, AnimalGo is the only that will be listed on two cryptocurrency exchanges at no cost. Although judges and sponsors had different reasons to pick these blockchain projects, they explained that they considered projects that can be applied to real life and have a chance to increase number of users. These seven blockchain projects will be listed on cryptocurrency exchanges that selected them at no cost or be part of an incubating program.
This season had also involved votes from the public through TryAngle's official website. 'CAMP GLOBAL' was chosen as the blockchain project with most potential. It received many votes due to the fact that it can provide a sustainable environment rather than a temporary environment to developing countries. CAMP GLOBAL's representative stated that it is planning to carry out an airdrop of small amount of CAMP GLOBAL tokens through AmonD Wallet as a gratitude for receiving many votes.
TryAngle Blockchain Season 1 was broadcasted live in Korean and English through Naver's 'TechPlus TV' channel and YouTube's 'StarinTech' channel respectively. TryAngle is co-hosted and co-ran by the Electronic Times' Media Group and StarinTech and StarinTech and a multinational Chinese blockchain media investment accelerator called Coinin respectively and it is an event for startups that are trying to improve the quality of life.
StarinTech is working on a next season that will start in February of next year and is for startups that specialize in bio-related new industries.
Staff Reporter Hyung, Inwoo | inwoo@etnews.com