South Korean Government is going to create 'online ZeroPay' that can handle e-commerce payments to expand use of ZeroPay. It is going to prepare commercialization of online ZeroPay by establishing a task force sometime this month. Many large-scale businesses such as 11STREET, eBay, and KG Inicis will be participating in preparation of online ZeroPay. South Korean Government is hoping to increase versatility of ZeroPay by having it available online and offline. (Reference: 11th page)
Ministry of SMEs and Startups (MSS) is going to establish a task force for 'online ZeroPay' with businesses that are participating in ZeroPay this year and work on preparing relevant regulations and systems to commercialize online ZeroPay by end of this year. It is going to hold a first meeting for online ZeroPay on this coming Friday.
There have been voices towards making online payments available for ZeroPay to have more people use ZeroPay so that ZeroPay can be established within markets as a simple online payment method.
Besides financial companies, large distribution, IT, and FinTech companies are also participating in commercialization of online ZeroPay. 11STREET, eBay Korea, KT, KG Inicis, PayMint, KakaoPay, Korea Digital Receipt Co., KOSCOM, HanPass, Finnq, EBCard, December & Company, Tmonet, Harex Infotech, KIS Information & Communication, and KSNET are going to participate in online ZeroPay. There is a high chance that number of ZeroPay users will increase drastically as major businesses that have infrastructures, franchise stores, and consumers are participating in online ZeroPay.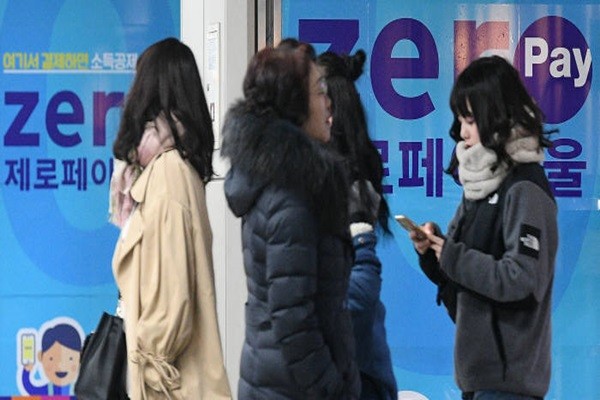 "We are going to have discussions with large-scale businesses that are pushing for e-commerce and mobile-based businesses regarding online ZeroPay." said a representative for MSS. "Many businesses are already agreeing on developing online ZeroPay."
MSS is planning to decrease amount of financial burden for small businesses significantly by eliminating VAN (Value Added Network) and PG (Payment Gateway) fees within online commerce markets as well. Currently, online stores are paying about 1 to 2% of fees. MSS believes that ZeroPay will be more superior than other simple payment platforms once it eliminates fees and use those fees to give stronger consumer benefits.
"Markets have been waiting more on online ZeroPay rather than offline ZeroPay." said a representative for a company that is participating in ZeroPay project. "Discussions about how operation, standards, and systems are going to be set up have been taking place already."
Connecting a system currently owned by a business to ZeroPay can drastically decrease cost of infrastructure investments. If Korea Financial Telecommunications and Clearings Institute utilizes BankPay, which is a joint financial payment platform, as a payment method, banks and others that are already participating in this market do not have to set up separate systems. However, South Korean Government must figure out problems that will arise as a result of VAN and PG companies losing profits due to elimination of fees.
Staff Reporter Gil, Jaeshik | osolgil@etnews.com