It is likely that Zero Pay, which is being pushed by South Korean Government for small businesses, will be equipped with a function that gives credit to those who use Zero Pay. Participating businesses have already started having relevant discussions with banks. Even if there is no balance in an account, one will be able to use up to $442 (500,000 KRW). Although some are concerned that this plan will cause household debts, South Korean Government believes that this will cause inflow of more consumers who are familiar with credit card payment.
According to industries, Finnq, which is a joint venture by Hana Finance and SK Telecom, has decided to participate in Zero Pay and is planning to link deferred payment service to Zero Pay. It suggested its idea to Seoul-si back in September and it is currently having detailed discussions with commercial banks.
Finnq's emergency loan will be linked to Zero Pay which will allow consumers to make payments even when there is no balance in an account. Emergency loan calculates interest of a loan through CSS (Credit Scoring System) and provides a loan up to $442. If Zero Pay is equipped with such function, it will be possible for consumers to make payments using Zero Pay like a credit card. Finnq and Hana Bank are currently discussing about development of relevant system and they are planning to start having detailed discussions with banks that are participating in Zero Pay.
There have been requests about adding credit offering function to Zero Pay.
Although there had been discussions with relevant departments such as Financial Services Commission (FSC), there was not any decision made. Rather, participating businesses are offering credit offering services first.
K bank also put out K bank Pay, which provides credit offering up to $442 without interest and it has practically added credit offering function to Zero Pay.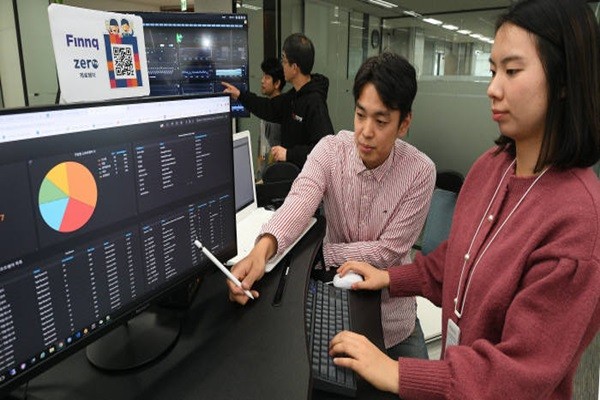 While participating businesses of Zero Pay are pushing for credit offering services, South Korean Government is also looking into adding credit line function to Zero Pay. It is heard that KakaoBank and KT, which have the most franchise stores, are also looking to deferred payment service.
Financial authorities are also looking to adding credit offering function to electronic payment methods provided by simple payment providers. It is thinking about allowing between $265 (300,000 KRW) and $442 of credit offering.
"Although small credit offering needs to be closely reviewed since there is a chance of credit line abuse, we are looking into adding credit offering function because many FinTech companies are requesting addition of credit offering function to Zero Pay." said Kwon Dae-young, who is the head of Financial Services Commission's Financial Innovation Group.
As a result, it is expected that Zero Pay can be used for KakaoPay, 11STREET, and eBay even if there is no balance in an account.
If that is the case, Zero Pay will be able to attract more users by becoming more than a debit card.
While debit cards can be used only if there is balance in an account, hybrid debit cards (credit card + debit card) can be used like a credit card even if there is no balance.
There is a high chance that Zero Pay will be applied with credit offering function as Ministry of SMEs and Startups are looking into online Zero Pay in a long term.
Meanwhile, Ministry of SMEs and Startups has decided to push for a plan that will designate major traditional markets as 'Zero Pay Zone' as a follow-up measure to vitalize Zero Pay.
Staff Reporter Gil, Jaeshik | osolgil@etnews.com