Competitions within AI (Artificial Intelligence) speaker markets are going to become more heated in 2018.
Not only will they include likes of Naver and Kakao but they will also include telecommunication companies and e-commerce companies as well. They are going to compete for upper hands in markets as new search markets that are based on one's voice and pictures rather than texts are beginning to spread.
According to industries on the 3rd, Kakao is going to resume selling its AI speaker 'Kakao Mini' starting from the 30th of this month. Although there was a setback to its sales as amount of its supplies was lower than number of demands, it has secured enough supplies this year. All 15,000 units of Kakao Mini were sold out within 9 minutes when Kakao started selling it officially in November of last year. Kakao is looking to grab upper hands within South Korean AI speaker markets by showing how Kakao Mini is able to be connected to KakaoTalk Messenger and a music service called Melon.
"We have not taken any new orders for Kakao Mini after it was sold out in November." said a representative for Kakao. "Everyone will be able to purchase Kakao Mini when we resume its sales on the 30th as we are going to have enough production capacity by then."
Naver also partnered up with LG Uplus recently and is looking to target AI speaker markets. Naver is working on propaganda of its products by targeting LG Uplus members through its AI speaker called 'Friends Plus'. It added IPTV and home IoT (Internet of Things) control function to its second AI speaker called 'Friends' that is applied with an AI platform 'Clova', which is co-developed with its subsidiary LINE. It is also planning to release 'FACE (tentative name)', which is added with display function, sometime during the first half of this year.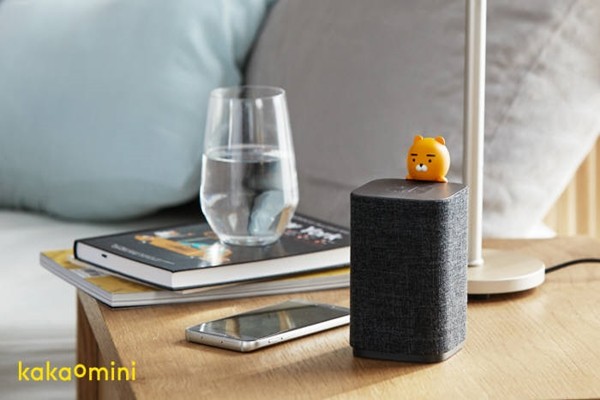 There is a high chance that Google will also release Korean version of its AI speaker 'Google Home' in the near future. In September of last year, Google release Korean version of its voice assistant called 'Google Assistant'. Starting with LG Electronics' 'V30' Smartphone, it started applying Korean version of Google Assistant to other Smartphones that have at least Android 6.0.
Reason why AI speaker markets are heating up is because paradigm of search services is going through changes. Although search services were based on texts, they have quickly transitioned towards pictures and voice command starting from last year. According to information that was recently made public by an American public opinion polling agency called Pew Research Center, it was shown that 46% of adults were using voice assistants. Google already introduced that 20% of mobile search in 2016 were based on voice commands.
Other various industries such as telecommunication companies, e-commerce companies, and hardware manufacturers are also jumping into these markets in order to grab upper hands in new search services. British economic media campaign predicted that 50% of entire search will be made by voice commands in 2020 by citing reference from comScore.
"As search services have faced sudden changes, current search services are faced with challenges from various industries." said a representative for an internet industry. "Because there is a high chance that AI speakers will be at the center of homes for searching, competitions for AI speakers are going to become that much more fierce."
Staff Reporter Oh, Daeseok | ods@etnews.com