Hyundai Motor Company is planning to commercialize world's first eco-friendly vehicles that are equipped with 'in-wheel motors', which unify motors that can turn wheels and brakes, inside of wheels. If cars are equipped with these motors, they will not need separate driving devices such as large motors and engines and these motors can minimize power loss and are advantageous in reducing weight of cars and freeing up extra space.
According to industries and Hyundai Motor Company on the 17th, Hyundai Motor Company has set a plan to commercialize world's first vehicles with in-wheel motors in 2020. These motors will be applied to eco-friendly vehicles such as EVs (Electric Vehicle) and FCEVs (Fuel Cell Electric Vehicle) that do not have engines.
Hyundai Motor Company introduced its concept car 'N 2025 Vision Gran Turismo' that was equipped with in-wheel motors at a motor show that was held in Frankfort in 2015. This car, which was FCEV, was able to immediately send output without any loss through four independent in-wheel motor 4-wheel drive system. Hyundai Motor Company has decided to mass-produce vehicles that adopt corresponding concept.
In-wheel motor that is being developed by Hyundai Mobis unifies motors and brakes into one and is equipped inside of wheels. Unlike how output that is caused as engines or motors run goes through many devices such as converter, transmission, and drive shaft that send output, in-wheel motor turns wheels directly and minimizes power loss in the middle of this process. Because weight can be reduced as related components are minimized, dual-effect on improvement in fuel efficiency is expected.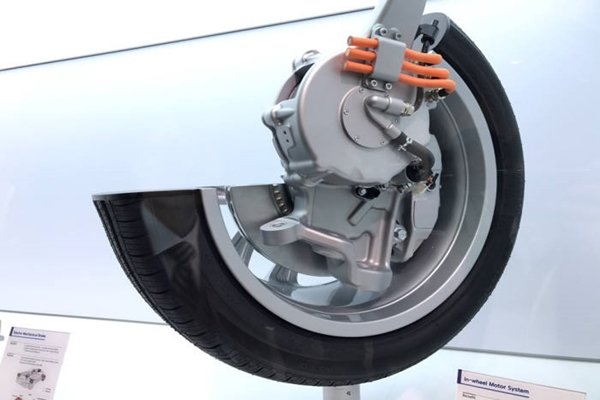 Hyundai Motor Company emphasized that in-wheel motor improves performance of safety systems. If in-wheel motor is combined with SPAS (Smart Parking Assistance System), not only does change of speed in forward motion and reverse is automatized but reduction of radius in turning is also possible as steering effect is added. Also it is possible to combine in-wheel motor with ADAS (Advanced Driver Assistance System) such as ESC (Electronic Stability Control) and LKAS (Lane Keeping Assist System).
Biggest task in commercialization of this motor is to secure trust regarding safety and ability in driving. Verification in abilities in driving within poor driving environments such as unpaved roads, snowy roads, and wet roads is also needed. Hyundai Motor Company and Hyundai Mobis are planning to solve these problems within two years.
In-wheel motor for mass-production will be a 2nd generation model and has 23kW of power. This amount of power is about 43.8% increase from current 16kW in-wheel motor. When this motor is equipped inside of all four wheels, a vehicle can produce up to 92kW in power. This output is equivalent to an engine with 123 horsepower and it can operate mid-sized sedans or small and medium-sized SUVs.
This motor will use oil-cooling type for its cooling method. When hose where water comes in is broken for 1st generation in-wheel motors that are water-cooling-type, there is a chance that cooling does not work and possible breakdown due to short circuit. Oil-cooling types fill half of motors with oil and have oil cool inside of motors. They cool motors through oil and air cooling at the same time.
"In-wheel motor system is a next-generation driving method that minimizes power loss and we are going to finish development in 2018 and commercialize it in 2020." said a representative for Hyundai Motor Company. "It will be applied to next-generation electric vehicles such as 2nd generation FCEV and we are going to slowly apply it to other variety of vehicles such as hybrid cars and plug-in hybrid cars."
Staff Reporter Ryu, Jongeun | rje312@etnews.com