Samsung Electronics is changing its strategy on semiconductor foundry business from mass-production of small amount of goods to small amount of production of variety of goods. This is its measure to get out of sales structure that had been depending on one or two major companies such as Apple and Qualcomm. To implement this strategy, Samsung Electronics has decided to open its foundry factories to small and medium companies and is focusing everything on doing business on potential small and medium companies in the U.S., South Korea, and China. It has decided to carry out a strategy called 'open foundry'.
According to an industry on the 22nd , Samsung Electronics is going to hold 'Samsung Foundry Forum' in Shanghai on the 30th. Samsung Electronics invited people who are responsible for design from major Chinese fabless companies.
Samsung Electronics is planning to announce technologies of major processes from its foundries and information on supporting design. Samsung Electronics already invited potential customers to Silicon Valley and Pankyo on the 19th of April and the 6th of July respectively, announced major processes and information on supporting design, and carried out active business activities.
Not only is Samsung Electronics going to share its high-tech processes such as 14-nano and 10-nano FinFET but it is also going to share 28-nano FD-SOI (Fully Depleted-Silicon On Insulator) that increases efficiency in production cost and open factories for 65 to 130-nano processes from 200mm semiconductor factories. In a case for FD-SOI, Samsung Electronics has secured golden yield when it tested FD-SOI and is going to start mass-producing FD-SOI in third quarter. It also attracted South Korean and foreign small and medium fabless companies as new customers for its 65 to 130-nano fabrication facilities.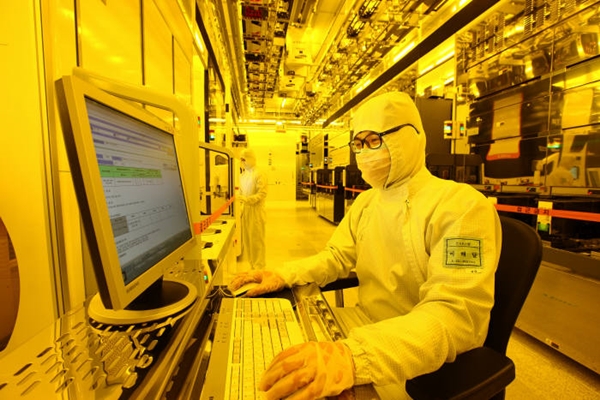 "We are producing 32-bit MCU through Samsung Electronics' 65-nano e-Flash process." said a Vice-President Chae Jae-ho who overseas Above Semiconductor's Development Headquarters. "We are going to successfully enter 32-bit MCU markets based on Samsung's advanced technical skills in processes."
Samsung Electronics has chosen reduction of production cost due to reduction of areas of chips and increase in yield as strengths of its foundry. When its XC (X-Cross) technology that makes 45° metal wiring possible is used, areas can be reduced significantly even when designs are the same. When areas of chips are reduced, production cost can be reduced also. Samsung Electronics is also going to establish database to see if there are any faults from particular patterns and implement prism service that filters out these faults from GDS. It is going to send files from finished design to third companies for customers that worry about security and it also established a process that manufacturers masks (metal discs that have circuit patterns engraved).
To settle its new strategy, Samsung Electronics is also joining hands with South Korean and foreign design houses. HanaTech, AlphaChips, and KoreaChips are major partners from South Korea while AllChip, e-Silicon, and VeriSilicon are becoming design house partners from other countries. When fabless companies make and send design code of chips, design houses are in charge of back-end work such as manufacturing and testing masks that will be used for actual wafer process based on IP of foundry companies' processes.
A reason why Samsung Electronics is changing its strategy on foundry business is to prevent itself from faltering by depending on one or two customers.
"It is a positive sign that Samsung Electronics has opened door for its foundry business, which was only opened to some strategic partners, to small and medium companies." said a representative for South Korea's semiconductor industry. "Now South Korean fabless companies can carry out their businesses within positive environment."
"I hope that Samsung will build trust with its customers by continuously providing foundry services with high quality." said a different representative.
Staff Reporter Han, Juyeop | powerusr@etnews.com