LG has started developing foldable displays. As LG is also developing its own foldable displays followed by Samsung, commercialization of foldable Smart devices is going to approach very soon.
According to multiple representatives of an industry on the 20th, LG Display has started developing foldable displays. After establishing a task force team at the end of last year, LG Display transferred foldable display project that was being carried out by its research institute to its development department.
Fact that this project is transferred to development department indicates that LG Display is starting to work on commercializing its foldable displays. It is heard that LG Display is currently developing foldable displays for foldable Smartphones that can become tablets if they are spread open. "It is known that LG's foldable display can be folded inside or outside." said a representative for an industry.
LG Display recently also made a technical alliance with a foreign business to commercialize its products as it signed off on a license with Canada's IGNIS Innovation regarding OLED circuit technology. Although detailed information regarding this cooperation is not known yet, IGNIS said that this cooperation is made to develop foldable displays.
"People are going to witness foldable Smartphones that can become tablets when they are spread open within couple years." said CEO Peter Monsberger of IGNIS Innovation during an interview with Canadian press.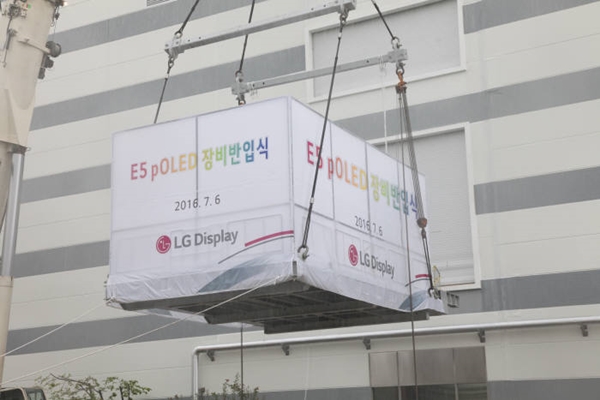 This is the first time when LG Display's movement has risen to surface as it had not mentioned anything about developing foldable displays until now. It seems that LG Display has been preparing this development secretly for long period of time.
At the early this month, LG Display started bringing equipment to its facilities (E5) in Gumi to start producing 6th generation plastic OLEDs. If OLEDs are made based on plastics, bendable, foldable, and flexible displays can be made. There are high chances that Gumi-si will become a major base station for next-generation displays such as bendable, foldable, and rollable displays.
LG Display is planning to start operating its facilities in Gumi in first half of next year.
Foldable display is a technology that is receiving a lot of attention recently from IT industries.. It is receiving attentions as a technology that will present breakthroughs in Smartphone or table markets, which have entered stagnant periods, by making development of new hardware possible. It is seen as a differentiated element by South Korea's Smartphone industry that will give China the slip.
It is heard that development project of foldable Smartphones by Samsung Electronics and Samsung Display has progressed significantly. As there are news that LG is also developing foldable displays, industries' interests on them are going to be doubled. Industries are also focused on competition between Samsung and LG on technologies.
"We cannot confirm any detailed information regarding our next-generation displays." said LG Display regarding this.
Staff Reporter Yun, Keonil | benyun@etnews.com