New brand of TVs with LG Display's OLED panels are lining up to be released. As more and more OLED products are made, it seems that global OLED TV markets will rapidly expand in upcoming year.

Skyworth recently announced at Future OLED Forum, which was held in Shenzhen recently, that it will sell 200,000 OLED TVs in 2016. As it already started introducing OLED TVs in last year, it is planning to set 2016 as the first year of actually expanding its OLED TV market.

OLED TVs that are set out by Skyworth are part of 4K resolution UHD OLED TV 'S9' series that made technological partnership with Dolby and it chose LG Display's OLED panels. LG Display is looking to expand its OLED TV market by supplying its OLED panels to major Chinese TV manufacturers such as Skyworth, Changhong, and KONKA.

This product applies Dolby's Dolby Vision that supports High Dynamic Range (HDR) technology. Skyworth already had made partnership with Dolby for TVs and it is also working with Tencents and others to secure variety of contents where one can enjoy deep and rich sound from UHD OLED TVs.

HDR technology is an upcoming core technology in UHD TV market. It has competitive edge over regular UHD TVs as it can express natural color as it is from a screen and express bright and dark areas more deeply and richly. As resolution has been increased up to 4K level, competition for technologies that express natural colors more vividly has become fiercer.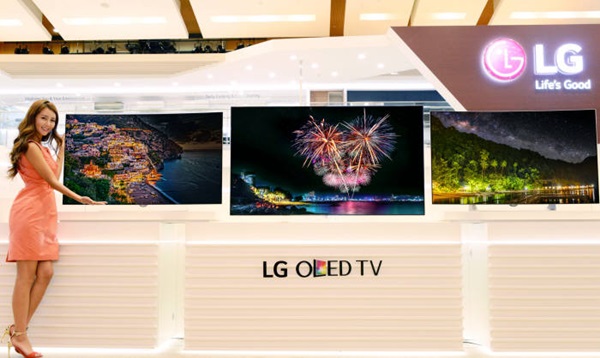 Panasonic also released UHD OLED TVs in last October to go after European markets. It put out premium OLED TV product lines that are one step higher than current 4K LCD TVs and also increased color representation power by applying HDR technology. By applying its own 'Studio Master Processor' Chip, its TVs can express black colors more deeply and have each pixel control light.

LG Electronics, which is the most active business in expanding OLED TV markets, is also planning to increase proportion of OLED TVs greatly in 2016. It is planning to hold variety of marketing activities to tell customers about strengths of OLED TVs such as advertising about OLED TVs during Super Bowl which will be held in February of 2016.

Decreased price of OLED TVs also increase expectations for expansion of OLED TV markets in 2016. It is heard that yield of LG Display's UHD OLED panels is near golden yield that it was hoping for. As it is the only business that supplies large OLED panels, prices of sets can decrease only if yield and production amount increase.

Market research company IHS is analyzing that production cost of OLED TV is 2 times higher than 55-inch UHD TV with Quantum Dot technology. IHS is predicting that production cost of OLED TV panel will be same as LCD panel's if OLED panels' yield surpass 90%.

IHS is estimating that size of OLED TV will be 238% bigger next year at 1.25 million TVs while it was 370,000 this year. It came to a conclusion that 55-inch UHD TV will make up most of supplies at 850,000.

Staff Reporter Bae, Okjin | withok@etnews.com

■ Prediction of market size according to size of OLED TV

▲ It is predicted that there will be 154,000 55-inch 4K TVs, 846,000 55-inch 4K TVs, and 1.96 million 55-inch 4K TVs in 2015, 2016, and 2017 respectively.

▲ It is predicted that there will be 32,000 65-inch 4K TVs, 160,000 65-inch 4K TVs, and 425,000 65-inch 4K TVs in 2015, 2016, and 2017 respectively.

▲ It is predicted that total supply will be 370,000, 1.25 million, and 2.5 million in 2015, 2016, and 2017 respectively.(Reference: IHS)