L​G Electronics began presales for their strategic smartphone, G4 , on April 22nd, at SK Telecom, KT, and LG U+.

All three telecommunication companies started livening up the atmosphere, hanging large banners on online shops, promoting special benefits and more. There has been a controversy due to the posting of G4's expected price as 825 dollars on SK Telecom's Online Shop, T World Direct.

SK Telecom explained that the factory price is an expected price, and that the exact factory price can be confirmed on the 29th. If this price is true, G4 is approximately 30 dollars more expensive than Samsung Galaxy S6 32GB(795 dollars). It is cheaper than Galaxy S6 Edge 32GB(908 dollars), though.

An LG Electronics official said, "Prices are yet to be confirmed, but will stay within that range. The comparison target is Edge because the best camera, natural leather, etc. are used."

Responses on the first day were calm. Presales are proceeded in both on·offline shops, but due to the fact that customers cannot experience the actual product, it seems to be quieter than Galaxy S6.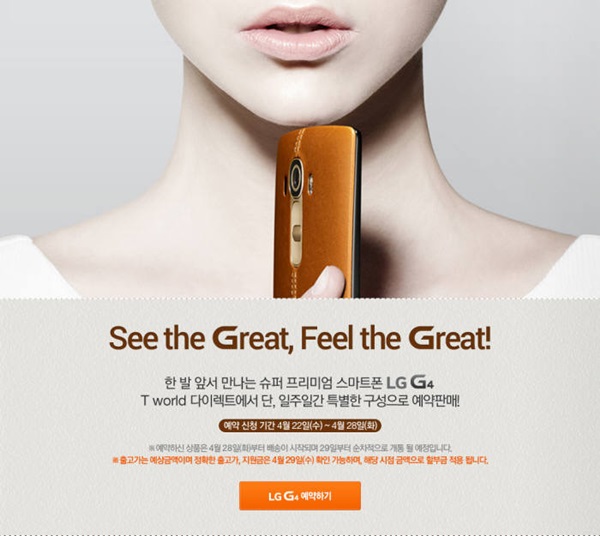 A telecommunication company official said, "Being unable to test the product with hands, experiential marketing is impossible. Whether such mysticism marketing where the design is not fully revealed will work or not is the key."

A generous score was given for special favors such as the rear camera with an aperture value of F1.8, 16.0 pixel, an all-natural leather back with no chemical processing, one free display screen repair until one year after purchase, etc.

Unlike the responses at the first design leakage, there have been many comments that natural leather is getting more and more attractive as time passes

Variables that will determine G4's results are believed to be cold market atmosphere and price.

The domestic smartphone market has reached maturity, that even masterpieces fail to pull large replacement demands.

There is also analysis that as Samsung and Apple form the Dual Strength System, LG Electronics need to come out with a more aggressive price.

Another telecommunications company official said, "G4, Galaxy S6 both have good device functions and designs themselves, but the demands are lower than before. We need to wait and see since telecommunication company subsidies are on the rise, and May, the Family Month, approaches."

Staff Reporter Kim, Yong-joo | kyj@etnews.com