PeDiSem, a company that provides education program and technical training in semiconductor field, will look to train talented individuals in semiconductor field through 3D education content. Its goal is to narrow gaps in technology and knowledge between major semiconductor companies such as Samsung Electronics and SK Hynix and semiconductor materials, components, and equipment makers through high-quality education contents.
PeDiSem announced on June 10 that it signed a MOU (Memorandum of Understanding) with the Korean Society of Semiconductor & Display Technology (KSDT) regarding educational cooperation at Hanyang University.
"While looking for ways to improve job performance and competitive edge of individuals who work for semiconductor materials, components, and equipment makers, we considered a partnership with PeDiSem using its educational program." said Chairman Park Jae-gun of the KSDT. "Its program will be a new attempt to raise skills of researchers who work for semiconductor chip makers and semiconductor materials, components, and equipment makers."
PeDiSem was established by Professor Song Yun-heub of Hanyang University who is an expert in NAND flash memory. It is represented by Professor Song who possesses more than 150 patents related to NAND flash, Professor Nam In-ho and Kim Bong-seok of Hanyang University, and Professor Jung Hong-shik of Ulsan National Institute of Science and Technology (UNIST). They had either led major projects related to semiconductor at Samsung Electronics for many years or worked as executives. Professor Nam is in charge of courses related to DRAM while Professor Kim and Professor Jung are responsible for courses related to logic semiconductor and PRAM respectively.
PeDiSem's education contents are different from others due to their "3D animation". Current education contents are provided through textbooks and words based on difficult theories. However, PeDiSem provides principles on integrated circuit (IC) as 3D animation in order to help students easily understand IC.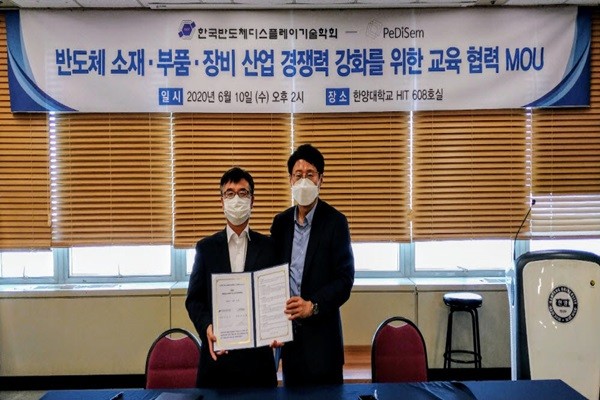 "Semiconductor chips are made by stacking layers upon layers and we are planning to explain principles and phenomenon that occur during stacking through 3D content." said Professor Nam. "Our goal is to create a VR content where it feels like you are actually going into a semiconductor chip."
PeDiSem already started providing education programs by meeting talented individuals in semiconductor field from UNIST and National NanoFab Center. However, its ultimate goal is to provide education on semiconductor to the entire materials, components, and equipment industries. The main reason why it signed a MOU with KSDT is because it wants to have easier approach towards such companies.
There has not been any content that provides education on semiconductor design principles for new employees of semiconductor materials, components, and equipment makers. Because these employees focus on a particular area of semiconductor that their respective companies manage, there have not been many opportunities for them to look at the "bigger picture" of semiconductor field. This is one of main reasons why there is currently a gap in technology between semiconductor companies and semiconductor materials, components, and equipment makers.
PeDiSem will focus on narrowing the gap through its "education content".
"There is a significant difference in problem-solving between employees who have comprehensive knowledge about semiconductor principles and those who do not." said Professor Song. "We are going to educate those who lack principles on how latest semiconductor chips are made through our 3D content." Professor Song also added that the company's aspiration is to supply company's education content for new employees of Samsung Electronics and SK Hynix once the company expands its business in the future.
Staff Reporter Kang, Hyeryung | kang@etnews.com