On April 23, South Korea's semiconductor industry experienced an accident that was greatly appalling. The accident is the fire that occurred at Versum Materials' factory. Due to this accident that might had caused by a chemical explosion, several employees suffered injuries and there was approximately $1.80 million (2.2 billion KRW) in damage. Although it was fortunate that injured employees only suffered minor injured, a bigger fire might have caused a huge setback to the semiconductor production in South Korea because "double patterning tech (DPT)" that was manufactured at the factory is a key material used for semiconductor production.
DPT is a material that is used for microfabrication. Because it is difficult to completely form circuits for microfabrication under 20 nanometers (nm) through the immersion lithography process, double patterning process that divides the lithography process in two is utilized. DPT is a key material that is used for the double patterning lithography process.
Versum Materials leads the global DPT market. According to the industry, Versum Materials supplies more than half of the DPT supply that Samsung Electronics currently needs. Rest of the DPT supply comes from South Korean companies DNF and Hansol Chemical.
If Samsung Electronics had to shut down its plants and has not diversified its DPT suppliers, it may have suffered a huge setback to its semiconductor production.
Some people within the industry predict that the fire may have caused a particle issue to Versum Materials' production line.
However, Versum Materials emphasized that the fire happened at its refinement facility and that there is no setback to production and supply of DPTs as its refinement facility and production line is separated by firewall.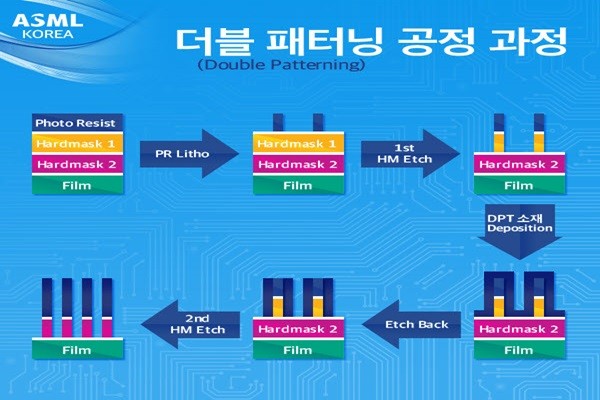 Because semiconductors go through different processes that require supreme precision, materials and parts that are manufactured from a different facility even if they are made by the same company cannot be used right away. Also, because performance and quality evaluations, which take a long time, are a must in order to apply materials and parts to a production line, preparing substitutes after an accident is like mending the barn after the horse is stolen.
Because there can be an enormous amount of loss if a semiconductor plant is stopped even for a moment, SCM (Supply Chain Management) is very important and sensitive for the semiconductor industry more than other industries.
Since the Japanese Government imposed trade restrictions in July of 2019, South Korea's semiconductor industry has truly felt the importance of establishing stable supply networks. The Japanese Government imposed trade restrictions on hydrogen fluoride, EUV photoresist, and fluorinated polyimides as a retaliation to the South Korean court's ruling on forced labor. All of these materials are vital to semiconductor production and most of them had come from overseas. The Japanese Government imposed restrictions on these items knowing that South Korean semiconductor companies had relied heavily on foreign companies for these materials.
However, supply networks of these materials have been stabilized as the South Korean Government and the semiconductor industry have made preparations in advance and swift countermeasures such as diversification of suppliers, increased production capacities by South Korean companies, and attraction of relevant foreign investments.
"The Versum Materials accident is an example that again shows the importance of diversification of supply networks." said a representative for the industry. "DNF or Hansol are expected to benefit from this issue."
Staff Reporter Yun, Geonil | benyun@etnews.com & Staff Reporter Kang, Hyeryung | kang@etnews.com