Vice-Chairman Lee Jae-yong of Samsung Electronics visited the Xian plant and resumed his overseas management visits after 100 days of hiatus. He is the first non-Chinese executive to visit China since the COVID-19 crisis broke out.
Despite the fact that there have been continuous judicial risks such as investigation on Samsung Biologics and that global management has been tough for all multinational corporations, he emphasized the importance of preemptive measures towards crisis while saying that there is not enough time.
Samsung Electronics announced on the 18th that Vice-Chairman Lee visited the Xian plant and discussed about effects and measures regarding prolongation of COVID-19 and encouraged the company's executives and employees.
President Jin Kyo-young of Samsung Electronics Memory Business Department, President Park Hak-kyu who is the head of DS Division's Management Support Office and President Hwang Deuk-kyu of Samsung China accompanied Vice-Chairman Lee.
Vice-Chairman Lee is the first non-Chinese executive to visit China since the COVID-19 crisis broke out.
The Xian plant is Samsung Electronics' only overseas memory semiconductor manufacturing plant. Samsung Electronics has started extending its 2nd plant in Xian. In order to extend the 2nd plant according to its initial plan, Samsung Electronics convinced the Chinese Government that has prohibited foreigners from coming into its country and dispatched 200 executives and employees from its semiconductor team at the end of last month.
Vice-Chairman Lee's visit was to encourage executives and employees, inspect the extension process of the 2nd plant, and examine the 2nd plant's next investment that is expected to take place in the third quarter.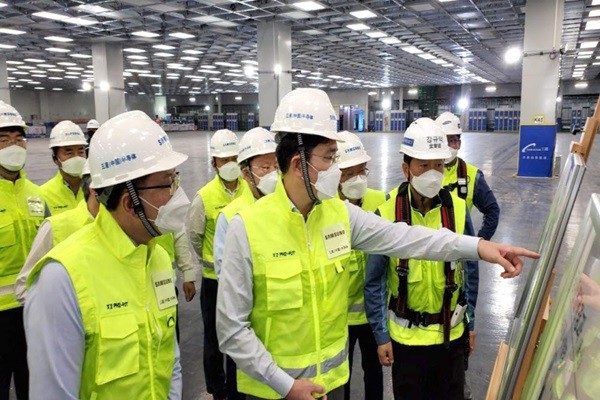 The main purpose of his visit is to prevent any disadvantage from an economic perspective in advance since South Korean companies can be affected by the trade war between the U.S. and China that is becoming more intense.
"If we are held back by the past or satisfied with the present, there is no future for us." said Vice-Chairman Lee. "We need to be prepared in advance for huge changes that are coming in order to prepare new growth engines." He also emphasized the importance of timing.
His comment comes from his understanding that there may be a long economic recession from the global spread of COVID-19 and that the gap in semiconductor technology between itself and its competitors is starting to become narrower. Some also believe that his comment expresses frustration from having hard time to carry out normal operation due to judicial risks and to materialize visions for the future.
"Vice-Chairman Lee saying that there is no time comes from his frustration that it will not be easy for Samsung Electronics to overcome difficult crisis even if the company concentrates all o its abilities." said a representative from South Korea's financial circle.
Vice-Chairman Lee's visit was made possible through "simplification of entry procedure for business people" that the South Korean Government and the Chinese Government established on May 1. Business people who are tested negative for COVID-19 do not have to isolate themselves for 14 days even after they enter China.
His visit to the Xian plant is his first overseas management visit since he visited Brazil back in January to examine Samsung Electronics' South American business.
Since he apologized to the public in South Korea on May 6 while making a promise that he would sever ties with the past and create new Samsung, he has shown drastic management moves. After discussing next-generation electric vehicle battery with Executive Vice-Chairman Chung Eui-sun of Hyundai Motor Group on May 13, he became the first non-Chinese executive to visit China since the COVID-19 crisis broke out.
Staff Reporter Kim, Yongjoo | kyj@etnews.com