Samsung Electronics has launched the industry's first all-in-one power management integrated circuits (PMIC) for wireless earphones. These chips will be able to manage power and help increase battery capacity by reducing the area of a device.
Samsung Electronics announced that it would launch PMICs "MUA01" that will be installed into charging cases and "MUB01" that is for wireless earphones.
PMIC supplies power for an electronic device depending on situations. As wearable devices such as wireless earphones have started to gain popularity within the global IT market, PMIC has become important as a result. Not only does PMIC supply power effectively, but it is also used for display of remaining battery, rapid charging, and delivery of the power situation within wearable device. With these new PMICs, Samsung Electronics is looking to respond to demands from the global smartphone market as well as the global wearable device market.
These new PMICs will be used for wireless earphones. The biggest advantage of these chips is that they are "all-in-one" chips that have gathered many PMICs that are spread out within charging case and earphone.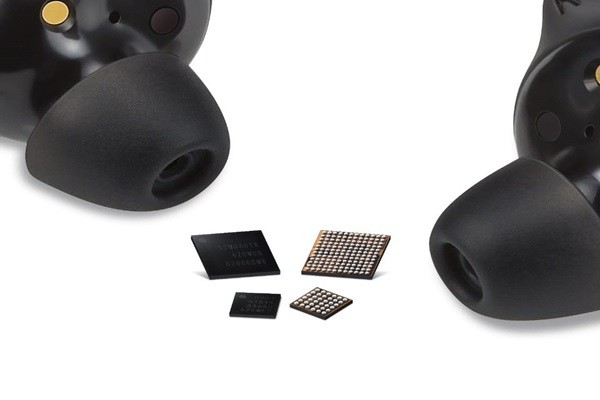 Current wireless earphone is equipped with MCU (Micro Controller Unit), wireless charging receiving chip, battery charging chip, and remaining battery measuring chip. As a result, it is not easy to secure a space for a battery as many semiconductors need to be placed closely within a small earphone. However, these new PMICs allow more space for a battery within an earphone.
"MUA01 combines 10 different chips and can reduce the area of chips by 60% while MUB01 combines 5 different chips and can reduce the area by 50%." said a representative for Samsung Electronics.
Because there will be more space for a battery, these new PMICs will help users to use their earphones longer with single charge. Also, they help wireless earphone manufacturers reduce their production costs.
MUA01 also upgrades charging case's ability to charge. It supports wired and wireless charging at the same time and improves current and efficiency of charging resulting in faster charging. It can also be used for various purposes as it secures separate internal data storage space.
MUA01 and MUB01 have been installed into Samsung Electronics' second-generation wireless earphone "Galaxy Buds+". Samsung Electronics is planning to respond to demands and technology for wireless earphone by accelerating its speed of developing PMIC.
"The global wireless earphone market has grown at the fastest rate recently out of all mobile accessories." said Senior Vice President Shin Dong-ho of Samsung Electronics' system LSI marketing. "We are going to provide new experiences for consumers and new business opportunities for our customers through our new PMICs."
Staff Reporter Kang, Hyeryung | kang@etnews.com