Wired and wireless voice communication interconnection fee system is going through a transition period. Although the market continues to shrink due to the evolution of data-based telecommunication services, there is still significance to interconnection fee in order to promote investments and market competitions.
First task is to reduce financial burdens for consumers by making a logical calculation of the access fee for 2020 to 2021 and maintain financial abilities to making investments during the 5G era.
From a long-term perspective, it is necessary for the South Korean Government to prepare alternatives such as roadmaps for political direction as soon as possible.
◊Significance of interconnection fee
Interconnection fee is the main source of sales for telecommunications companies and is an element necessary for calculating telecommunication fees. When a member of a telecommunications company calls a member of a different telecommunications company, the member who is making the call will be using the other telecommunications company's system.
Interconnection fee is the payment that the first telecommunications company makes to the second telecommunications company for using the second telecommunications company's system.
Due to the interconnection fee system, users can easily make calls without any complicated procedure while telecommunications companies can preserve costs of their systems.
Voice communication interconnection fee is based on the value that divides production cost of a communications network that includes network construction cost and operational expenses by call volumes and it is calculated by Ministry of Science and ICT (MSIT) after considering competitions between telecommunications companies and their investments.
Although production costs of communications networks are the key, interconnection fee system is a structure that displays significant part of the government's discretionary power. While call volume that is displayed as a relatively simple indicator, interconnection fee is changed depending on how elements and values of production cost that corresponds as a numerator are recognized.
While calculating the interconnection fee for 2018 to 2019, the South Korean Government had induced investments from telecommunications companies by applying parts of investments in 5G facilities and equipment as production costs of communications networks. The government had used interconnection fee as a political means to vitalize competitions between telecommunications companies and investments.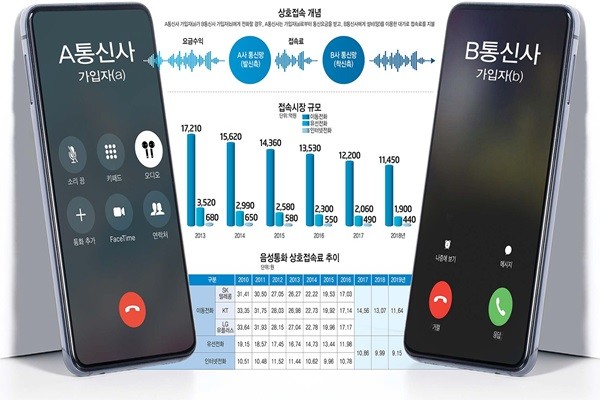 ◊The difference between interconnection fees of wired and wireless calls to be the main issue for interconnection fee
The South Korean Government has been eliminating differences between the mobile communication market and the wired communication market while reducing the size of the voice communication interconnection fee market at the same time.
The difference of interconnection fees of wired and mobile communications reduced from $0.003 (3.7 KRW) per minute in 2017 to $0.0025 (3.1 KRW) and $0.002 (2.5 KRW) in 2018 and 2019 respectively. The South Korean Government applied the fact that the proportion of production costs of voice communication had been reduced due to generalization of unlimited talk plans and evolution of data-centered technologies such as VoLTE.
Considering the fact that the difference had been reduced by $0.00049 (0.6 KRW) annually, it is expected that the difference will be around $0.0015 (1.9 KRW) in 2020. However, nothing can be concluded just from this trend.
South Korea's three major telecommunications companies have shown different opinions towards the trend while acknowledging changes within the interconnection fee market. Because their status within the market is different, they state that they need to be valued more due to their respective facilities.
The interconnection fee for mobile calls reduced from $0.012 (14.56 KRW) per minute in 2017 to $0.011 (13.07 KRW, 10.3%) and $0.0094 (11.64 KRW, 11%) in 2018 and 2019 respectively.
On the other hand, the interconnection fee for wired calls reduced from $0.0088 (10.86 KRW) per minute in 2017 to $0.0081 (9.99 KRW, 8%) and $0.0074 (9.15 KRW, 8.4%) in 2018 and 2019 respectively. While the interconnection fee for mobile calls had been reduced relatively fast, the interconnection fee for wired calls had been reduced gradually.
Companies such as SK Telecom and LG Uplus that are centered on facilities for mobile calls are showing more concerns towards the sudden decrease in the interconnection fee as they will have their profits cut as the decrease in the interconnection fee for mobile calls is faster than that of wired calls and have to pay more interconnection fees for wired calls.
On the other hand, KT wants the difference in interconnection fees to be smaller even faster. While it has enormous number of equipment set up for wired telephones, there has been a rapid decrease in the amount of call volumes. As a result, it wants the government to apply changes within market conditions properly when calculating the next interconnection fee.
◊South Korean Government to prepare a roadmap for the next interconnection fee
Direction for the cost of using intelligent networks that are used when a person calls major numbers such as 1588 is also drawing interests. As the cost of service development was reduced from $0.0032 (4 KRW) to $0.0016 (2 KRW) in 2018, the cost of using intelligent networks was reduced to $0.0081 (10 KRW).
Considering the fact that small and medium telecommunications companies maintain themselves through major telecommunications companies' interconnection fees for their intelligent networks, they believe that the current rate needs to be maintained in order for them to receive proper amount of cost.
On the other hand, some telecommunications companies believe that the pretext about the cost of service development is ambiguous and that it can be a factor of raising the phone bill using intelligent networks.
It will be also interesting to see whether the government will adjust the cost when an internet phone business provides its service by borrowing an internet circuit section from a different telecommunications company to $0.46 (570 KRW) per current member.
Based on work such as verification of production costs in the first half, MSIT is going to work on calculating the interconnection fees in the second half. It is going to reduce unnecessary conflicts between telecommunications companies and prepare long-term political roadmaps considering the evolution of technologies and changes within markets.
The South Korean Government notified markets in early 2010 that it would gradually reduce the difference in the interconnection fee between mobile phone service providers. As a result, mobile telecommunication companies were able to make necessary preparations.
South Korea's voice communication interconnection fee market was worth $1.12 billion (1.378 trillion KRW) in 2018 when it was worth $1.74 billion (2.141 trillion KRW) in 2010. The percentage of voice communication within the entire communication network is dropping as time goes by.
As a result, there needs to be long-term policies on how voice communication will be regulated during the 5G era.
MSIT is currently implementing an internet interconnection system based on market changes centered on data. It is important for MSIT to regulate the relationship between voice communication interconnection fee and internet interconnection fee and long-term changes.
"We have gathered opinions from telecommunications companies regarding basic issues and we are going to be objective about calculating the next interconnection fee without any stereotype and based on elaborate reviews and political direction." said a representative for MSIT. "We are also going to carefully consider about a long-term political direction."
Staff Reporter Park, Jisung | jisung@etnews.com