Small or medium sized South Korean company has developed an optical transmitter that can provide high-quality real-time YouTube streaming service to 400,000 people at the same time. This transmitter is expected to resolve a data traffic issue for data centers.
Neonphotonics (CEO Moon Jong-ha), which manufactures parts related to optical communication, stated that it has developed "400G PAM4 (Pulse Amplitude Modulation) optical transceiver" that can perform optical transmission and reception abilities for data centers by applying embedded optical integration technology.
This company has developed an optical transceiver module that integrates optical transmitter and optical receiver in one space as part of Ministry of Science and ICT's "development project of embedded optic-based economic 400Gb/s QSFP (Quad Small Form-factor Pluggable) DD (Double Density) optical transceiver".
This product greatly reduces the size of an optical transceiver by raising the density of optical integration and its performance is four times better than that of current modules. It is designed so that it is optimized for optical transceivers that are used the most by data centers. The module can also be applied for 800Gb/s and 1.6Tb/s optical transceivers by expanding its channels.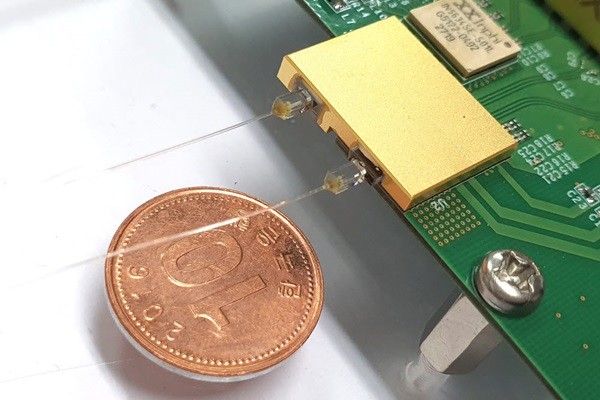 The industry expects that the 400G-PAM4 optical transceiver market will officially open at the end of this year. Data centers currently use 100Gb/s optical transceivers. However, the industry expects that these transceivers will be replaced with 400Gb/s optical transceivers due to increase in data traffic and the number of large contents. 400Gb/s is 20 times faster than the 5G service and it can provide high-quality real-time YouTube streaming service to 400,000 people at the same time.
Optical transceiver module developed by Neohphotonics can send signals up to 2km by using a long wavelength from a light source and it has competitive price as well. It received 400G-PAM4 DSP (Digital Signal Processing) technology from Electronics and Telecommunications Research Institute's Optical Network Laboratory and it is planning to start mass-produce embedded optic optical transceiver module-based 400G-PAM4 optical transceivers at the end of this year.
"By developing an optical transceiver that satisfies competitive price aspect and data transmission distance, we will be able to lead the era of hyper-connected society after 5G." said CEO Moon Jong-ha. "We are also carrying out market in South Korea and foreign countries according to the schedule for establishing a mass-production system in the second half of this year."
Staff Reporter Kim, Hansik | hskim@etnews.com