A joint private-public investigation group pointed to "battery" as the cause of five ESS fires that occurred after August of 2019. Fact that degradation from overcharge and over-discharge could not be prevented at the right time is seemed to be the main cause. This investigation result is contrary to the result from the first investigation that took place in June of 2019. South Korean battery manufacturers have promised that they will fight against the recent result while stating that they cannot accept the result from the government.
"We believe that "abnormal batteries" were the cause of ESS fires after analyzing ESS fires that occurred in Yesan, Pyeongchang, Gunwi, and Gimhae." said the private-public investigation group. "We predict that the fire that occurred in Hadong started when an exposed pressurized live part came to a contact with foreign substance."
Ministry of Trade, Industry and Energy (MOTIE) formed a "joint private-public ESS fire investigation group", which was made up of 15 people from the academic circle, research institutions, and the National Assembly, and it had investigated ESS fires that occurred in five areas after June of 2019. Fires that occurred in Yesan, Gunwi, and Hadong were based on batteries manufactured by LG Chem while other two ESS fires that occurred in Pyeongchang and Gimhae were based on batteries manufactured by Samsung SDI.
Out of ESS fires that occurred in these five areas, the investigation group pointed to "batteries" manufactured by LG Chem and Samsung SDI as the cause of ESS fires that occurred in four areas. When the group could not investigate the direct cause due to disappearance of batteries from a fire, it analyzed a similar business location set up with similar models and at a similar time as the business location that was engulfed with a fire and it reviewed companies' explanations based on its investigation.
The investigation group confirmed that batteries ignited the ESS fire that took place at a solar power generation plant in Yesan in August of 2019 and found a trace of melting that occurs when there is an internal ignition from batteries that it collected from the scene. After collecting batteries from a nearby ESS business location set up at the same time and installed with same models as the solar power generation plant and breaking them up and analyzing them, the group was able to see that some fragments were stuck to cathode plates and that there was formation of lithium and precipitates on separator films of batteries.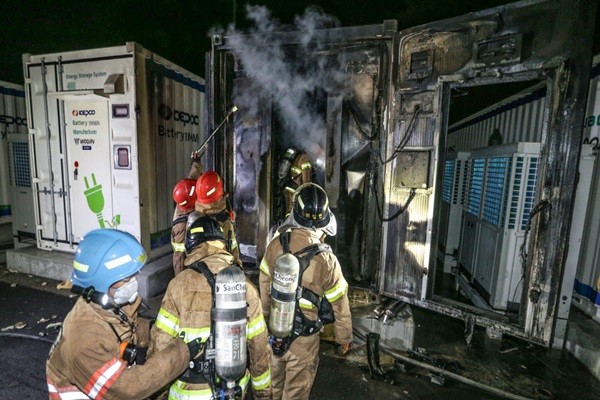 It was found that batteries also ignited the ESS fire that took place at a solar power generation plant in Pyeongchang. The group looked over past records and found out that there were cases of overcharges and over-discharges. Also, it found out that protective function of batteries did not run. During simulated experiments, it observed internal damage to cathode plates and detection of copper from separator films. While there was a trace of melting from batteries found at the ESS fire that took place in Gunwi, the investigation group was able to draw a conclusion to why there was a huge deviation between batteries found from the scene of the ESS fire in Gimhae.
On the other hand, the investigation group did not find any record that points to battery as the cause of a fire from the ESS fire that took place in Hadong. However, it assumed that the fire occurred when an exposed pressurized live part came to a contact with foreign substance. This indicates that the cause of this fire is not directly related to battery.
"We believe that recent ESS fires occurred due to a combination of an operational method that requires more than 95% of charging rate and abnormalities of battery." said a representative for the investigation group. "We believe that we can prevent any more fire from occurring by tightening up maintenance and management of batteries."
ESS manufacturers strongly opposed the investigation result announced by the investigation group.
Samsung SDI put out an emergency explanation with a topic that said "batteries do not have cause-and-effect relationship with recent ESS fires" and emphasized the fact that batteries investigated by the investigation group were from other locations that did not experience fires.
"The investigation group requested batteries from a different site that is applied with batteries that were manufactured at a similar time as the ones from the sites in Pyeongchang and Gimhae and we sent batteries that are from sites in Yeongheung and Hapcheon to the group." said Samsung SDI. "The result from the group is based on batteries that are from sites that did not experience fires but only manufactured at a similar time as the batteries from the fire scenes. If the result is true, there had to be a fire from sites that are currently using same batteries."
"We believe that the battery is not the direct cause of recent fires." said LG Chem. "After operating actual sites for the past four months and carrying out verification tests under a severe environment, we did not observe any fire." LG Chem also complained of an injustice while stating that fragments from cathode, lithium precipitate, swelling of anode active material, and traces of melting found by the investigation group are normal phenomenon.
Meanwhile, MOTIE has decided to limit charging rates of new ESS facilities to 80% and 90% for the inside and the outside of a facility respectively and provide subsidies to companies that transfer interior ESS facilities to separate buildings that are away from a person's reach. Also, it has also made a requirement for all ESS facilities to store separate operation data in order to investigate causes of future accidents.
Staff Reporter Choi, Jaepil | jpchoi@etnews.com