South Korean Government is going to provide three benefits such as tax benefit next year in order to boost investments in 5G mobile network. As South Korea's major industries are faced with low growth, South Korean Government is going to really focus on strengthening the national competitive edge in relevant materials, components, and equipment (MCE) and developing new technologies.
Primary focus of its economic policy next year will be to break through current economic condition, and it is going to push for ways to strengthen various innovative driving forces and strategies that can deal with the future in advance.
South Korean Government held an economy ministers meeting at the Blue House with President Moon Jae-in as the presider and it has decided on the direction for its economic policy.
"Along with large-scale projects that are going to be worth $85.7 billion (100 trillion KRW), we are going to create a more dynamic economy through increased domestic consumption in tourism, data economy, development of new industries, and strengthened competitive edge in MCE." said President Moon during the meeting.
"As improvement in our economic constitution and structural reform have been delayed due to lack of private investments and exportation, potential growth rate of our economy continues to move at a slow rate." said Minister Hong Nam-ki of Ministry of Economy and Finance (MOEF). "Next year will be an important year for our economy to rebound."
Minister Hong considered tough economic conditions such as economic growth rate of 2.0%, which is far lower than South Korean Government's initial prediction (2.6 to 2.7%), when making his statement.
South Korean Government has presented its goal for next year's economic growth rate of 2.4%. In order to achieve this goal, MOEF has shown strong will to turn around South Korea's economy by focusing on breaking through current economic condition.
South Korean Government is going to focus on spreading "DNA (Data, Network, Artificial Intelligence)". It is going to expand use of public data such as information on national tax and it has prepared "three packages" such as tax reduction and reduced administrative cost in order to promote investments in 5G mobile network.
As a follow-up measure to strengthening competitive edges of the MCE industries, it has decided to find more than 20 collaborative projects between buyers and suppliers.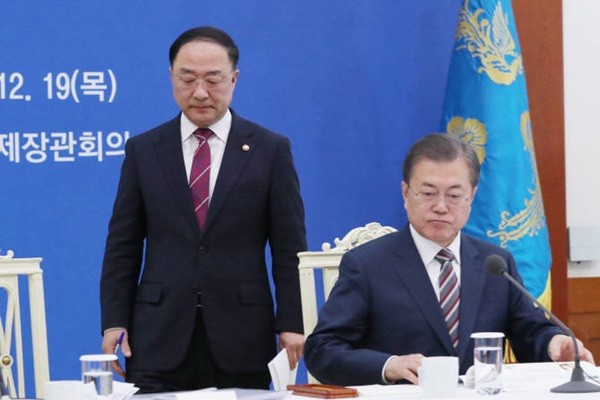 It has also decided to develop next-generation AI technologies such as AI semiconductor and post-deep learning. It is going to create a new AI investment fund and support startups in new industries through an entrepreneurship support platform such as Open Square-D.
In addition, it is going to invest $85.7 billion (100 trillion KRW) in private and public sectors and construct a petrochemical plant in Ulsan ($6.00 billion (7 trillion KRW)) and a complex shopping mall in Incheon ($1.11 billion (1.3 trillion KRW)).
In order to boost domestic demands, it is going to vitalize Korea Sale Festa and look into refunding 10% of surtax.
To revive exportation, it has decided to prepare ways to resolve difficulties with 13 major exported items such as semiconductor, general machinery, and petrochemistry at the center.
"Next year's budget will be $439 billion (512.3 trillion KRW) which will be the biggest budget ever." said President Moon. "This will be one of many ways to create a more dynamic and warmer growth."
To maximize financial effects next year, South Korean Government is planning to push for execute 62% of next year's budget during the first half.
Meanwhile, President Moon emphasized that embracement along with innovation are key values that cannot be ignored.
"We need to resolve employment issue in the manufacturing industry and for the people who are in their 40s." said President Moon. "We are going to provide more jobs for the people who are in their 40s and young women and create a warmer economy by resolving poverty issue among elderlies, supporting low-income families, and improving management of self-employed businesses and small businesses."
However, some have requested for fundamental economic paradigm shift such as increased level of contribution by the private sector towards economic growth in order for South Korean Government to overcome low economic growth.
"Time is needed in order to see effects from changes in policies to take place." said President Moon. "We are finally seeing fruits in our policies on employment and distribution after the government has made consistent efforts to maintain consistency in these policies."
Staff Reporter Ryu, Jaehee | ryuj@etnews.com & Staff Reporter Sung, Hyeonhee | sunghh@etnews.com