As better online environment within classrooms due to digital textbook and high school credit system has been emphasized, there are going to be many projects that will improve IT infrastructures within schools starting from next year. Not only South Korean Government is going to finish up current projects by moving up the completion dates, but it is also going to improve entire IT infrastructures within elementary schools, middle schools, and high schools.
However, some say that such improvement will just follow past issues and they are concerned that same issues will be repeated in just few years. There are doubts whether there will be a proper supervision as the government still places orders for construction of internet cables, which is the most important thing in improving school network systems, to individual companies. Because new technologies are introduced without thorough verification processes, effects of these new technologies have not been brought to the surface. Pilot project for establishing examples also faces same issues.
◊South Korean Government to start improving school network systems
"Internet has to be checked 30 minutes before an online class is started. Because internet is different from a classroom to a classroom, one can even miss an online class if he or she tries to access it without checking internet first."
This is a story of a student from a high school that operates joint online education curriculum. Although the corresponding high school started the curriculum last year for the first time, it has been experiencing internet issues due to poor internet quality. The school finally fixed the internet issue recently.
Internet quality issue is not from one high school. Internet networks from many schools currently operate at an average speed of 100Mbps in this day and age of 5G era. Although students and teachers need to use digital textbooks using a tablet PC or a Smartphone, they have had many issues due to absence of wireless network. In some cases, teachers have to share date from their Smartphones so that their students can use their digital textbooks.
Ministry of Education (ME) has recognized the issue and it has decided to improve school networks while finishing up setting wireless APs (Access Point) in a hurry. It is going to finish up its plan to supply tablet PCs and four wireless APs to every elementary school and middle school by the first half of next year. At the same time, offices of education from cities and provinces are going to work on improving school networks within their territories. Some offices have already started improving school networks. Jeju Special Self-Governing Provincial Office of Education was the first to start.
ME also announced its plan to spread wireless AP to every high school in South Korea as High School Credit System is expected to be implemented in few years. It is going to install giga-level wireless APs in four classrooms of every high school next year by investing $11.9 million (14 billion KRW). Starting from 2021, it is going to work on having wireless network available in every classroom of every high school. High school students will be able to use stable and much faster wireless internet from every classroom starting from 2025 when High School Credit System is going to be implemented.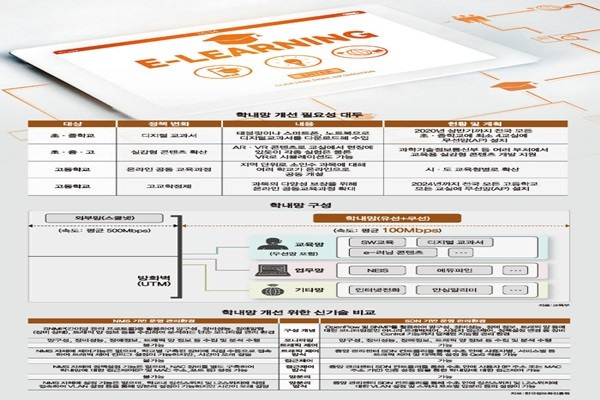 ◊Network construction taking place without any concrete plan
Although internet networks are able to provide 500Mbps internet up to school walls, poor network management by schools is the biggest reason why internet becomes inaccessible within schools. There is almost no one who is exclusively in charge of internet network and there is no proper transfer of duties due to Rotation System. Construction of internet cables without any clear plan has brought more anger. Construction does not take place through a public information and communication corporation, but it is mostly carried out by subcontractors. Because construction has been taking place without any clear floor plan, school networks have expanded when needed and have become rags.
Although the government has been pushing to improve school networks recently, this issue has not been resolved yet. It is more convenient for an ordering body to increase the size of a project by placing it as a service and it is also more advantageous for major companies to obtain orders. If orders are placed through a public corporation, design, construction, and supervision must take place systematically. Korea Telecommunications Corporation Act also regulates that installation of systems such as switches and firewalls that go into school networks must go through a public corporation.
However, most of construction is placed as services according to Public Procurement Service's notification on service. While Chungcheongbuk-do Office of Education was trying to improve school networks through negotiation rather than a public corporation, it had its entire budget for relevant projects taken away during a provincial assembly on the 16th. An education committee within the assembly stated that because only midsize and major corporations can participate if contracts are given through negotiation, local companies can be degraded to subcontractors and subtier suppliers.
Introduction of new technologies to manage school network is also making a slow progress. Although SDN (Software Defined Networks) that can manage networks remotely has emerged as an alternative because there is no employee that exclusively manages school network, it is only considered in few districts.
ME and representatives from offices of education meet periodically and discuss about ways to improve school networks. South Korean Government has also started a pilot project. It has created a model to improve school networks after testing the model on 22 schools in 8 different areas during the first half of this year. It has presented a model based on SDN that can monitor network without having a school administrator. According to corresponding office of education, some schools will introduce SDN while others will maintain NMS (Network Management System).
"Because offices of education asked us to be selective between SDN and NMS depending on their conditions, we have decided to leave the option up to them." said a representative for ME.
Because it is difficult to control school network remotely, a pilot project centered on SDN had been carried out. Some say that the pilot project has not achieved huge success. Although systems that allow each office of education to verify its solutions needed to be established during the project, the project ended with a decision to simply apply SDN without any verification procedure. This is why local offices of education have no option but to depend on general evaluation of procurement.
"Although there had to be thorough verification procedures to see whether software is linked to equipment and whether they properly follow standards, it seems that it would be somewhat difficult for offices of education to implement these procedures." said one expert in network. "It is also difficult for offices of education to verify whether experiences and abilities of companies are true or not."
There is still an issue with budget. It is estimated that there needs to be $683 million (800 billion KRW) to $854 million (1 trillion KRW) to improve school networks after the government had carried out its pilot project. Although the government knows that there still will be issues even if wireless APs are installed without properly organized school network at the foundation, it has no option but to be slow on improving school networks.
Governance issue has not been improved as well. Schools' IT infrastructures are scattered towards school network, security, digital textbook, and education and administration information system. Because systems that comprehensively manages these are inadequate, some say that there is yet to be any fundamental measure that will improve school networks.
Staff Reporter Mun, Bokyung | okmun@etnews.com