Level of interests towards Samsung Electronics' flagship smartphone 'Galaxy S11' that will be released in 2020 has heightened. Various predictions mixed with expectations are coming out like water confined by a dam.
There is even a rendering image that reminds one of actual Galaxy S11 has come to the surface. Although the image is based on predictions, it is likely that the image reflects significant portions of actual Galaxy S11.
Galaxy S series that are integrated with Samsung Electronics' cutting-edge technologies present reference points for many different areas such as smartphone camera and display, mobile AP (Application Processor), and design. Based on information that has been leaked and made public so far, the Electronic Times looked at how Galaxy S11 would look like.
◊Galaxy S11 series to be divided into three models
It is heard that Samsung Electronics is developing three different models for Galaxy S11 series. Just like Galaxy S10 series, it is likely that these three models will be named Galaxy S11e, Galaxy S11, and Galaxy S11 Plus.
There is a high chance that Samsung Electronics will apply 6.3-inch, 6.7-inch, and 6.9-inch curved edge displays to all three models. It is expected that there will be differences in RAM, storage, and camera performance.
On the front, cameras will be placed in the upper middle part of Galaxy S11 series based on the Infinity-O Display just like Galaxy Note 10 series. However, it is expected that the size of hole punch camera will become much smaller.
Samsung Electronics showed little bit of small camera hole and bezel-less display through a teaser image of its new 2020 Galaxy A model that will be made public on the 12th in Vietnam. Because Samsung Electronics is using the Galaxy A series as a platform to introduce its innovative technologies, there is a high chance that the platform will be applied to Galaxy S11 series as well.
There is also a possibility that Galaxy S11 series will support a horizontal scanning frequency of 90Hz or 120Hz for the first time. Higher horizontal scanning frequency will lead to increased number of images that are processed per second and smooth movements or smooth scroll of a screen. Previous Galaxy S series support a horizontal scanning frequency of 60Hz.
◊100MP and 5x optical zoom camera
Improved camera performance is the one element that is drawing the most expectations. According to the smartphone parts industry, Galaxy S11 series are expected to be equipped with cameras that sport a superhigh quality image sensor with more than 100MP and support 5x optical zoom.
Triple-cameras will be placed on the back of Galaxy S11e and they will be made up of 12MP sensor with a wide-angle lens, 64MP sensor with a 2x telephoto lens, and 12MP sensor with a ultrawide angle lens.
Some within the industry are mentioning about quad-camera or even penta-camera that is made up of five modules for Galaxy S11 and S11 Plus. It is heard that there is a good chance that Samsung Electronics will mix camera with a wide-angle lens, camera with a telephoto lens, and a camera with a ultrawide angle lens with ToF (Time of Flight) module that is able to support take 3D pictures or apply superhigh quality camera with 108MP or camera with a 5x telephoto lens.
108MP image sensor developed by Samsung Electronics has the highest number of pixels out of currently commercialized smartphone cameras. Samsung Electronics supplied 108MP image sensors to Xiaomi for its CC9 Pro and is currently going through a mass-production stage.
However, it is heard that there is a two to three seconds delay with processing of an image whenever CC9 Pro is taking a picture with 100MP. The size and the thickness of the camera module are also much bigger than that of current camera modules. Production costs of the components are also expensive. Considering the commercial value and the degree of technological completion of the 108MP image sensor, there is a good chance that Samsung Electronics will only apply the sensor to Galaxy S11 Pro or postpone applying the sensor to the next Galaxy series.
"Samsung Electronics will apply camera with a 108MP sensor to its Galaxy S11 Plus model." said a Chinese IT Twitterian called Ice Universe. "This image sensor will have a higher optimization level than the one that was supplied to Xiaomi."
Samsung Electronics' new 5x optical zoom camera is also drawing attention. Current smartphone cameras with a telephoto lens can have up to 2x optical zoom due to the structure of telephoto lens. However, 5x optical zoom camera developed by Samsung Electro-Mechanics is based on a new module that utilizes the structure of periscope. Based on this technology, it will be possible for the new camera to provide new functions such as 'space zoom'.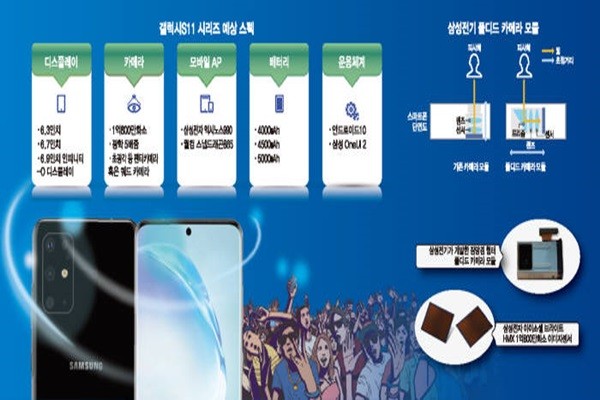 ◊Rear cameras to be based on induction cooking hob design
Design of the rear camera modules of the Galaxy S11 series is also drawing same level of interests as camera performance. It has almost become a done deal that an induction cooking hob design will be applied to the Galaxy S11 series just like Apple's iPhone 11 series.
Because rear cameras are expected to be arranged in a 'L' shape, it is expected that they will take the design of induction cooking hob similar to that of iPhone 11 series.
Apple has applied a design to iPhone 11 Pro so that triple-cameras in the rear protrude like a square. Although the design initially had drawn laughter as it looked outdated, consumers have eventually accepted the design without any complaint.
It is predicted that the rear cameras of Galaxy S11 series will take on the design of induction cooking hob as there are more rear cameras for the Galaxy S11 series than the previous series. Induction cooking hob design has also been considered due to the size of new camera modules.
There is a rendering image of Galaxy S11 Plus, which can be applied with penta-cameras on its rear, showing five lenses within an induction module placed as the side of a dice showing five dots.
◊Galaxy S11 Plus to be equipped with 5,000mAh battery
Galaxy S11 Plus will be equipped with 5,000mAh battery, which will be the biggest battery capacity in Samsung Electronics' flagship smartphone history. Galaxy S11e and Galaxy S11 are likely to have 4,000mAh battery and 4,500mAh battery respectively.
Samsung Electronics has equipped Galaxy S10 Plus and Galaxy Note 10 Plus with 4,100mAh battery and 4,300mAh battery respectively. Considering various factors such as 5G network and scanning rate that require large power, it is likely that Samsung Electronics will gradually increase battery capacity of its future smartphones.
"Even if battery capacity is increased, it does not mean that the battery will last longer after it is fully charged." said PhoneArena. "Power will be consumed even quicker if the Galaxy S11 series are released with large screen and an ability to support 5G network."
Since Samsung Electronics was involved an issue with Galaxy Note 7, it has been somewhat conservative with increasing battery capacity for a while. However, it seems that it has regained confidence by drastically tightening battery-related safety measures and testing batteries with larger capacities with inexpensive models first.
Samsung Electronics has applied 5,000mAh battery to Galaxy M20 that was released this year in India. Afterwards, it increased battery capacity even more by applying 6,000mAh battery to Galaxy M30s that was manufactured through an ODM (Original Design Manufacturer).
◊Exynos 990 and Snapdragon 865
It is expected that Samsung Electronics will apply both Exynos and Snapdragon, which are application processors (AP), to the Galaxy S11 series just like the previous years.
Samsung Electronics introduced Exynos 990 AP at Samsung Tech Day 2019 that was held in Silicon Valley in October. This new AP, which is designed through 7nm EUV process, minimizes power consumption and supports high-performance operations. It supports AI-based operations as it is equipped with dual-core Gen 2 NPU (Neural Processing Unit).
"Exynos 990 and Exynos modem 5123 are innovative products that are optimized for AI and 5G era." said President Kang In-yeop of Samsung Electronics System LSI Business Department with emphasis.
Qualcomm also introduced Snapdragon 865 AP that will be applied to the Galaxy S11 series recently at Qualcomm Snapdragon Tech Summit 2019. This AP is also based on 7nm process and its CPU performance and power efficiency are improved by 25% compared to the previous model.
It is expected that the Galaxy S11 series released in South Korea and Europe will be equipped with Exynos 990 while the Galaxy S11 series released in the U.S. and China will be equipped with Snapdragon 865.
Staff Reporter Park, Jungeun | jepark@etnews.com