South Korean Government has made its draft for a guideline on network contract public. It will be interesting to see whether the guideline, which was created in the midst of complicated situations, will be the standard for resolving conflicts. It is expected that a higher level of legislation activities based on the guideline will take place in order to secure an execution power to regulate multinational CPs.
◊Guideline set to prevent unfair competitions and damage on consumers
Korea Communications Commission (KCC) has emphasized the need for a guideline as a dispute over a network contract is causing damage on network users and unfair competitions such as reverse discrimination between South Korean and foreign businesses just as they were confirmed through an incident involving Facebook. It laid down a principle that South Korean Government would intervene if the issue cannot be resolved on its own.
The guideline that is made up of 14 articles states basic principles on network contract, types of unfair acts, and user protection.
The guideline prevents a business to use its superior position to limit an opposing business's gains when they are signing a contract over a network and it also prevents discriminating a business without any particular reason.
It requires an ISP to present its reasons for increasing the cost of using its network and it also requires a CP to notify corresponding ISP in advance once it believes that changing a route of internet traffic will damage users of corresponding network.
It also presents standards for determining types of unfair acts and injustice that surround network contract.
Forcing a particular contract or delaying or rejecting a contract are deemed as unfair acts. Structure of division of cost of internet network, competitive edge of a content, discount rate for a bulk purchase, and a contract for a third party need to be considered as a whole when deciding an act is unfair act or not.
KCC is planning to finalize a final draft by end of this year after presenting the draft as a reportable item to Fair Trade Commission (FTC). When KCC finalizes a final draft, the guideline will be enforced one month later. It is likely that the guideline will be enforced early next year.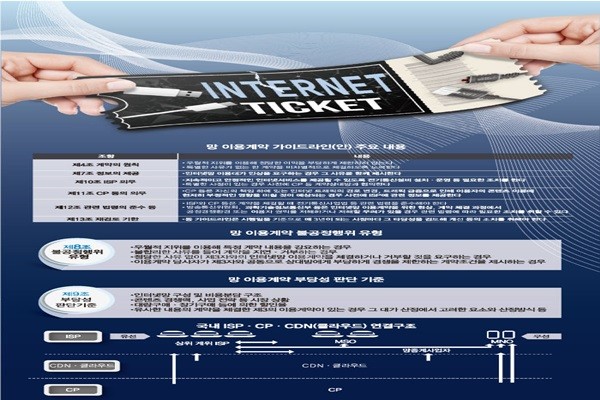 ◊ISPs and CPs still having a feud despite the guideline
ISPs and CPs that have opposed sharply during a process when the guideline was being established have shown sensitive responses even towards single sentence from the guideline.
Articles 11 and 12 that talk about obligations of ISPs and CPs are the ones that they have shown the biggest difference between their positions.
Article 11 states that CPs need to provide relevant information to corresponding ISPs whenever they are expecting that changing a route of internet traffic will impact users of corresponding network.
CPs have opposed the article by stating that the quality of network is not their concern since ISPs are obligated to maintain the quality of their networks. They are basically stating that they cannot accept such obligation stated within the Article 11.
On the other hand, ISPs are concerned that the Article 11 is giving 'indulgence' to CPs because the article can be interpreted in a different way that allows CPs to change routes of internet traffic however they want as long as they notify corresponding ISPs. ISPs are concerned that an incident like the one involving Facebook that had damaged consumers due to a route change of internet traffic can happen again.
It is expected that ISPs and CPs will continue to battle against each other till the end over phrases such as 'providing information' and 'discussing beforehand'.
ISPs are requesting that obligations such as 'user protection' and 'maintenance of quality of service' must be added on to obligations of CPs. Continuous dispute is expected as this request is a complete opposite from CPs' request.
CPs also stated that it opposes Article 5 that states that a request for a network contract must be done in writing. Their position is that private contracts can be done verbally and that a request for written contracts is for South Korean Government's convenience in case for an investigation in the future.
◊Guideline to be used as a reference and the standard for legal analysis
It will be also interesting to see how the guideline will actually be used. KCC clearly stated that there is no legal forcibleness within the guideline. As a result, there is a chance that multinational CPs will just simply ignore the guideline.
However, South Korean Government has secured an undeniable leverage as the guideline can be the standard for interpreting relevant laws and regulations during a process of determining who is right and who is wrong whenever there is a conflict involving a network contract.
While many bills for resolving reverse discrimination between South Korean businesses and foreign businesses when it comes to a network contract have already been submitted to the National Assembly, the guideline can be used as a key reference for legislating such bills.
"There is clearly a limitation to execution power over multinational CPs due to spatial issues." said a representative for KCC. "The guideline will be the basis for legislation and interpretation of laws in the future and it will act as a signal to the market."
It is expected that the guideline will be first applied to an application for a ruling submitted by SK Broadband to KCC regarding its contract with Netflix.
KCC notified Netflix about the fact that it received an application from SK Broadband and is currently waiting for a response. It is expected the guideline will be the standard for determining who is right and who is wrong.
Bills that have been submitted to the National Assembly regarding resolving reverse discrimination issue will be important for the guideline to be effective on multinational CPs as well.
Due to the fact that regulatory agencies do not have legal subjects that they can exercise legal force, there is a chance that the guideline will lose its power if countermeasures are not prepared.
"Because the guideline itself lacks effectiveness, next step will eventually be legislation." said an internet committee that represents CPs' position. "We are going to do our best to deliver opposing opinions as much as can during a legislation process."
Staff Reporter Kim, Yongjoo | kyj@etnews.com