China has emerged as a testing ground for smartphone manufacturers to test their foldable smartphones and gain leadership of the foldable smartphone market.
China is the only market where both Samsung Electronics' Galaxy Fold and Huawei's Mate X are sold.
Samsung Electronics, which had gone through many struggles within the Chinese market, has gotten a head start in the foldable smartphone market in China by releasing Galaxy Fold and has prepared a foothold for a comeback. It has confirmed the performance of Galaxy Fold within the Chinese market by selling all of supplies of 4G Galaxy Fold smartphones for four times.
It is planning to maintain this upward trend by starting to sell 5G Galaxy Fold smartphone.
Huawei is looking to counter Samsung Electronics through Mate X. Because it is struggling to release Mate X worldwide due to sanctions from the U.S. Government, it is putting all of its energy towards the Chinese market.
Not only competition between Galaxy Fold and Mate X will determine whether in-folding foldable Smartphone or out-folding foldable Smartphone is superior than the other, it also has pride of top Smartphone manufacturers from South Korea and China on the line.
◊Samsung Electronics looking to grab total leadership of China's foldable smartphone market through 5G Galaxy Fold
Samsung Electronics along with China Telecom introduced 'Samsung W20 5G' model on the 9th. This is a Galaxy Fold 5G model and it costs about $2,840 (3.32 million KRW).
Galaxy Fold W20 5G is one of Samsung Electronics' highest Smartphone brand that was released for leaders and wealthy people in China. It has specifications that are at the level of Samsung Electronics' flagship smartphone's specifications and it is applied with luxurious materials and design. Samsung Electronics will donate portions of profits made from Galaxy Fold W20 5G.
China is the only market where Samsung Electronics has released both Galaxy Fold 4G and Galaxy Fold 5G models. Based on the popularity of Galaxy Fold 4G model in China, Samsung Electronics is also targeting the 5G smartphone market in China. Samsung Electronics also considered the fact that Huawei's Mate X is a 5G smartphone model.
5th sale of Galaxy Fold model that was carried out on the 19th also recorded a complete sale within just two and half hours. Next sale will take place at 10 A.M. of the 22nd. Huawei is also planning to carry out its 2nd sale of Mate X at 10:08 A.M. of the 22nd. Because both Samsung Electronics and Huawei are planning to carry out their sales almost at an identical time, it will be interesting to see how quickly they are able to sell their products completely.
Since releasing Galaxy Fold LTE model within the Chinese market on the 8th, Samsung Electronics had been selling its products completely every time it had held a sale. After recording a complete sale in just five minutes on the day when LTE model was released, its products were also sold out early when it had held two sales in the morning and the afternoon of the 11th. There was even a long line of people who wanted to purchase Galaxy Fold model at Samsung Electronics' flagship market that was set up in Nanjing.
Chinese consumers, who have relatively shown hard opinions on Samsung Electronics' other smartphone models, are seeming to acknowledge technical skills of Galaxy Fold models.
Samsung Electronics is looking to recover its market shares within the Chinese market that are currently at about 1%. As Galaxy Fold has been the focal point of Chinese media, Samsung Electronics' other 5G smartphones such as Galaxy Note 10 Plus 5G and Galaxy A90 5G are now ranked based on sales volumes of 5G smartphones in China. When Galaxy Fold W20 5G is released next month, Samsung Electronics will be able to complete its lineup of 5G models from middle-grade smartphone to super-premium smartphone.
Huawei had also sold its Mate X completely in just one minute after it had carried out its first sale of Mate X through its online store on the 15th. Although there was a controversy when Huawei informed consumers not to open Mate X at a temperature under -5°C, Huawei was able to maintain its dignity by having a supply of Mate X sold out early.
There is a word that Huawei is enjoying the popularity of Mate X as Mate X is being sold at a price that is 5 to 6 times higher than the store price of Mate X within used smartphone markets in China.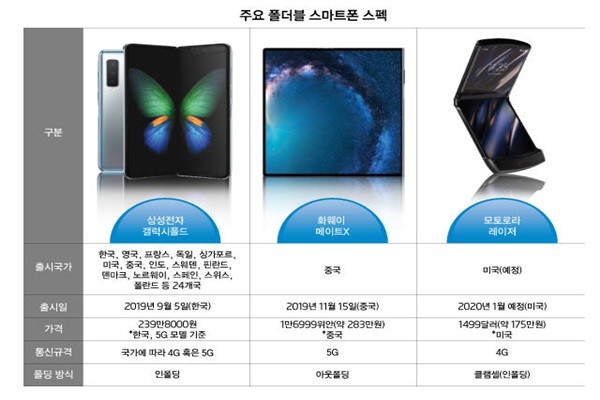 ◊Galaxy Fold and Mate X receive different opinions on degree of completion and user experience
Majority of people in China believes that Galaxy Fold is ahead of Mate X when it comes to degree of completion.
Wrinkle is an issue for Mate X as well as Galaxy Fold. As surface stretches due to tensile force that is applied to a screen based on out-folding method, irregular wrinkle becomes noticeable when an out-folding screen is laid out.
While wrinkle appears constantly at an area where Galaxy Fold is folded, Mate X reminds of an old linoleum sagging for some.
On the other hand, people prefer Mate X, which is intuitive, more when it comes to UX (User Experience). Mate X has received favorable reviews as it can be used like a normal smartphone even when it is folded and converts into a tablet naturally as soon as it is laid out.
"Galaxy Fold is a product where users start to become adapted to a new form factor called foldable display." said one Chinese employee who reviews IT products. "Mate X is an advanced form of current smartphones and it allows users to experience foldable smartphone intuitively."
Staff Reporter Park, Jungeun | jepark@etnews.com