'IMID 2019', which is the biggest exhibition for South Korean display industry where people can see current trend of latest technologies, opened on the 8th at KOEX. It is going to be held for four days and it will display various new technologies that can show the direction of development of display technologies.
Samsung Display and LG Display set up large booths side by side.
Samsung Display mainly displayed solutions that implement a mobile environment with ultrahigh speed, hyper connectivity, and ultralow delay that is optimized for 5G generation.
It emphasized its attempt to break the limit of the size of Smartphone displays by placing a foldable display, which is used for Galaxy Fold, at the center of its booth. It also presented full-screen technologies such as whole display and a display with integrated sensor that have high sense of immersion.
It also presented a prototype of 15-inch multiscreen laptop that has an OLED screen and an OLED touchpad. This laptop is based on a whole new concept that allows the laptop to be used as a second display while performing touchpad function. By presenting 13.3-inch OLED gaming laptop panel that is already commercialized and 7-inch e-mirror OLED that is adopted by Audi, it emphasized current trend where OLED is beginning to be used for IT products and cars in addition to Smartphones.
LG Display made 88-inch 8K CSO (Crystal Sound OLED) display public for the first time through IMID 2019. This display has sound coming directly from a screen and it has 3.2.2-channel embedded to raise sense of realism as the sound and the image from a screen are in unison.
It also displayed 65-inch crystal motion OLED display that currently has the fastest response time and 55-inch transparent OLED display that has been mass-produced starting from this year.
It also displayed automotive OLED display that will go through mass-production at the end of this year to emphasize its superiority within the OLED market. It emphasized distinction by displaying automotive transparent 12.3-inch display that is currently the biggest size on the market.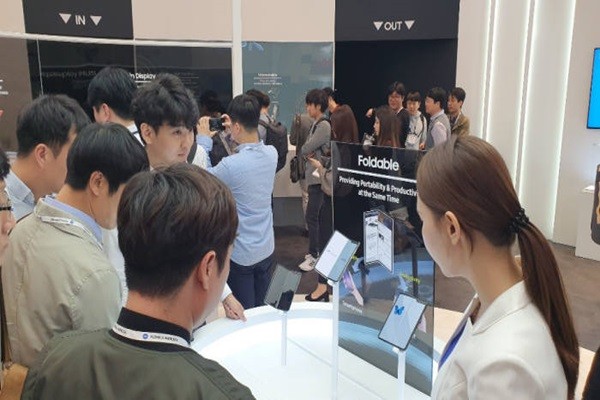 Merck displayed various state-of-the-art materials such as OLED and QD (Quantum Dot). It especially emphasized soluble OLED that can deal with inkjet process.
Its OLED brand called 'Livilux' can be applied to both vacuum deposition and printing processes. It has developed and solution-type OLED ink at its research institute in South Korea and is preparing for large-scale printing process market. It also displayed other materials such as QD ink, sensitizer for banks, and QD sensitizer.
PIMS presented FMM (Fine Metal Mask) and open mask, and hybrid mask that improves current etching process. Its FMM combines align stick, feedback stick, and cover stick to simplify mask manufacturing process.
Strength of slight etching mask, which is an upgrade from current open masks, is its ability to greatly reduce shadow distance. It has supplied its slight etching masks to Chinese companies and it is looking to secure South Korean companies as its customers as well.
SP-TECH displayed its display measurement and inspection equipment called 'CR-250' that can greatly reduce the cost of introducing facilities. Compared to products from Japanese companies, CR-250 can reduce the cost by more than 80%. SP-TECH has supplied this equipment to automotive display manufacturers.
BOYU from China displayed PBN (Pyrolytic Boron Nitride), which is one of key parts of an OLED deposition equipment, and semiconductor heater. Although it is a newcomer to PBN crucible market for evaporating devices, it is rapidly securing relevant patents and is raising the awareness of its brand.
Taiwanese PM (Passive Matrix) OLED manufacturer called WiseChip released its new product based on 4th Gen hyperfluorescence OLED luminescence technology for the first time at IMID. WiseChip explained that its new product has low power consumption and it is 2.5 times brighter than current fluorescent materials. It can also implement in-cell touch function while maintaining thickness or weight.
Meteor Inkjet from United Kingdom is looking to target South Korean markets based on its industrial inkjet printer technology. It recently entered the South Korean market after signing an agreement with a South Korean company. Some of its products are control board related to inkjet printer and system software.
Staff Reporter Bae, Okjin | withok@etnews.com