26,000, which is the number of retailers of cellphones shown through a factual survey done by Ministry of Science and ICT (MSIT), is actually lower than the number of convenience stores and thus going against an estimation made by the industry that estimated that there would be more retailers than convenience stores.
Although the number of wireless telecommunications operator-operated stores is low, their sales and number of employees are three to five times higher than that of small and medium size stores.
South Korean Government needs to vitalize and make distribution network more transparent while supplementing data through continuous surveys on wireless telecommunications distribution network
◊Number of cellphone retailers lower than the number of convenience stores
Although there is good amount of cellphone retailers in South Korea according to a factual survey done by MSIT, the actual number of cellphone retailers is lower than the industry's estimation.
25,724, which was the number of cellphone retailers at the end of 2018, is lower than Korea Mobile Distributors Association' estimation (29,000) and it is also lower than the number of convenience stores (42,200) in South Korea. This survey disproves vague estimation that believes that there are many cellphone retailers in South Korea.
It is shown that cellphones are distributed through supply channels centered on wireless telecommunications operators, direct retail channels through manufacturers, and supply channels through authorized dealers.
Wireless telecommunications operator-centered channel is a traditional structure that connects wireless telecommunications operators, authorized dealers, and stores. Direct retail channel through manufacturers includes online sale through their homepages, Samsung Digital Plaza, LG Best Shop, and Apple Store. It is understood that there is also a distribution structure where manufacturers directly supply cellphones to wireless telecommunications operators' dealers.
It is shown that distribution is responsible for significant amount of the wireless telecommunications market. Annual sales of retailers are $9.07 billion (10.9 trillion KRW) and they are comparable to the annual sales of LG Uplus in 2018 which was $10.1 billion (12.1251 trillion KRW).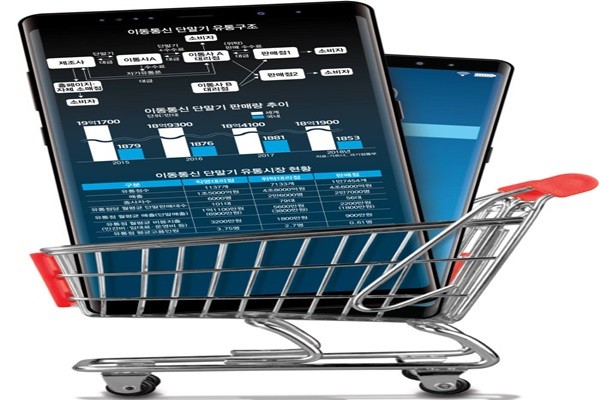 ◊Polarization between company-operated stores and regular stores
Although the number of company-operated stores is lower than the number of authorized dealers and regular stores, it is shown that average monthly sales of company-operated stores are much bigger than that of regular stores.
There are 1,137 company-operated stores in South Korea. They sell 101 cellphones monthly on average and their average monthly sales and total sales from cellphones are about $92,000 (111 million KRW) and $57,000 (69 million KRW) respectively.
Compared to the number of company-operated stores, there are 7,133 authorized dealers in South Korea. However, they sell 79 cellphones monthly on average and their average monthly sales and total sales from cellphones are about $47,000 (56 million KRW) and $32,000 (38 million KRW) respectively.
There are even more regular stores than authorized dealers. There are 17,454 regular stores in South Korea. However, they sell the least number of cellphones monthly at 56 and their average monthly sales and total sales from cellphones are only about $18,000 (22 million KRW) and $15,000 (18 million KRW) respectively.
Monthly amount of outgoing expenses including personnel expenses, cost of rent, and operating expenses was the highest for company-operated stores at $27,000 (32 million KRW) followed by authorized dealers ($15,000 (18 million KRW)) and regular stores ($7,500 (9 million KRW)).
While company-operated stores are seeing more sales of cellphones and providing relatively high-quality jobs through their funding power, regular stores are facing a harsh reality of being small stores. It can be deduced that rebates from wireless telecommunications operators are given mainly through large retailers.
In case of employment, company-operated stores hire 3.75 people on average and 84.2% of jobs offered by them are full-time jobs. Authorized dealers hire 2.7 people on average and 62% of jobs offered are full-time jobs. On the other hand, regular stores hire 0.61 people on average. Although 75% of jobs offered are full-time jobs, this number is skewed as most of regular stores are operated by single person.
◊Tasks for South Korean Government
Company-operated stores and authorized dealers take care of tasks such as customer service and receive profits from selling rates (6% of entire rates on average). Regular stores depend entirely on cellphone sales and profits from rebates.
Based on the survey results, MSIT is practically opposing Complete Self-Sufficient System, which completely separates wireless service sales from cellphone sales, while stating that number of employees will be reduced by 45,100 people centered on authorized dealers and regular stores. It predicts that it will be possible to discuss with businesses regarding coexistence with small and medium size distribution network by adjusting roles and reducing number of sales of cellphones by company-operated stores when it pushes for gradual cellphone self-sufficient system.
South Korean Government needs to establish more reasonable policy by securing more detailed data. There needs to be detailed discussions amongst South Korean Government and the National Assembly based on data.
Some within the National Assembly criticized the fact that the factual survey by MSIT is insufficient. Survey was centered on traditional structures such as company-operated stores, authorized dealers, and regular stores and not mass merchandisers and online sales.
"We are also disappointed about the fact that there has yet to be proper inspection since MSIT announced its plan to execute cellphone self-sufficient system at the end of last year." said a representative for the National Assembly. "There need to be complementary measures such as refining items and regularizing factual surveys."
Staff Reporter Park, Jisung | jisung@etnews.com & Staff Reporter Kim, Yongjoo | kyj@etnews.com & Staff Reporter Park, Jungeun | jepark@etnews.com