ODA (Official Development Assistance) through Science, Technology, and Innovation (STI) is emerging as a new ODA plan for South Korea because current ODA plans cannot differentiate South Korea from other advanced countries with ample funds. Helping countries that are in need with development of science and technology based on science and technology ODA can bring out more positive results from many aspects.
◊ODA an obligation and opportunity for advanced countries
ODA is a type of assistance provided by advanced countries to developing countries with development of their economy and society and welfare promotion. Organization for Economic Cooperation and Development (OECD) DAC (Development Assistance Committee (DAC) coined the term ODA in 1969. Nowadays, it is seen as a groundwork to achieve solutions for common mankind issues and mutual prosperity.
Providing ODA is an obligation for advanced countries that are part of the international society. Although OECD is generally seen as a meeting of advanced countries, some say that a country is truly an advanced country when it provides ODA as part of DAC. South Korea is a member of DAC. To solidify its position as an advanced country within the international society, it needs pay interest towards performing ODA.
Advanced country must look at ODA from a standpoint of humanitarianism. However, there are also many benefits such as national security and diplomatic benefit through solidarity and economic benefit for advanced countries that provide ODA.
In case of the U.S., it has exercised its influence globally since the 1960s through 'Foreign Aid Act' and it has been the leader in controlling the order of global security. Through ODA, it brought third world countries to its camp during the Cold War. From an economic aspect, the U.S. formed markets in countries that were receiving its ODA and it also set up ways to easily gather resources from those countries.
For same reasons, South Korea has been increasing its budget for ODA every year. This year's budget is set at $2.66 billion (3.2003 trillion KRW) that is $126 million (152.1 billion KRW) higher than that of last year. Compared to the budget from ten years ago, this year's budget is four times higher. However, even this large amount of ODA is not enough for South Korea to gain competitive edge or be different from other advanced countries.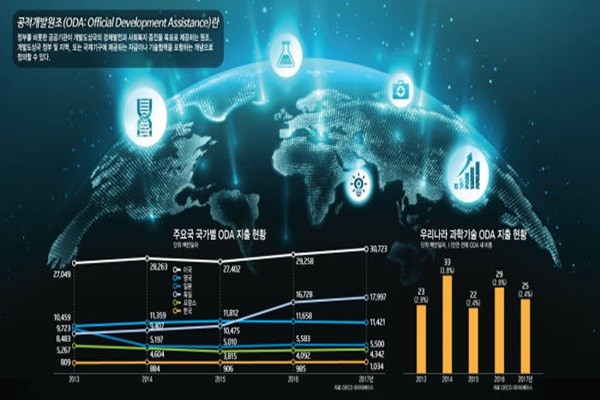 ◊ODA through SDI emerging as a key plan for South Korea
Other advanced countries have their funding powers as their weapons and they focus on setting up health system, education system, and infrastructures. In 2015, Japanese Government's budget and Canadian Government and Australian Government's budgets for ODA were ten times higher and four times higher than that of South Korea. South Korea cannot catch up other advanced countries with just funding power alone. Although it has put in many efforts to improve its competitive edge and to be different from other advanced countries, it has not been easy.
ODA through STI has started drawing attention as a solution for South Korea to be different from other advanced countries. STEPI (Science and Technology Policy Institute) started researching on this issue even before relevant concepts were established or discussions took place and set up action plans. South Korean Government's plan is to teach its experiences in developing its economy through STI to countries in need.
South Korea's strength is in ICT (Information Communication Technology) field. South Korea was originally a country that received ODA from others through science and technology and now it has grown into a country that provides ODA.
Actually, South Korea's first government-funded research institute called KIST (Korea Institute of Science and Technology) was established in 1965 through economic assistance from the U.S. KIST and other government-funded research institutes have led industrialization and economic development of South Korea since then. Establishment and development of KAIST (Korea Advanced Institute of Science and Technology) can also be seen as a model that developing countries can emulate. When South Korea teaches developing countries of these models, it will be able to differentiate itself from others that mainly provide funds or food as part of ODA.
ODA through STI is also drawing interests globally. It is being emerged as a primary ODA method when the paradigm of ODA changed from 'Millennium Development Goals (MDGs)' to 'Sustainable Development Goals 'SDGs'.
Countries that receive ODA want to have abilities to develop on their own through STI rather than simple assistance such as food.
"Developing countries currently want assistance so that they can achieve sustainable growth." said Kang Min-ho, who is the head of Korea Technical Management Institute's Encore Korea Business. "Since our country achieved industrialization through ODA, we can induce more successful examples by using our experiences from the past and knowhow into ODA."
◊South Korean Government focuses on ODA through STI
South Korean Government is also working to vitalize ODA through STI after realizing the importance of it. At the end of last year, Ministry of Science and ICT (MSIT) announced its plan to vitalize ODA through science and technology. This plan was established by STEPI and KIST.
This plan includes comprehensive support to make different ODA models based on types such as comprehensive research institution or university specialized for science and technology and to help developing countries with establishment of infrastructures, consulting on operation, training, and joint R&D. MSIT also announced its plan to push for '10 leading projects for ODA through STI' starting from this year.
Currently, MSIT is operating 'Science and Technology ICT ODA Convergence Program Committee' with STEPI and Korea Information Society Development Institute to look for convergence programs.
However, many believe that there still needs to be more efforts and resources in order to vitalize ODA through STI. According to OECD's data on South Korea's ODA through STI, amount of its ODA through STI was only $25 million in 2017 and it was about 2.4% of its ODA in 2017.
Some also say that roles of think tanks that establish policies on ODA through STI need to be more strengthened. In order for South Korea to be more accurate and precise on carrying out ODA through STI, functions of these think tanks need to be expanded such as figuring out what technologies need to be sent to which country and weighing on strategies in details.
"It is important for South Korea to analyze the needs of developing countries and to provide advices on policies." said Lee Jang-kyu who was the former chancellor of Adama Science and Technology University in Ethiopia. "It is important for STEPI or other relevant universities to actively be involved in ODA through STI and strengthen entire relevant policies."
Staff Reporter Kim, Youngjoon | kyj85@etnews.com