Parties interested are colliding against one another surrounding internet interconnection system. Internet interconnection system has emerged as a 'hot topic' as it starts to gain unparalleled level of interests. Fact that South Korean and foreign CPs (Content Provider) stated that they are facing huge financial burden from using network due to internet interconnection created this collision. South Korean and foreign CPs want to go back to the old way of interconnection system. However, many wonder if it is best to go back to the old way after looking at interconnection system and the background for revised internet interconnection system. Even if there are pros and cons of internet interconnection system, there needs to be a logical alternative where ISPs (Internet Service Provider) collect investment costs for network and CPs pay less for using network.
◊Internet interconnection system set up to resolve the order of internet
South Korean Government revised enforcement regulation of Telecommunications Business Act in 2014 and changed high-speed internet from value-added telecommunications to a key telecommunications service and created telecommunication equipment and facilities interconnection standard by the end of 2014.
As high-speed internet became a key telecommunications service, interconnection also became a key telecommunications service. It was a bold measure that incorporated internet interconnection into a regulatory system for the first time in the world.
Internet retail market was disorderly at that time. Because it was a value-added telecommunications market without regulations, first movers were rampant. "There were many issues such as access denial, delay in increase of access capability, limited full routing, and lack of transparency in interconnection agreement." said Korea Information Society Development Institute (KISDI).
Although interconnection system resolved any serious unfair act, the issue was not completely solved. How access fees between major telecommunication companies were calculated was the cause of the problem.
KT, SK Broadband, LG Uplus paid nothing to each other despite the amount of traffic. This means that they were able to access each other's network for free and it resulted in ISPs actively looking to recruit CPs. They thought that attracting CPs would had brought profits for them no matter what because they did not have to pay the cost of accessing network.
This is the reason why CPs want to go back to the old way when the cost of using network was absurd. However, ISPs that were providing their network had to be responsible for paying investment costs of network without any profit. As a result, such way did not last too long.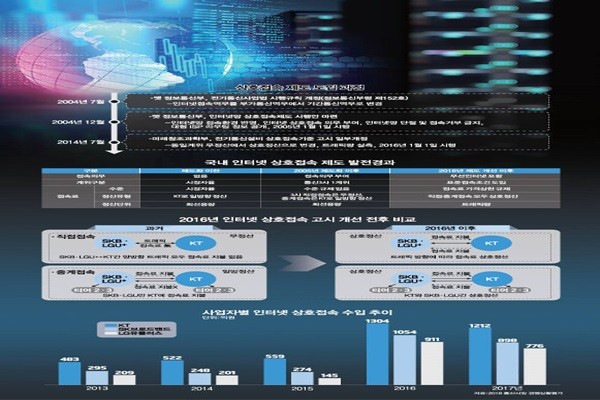 ◊South Korean Government enforces new internet interconnection system
Ministry of Science, ICT and Future Planning revised interconnection standard in July of 2014 and enforced it in January of 2016. By doing so, it was able to improve issues of interconnection system that had continued for ten years since 2005.
Biggest change was that South Korean Government prepared an accurate base for calculating the cost of accessing network.
Main reason for the change was the difficulty in collecting the cost of network. Fact that calculating access fee was based on capacity and not actual amount of traffic was also another reason.
As internet interconnection market was unstable before 2015, there was an abnormal situation where more than 80% discounts compared to terms were taking place. According to South Korean Government's research result, about $2.81 billion (3.4 trillion KRW) was needed to have about 23 TB (terabytes) amount of traffic flow throughout the country in 2014. It was facing a difficult dilemma where it could not collect the necessary cost from members' fees, access fee, and the cost of using network by CPs.
Revised interconnection system in 2016 did not resolve the issue of collecting investment costs of network by ISPs. There is yet to be any evidence. Although ISPs stated that that they were collecting investment costs when the amount of profit from internet interconnection suddenly increased from $80.8 million (97.8 billion KRW) in 2015 to $270 million (326.9 billion KRW) in 2016, this is more like an optical illusion as ISPs mutually calculate the cost of accessing each other's network.
Although the amount of profit increased, there is not much remaining after some calculations. Fact that SK Telecom's wireless internet traffic, which was included into exclusive line statistics, was included into interconnection statistics is partially responsible for the sudden increase.
There needs to be many considerations before going back to the old way of interconnection system. If ISPs are able to use each other's network for free, cost of using network will be ultimately free. CPs need to provide a serious answer on whether they want such condition. If there is no logical way of calculating the traffic, there will not be any way of keeping foreign CPs, which are responsible for at least 40% of internet traffic in South Korea, in check from using network for free.
◊South Korean Government looks into whether the cost of using network actually rose
Controversy surrounding new interconnection system that was enforced in 2016 started when there was a claim that ISPs started to shift the cost of network onto CPs. South Korean and foreign CPs are concerned that they will have to pay more for using network of ISPs in the future. Controversy amplified when Facebook changed an access route for the cost of using network.
However, such claim needs to be looked at more deeply. It is difficult to see whether the cost of using network increased after 2016 according to statistics submitted by CPs to Ministry of Science and ICT (MSIT). This is because statistics consider certain point before 2015 as '100' and that the number became 105 or 110 after 2016. It is difficult to say how much more a certain CP is paying for using network for what reason.
"It is difficult for us to investigate the correlation between interconnection system and the cost of using network with these statistics." said a representative for MSIT.
Statistics on 'internet exclusive line market', which shows current state of the cost of using network indirectly, also does not provide an evidence that the cost of using network increased after 2016. Internet exclusive line market was worth $377 million (456.3 billion KRW) in 2015 and its worth decreased in 2017 to $336 million (406.5 billion KRW). Even if the cost of processing SK Telecom's wireless internet that used to be included into statistics has been removed since 2016, it does not have huge effect considering the fact that SK Telecom's wireless internet was worth lower than $8.26 million (10 billion KRW).
Looking at how interconnection fee is calculated, there is a structural reason that says that it is difficult for the cost of using network to increase suddenly. Connection tariff divides the cost of network into traffic and increased traffic leads to reduced connection tariff. Actual connection tariff fell 30.5% in three years from $26.36 (31,910 KRW) per TB in 2016 to $18.33 (22,189 KRW) per TB in 2019.
ISPs proposed a definite alternative that will reduce the cost of using network for small and medium CPs when there were continuous concerns about financial burden for small and medium CPs despite the facts.
Staff Reporter Kim, Yongjoo | kyj@etnews.com