Despite continuous trade war between the U.S. and China, Huawei doubled down its intention to develop its own semiconductor chip. Not only Huawei announced its plan to invest into development of data center chip, which is basically monopolized by American companies, it is also set to release 5G modem chip. It will be interesting to observe Huawei's next steps while South Korea's semiconductor industry is feeling heightened sense of crisis due to Japanese Government's regulation on exportation of key semiconductor materials.
According to South Korean semiconductor industry, Huawei recently held 'Kunpeng Computing Industry Summit' event in Beijing and announced that it would invest $435 million (514.7 billion KRW) into development of data center chip and relevant infrastructures for the next five years.
"We are going to focus on innovating our data center chip 'Kunpeng' and AI chipset 'Ascend' processor." said Rotating CEO Eric Xu of Huawei. "We are planning to establish advanced IT infrastructures while developing a computing system for Kunpeng."
Huawei introduced data center CPU 'Kunpeng 920' for the first time in January. Kunpeng 920 was designed by Huawei's semiconductor design subsidiary called HiSilicon. It is based on 64 cores and it currently utilizes 7nm process.
Huawei is looking to enter data center CPU market by expanding a lineup of Kunpeng processor. Intel currently owns more than 90% of the shares of data center CPU market. AMD is also looking to challenge Intel within data center CPU market.
Above all else, Huawei reconfirmed its intention to develop its own semiconductors despite heavy sanction imposed by the U.S. Government in May. It is also looking to collaborate with a British semiconductor design company called ARM. ARM, which sells its IPs (Intellectual Property) on semiconductor design, once stated that it agrees with the U.S. Government's decision to sanction Huawei.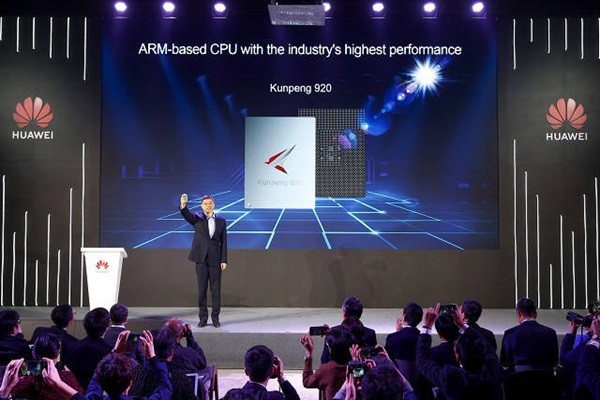 Kunpeng 920 is a processor designed based on ARM. Fact that Huawei is going to focus on development of new chips indicates that it is going to continue to use IPs developed by ARM.
"Although ARM indicated that it agrees with the U.S. Government's decision to sanction Huawei, there was no actual sanction imposed by ARM." said a representative who is familiar with China's semiconductor industry. "Although TSMC was concerned about losing Chinese customers, its sales in China did not drop by much during the second quarter."
"We are going to continue to invest into Chinese market and we expect to work with Chinese businesses as well." said COO Graham Budd of ARM.
It is heard that Huawei is also planning to release two types of 5G Smartphone chips by end of this year. 'Kirin 985, which is one of the two chips that will be released by Huawei this year, is applied with EUV (Extreme Ultraviolet) process and it is expected to be introduced during the second half.
Huawei also attended '2019 Micro Semiconductor Summit' that was held for two days starting from the 18th. This summit, which had 400 representatives from industries and 200 experts in attendance, is the biggest semiconductor event within China and it had gone over chip design, production, equipment, and investment plan.
Staff Reporter Kang, Hyeryung | kang@etnews.com