"Collaboration is one of many capabilities that are absolutely needed in future society. South Korean internet does not have a platform that allow students to work together to gather materials for a presentation. In this day and age of Cloud, our kids will certainly lack competitive edge when they go into society without having access to Cloud for ten years."
Shin Min-cheol, who is a teacher at Habin Elementary School, gives lessons by allowing his students to work together on documents and work on homework through Google Classroom. He does not have any issue of connecting to a site that he wants to show to his students and he does not have to worry about membership procedure where he has to get a consent from parents each time. Google Classroom allows teachers to issue IDs to students and it also allows teachers to quickly change log-in information of students who lose their passwords. He does not have to worry about playing a large file due to unlimited drive capacity of Google Classroom and he also gets many positive feedbacks from parents as well as he can immediately share links that he shows to his students with parents.
Google provides Google Classroom at no cost just as if it knows the circumstances of education environment in South Korea. Teachers research about ways to utilize Google Classroom by forming their study groups on their own. They express their sadness about the fact that South Korean internet does not have a platform like Google Classroom.
Issue can rise when Google changes its policies as it may have an opportunity to monopolize South Korean markets. It currently provides the best version from its Cloud software (SW) service called 'G Suite'. Education industry and other industries believe that it will be no time before Google has complete control of school market in South Korea.
When Google has complete control and changes Google Classroom into a paid service, there is nothing South Korean schools can do. This is the reason why many suggest that South Korean industries should not just focus on immediate profits but actively jump into education market as well.
◊Major South Korean universities begin incorporating G Suite service to their school systems
All students, faculties, and professors from Korea University, Yonsei University, Ewha Womans University, Kyunghee University, Sookmyung Women's University, and Kookmin University are currently using G Suite. Seoul National University started providing G Suite Service only to its students starting from early this month. Hanyang University is planning to incorporate G Suite at the end of this year.
Major universities in South Korea are using 'G Suite' that allows school personnel to write and share documents through collaboration regardless of time, location, and relationship. "We came to know G Suite after looking for many services that would replace our previous mail system." said a representative for Korea University. "We decided to use G Suite because it is a platform that can be applied to various areas such as education, administration, and research."
"We compared G Suite to Daum and Naver and we realized that G Suite offers various functions and does not cost anything to use its service." said a representative for another university.
Industries predict that other small and medium universities in rural areas will also begin to use Google's service as it is cost-free.
Although some criticize universities for their high dependence on global IT business, it is advantageous for universities to use Google's service from aspects of cost and operation. There will be huge financial burden for universities if they are to try to establish their own Cloud system.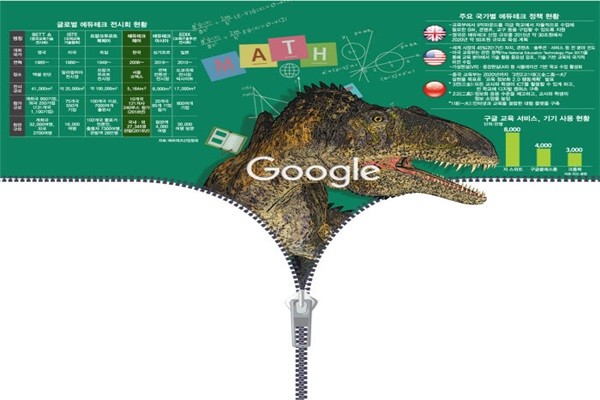 ◊Google's influence to affect many industries in South Korea
It is likely that LMS (Learning Management System) market will be affected by Google's influence first. With Google's 'course kit', a school can use log data created from G Suite on a LMS.
There needs to be a LMS that meets G Suite's specifications in order to utilize log data created from G Suite. This means that G Suite user needs to be familiar with Google's format and that every school system needs to follow Google's specifications. This is the reason why global LMS such as Blackboard and Canvas are favored more in South Korea compared to LMS from small and medium businesses.
It will not be long before South Korea's internet portal industry will be affected by Google's presence. Students are beginning to use G-mail more over e-mail systems provided by South Korean portals such as Naver and Daum. Google's Chromebook is currently responsible for 66% of laptop market in the U.S. for students in K through 12th grade. Google is starting to expand its business towards SW and service industries based on its experience in school industry. Microsoft (MS) also started offering free education program.
There is also security concern regarding using Google's services. A South Korean university tried to link G-mail to its school e-mail system couple years ago and was faced with opposition from professors. "We could not incorporate G Suite at that time because many professors thought that there would be a possibility of Google having access to their important research results." said a representative for this university. University that wants to use G Suite has to provide names and e-mail addresses to Google after getting consents for providing personal information to a third-party.
"South Korean portal industry has basically zero education program when it needs to invest into future generations and South Korean SW has limited functions when it comes to education purpose." said a well-known figure from South Korea's education industry.
◊South Korean Government lacking appropriate measures towards future education environment in South Korea
Reverse education, debate-type class, bundle class, and tangible class based on multimedia are different types of classes that have recently drawn interests as ways to grow potential capabilities of students. Google Classroom is a tool that allows these types of classes to take place.
Due to no alternatives, South Korean Government cannot limit or encourage use of foreign solutions and services. Although it is looking for ways to improve IT environment for future education system, it is not easy. It is looking for a way that will help teachers to easily manage IDs of their students and to utilize contents. Industries point out that there needs to be R&D on 'reasonable technology' rather than developing a system that can replace Google's services.
"We know that future education and Cloud cannot be separated in the future." said a representative for Ministry of Education. "We are looking for various solutions such as combining student IDs."
Staff Reporter Mun, Bokyung | okmun@etnews.com & Staff Reporter Jeon, Jiyeon | now21@etnews.com