KETI (Korea Electronics Technology Institute) stated that it developed sheet-type composite electrode technology that is necessary to provide higher capacity to an all-solid-state battery.
This research was recognized for its technological importance and it was selected as the cover thesis of ChemSusChem that is an international scientific journal.
All-solid-state battery is a battery that uses nonflammable solid electrolyte unlike a lithium secondary battery that uses liquid electrolyte. It is seen as the next-generation battery as it has no flammable hazard and it can store twice more information than current lithium secondary batteries under same size.
Sheet-type composite electrode technology such as slurry application process that evenly mixes and applies components of an electrode such as cathodic material, solid electrolyte, conductive material, and binder are needed to manufacture high-capacity batteries. While there were various research done on solid electrolyte in the past, there was lack of research on battery manufacturing technology that is needed to actually commercialize all-solid state battery.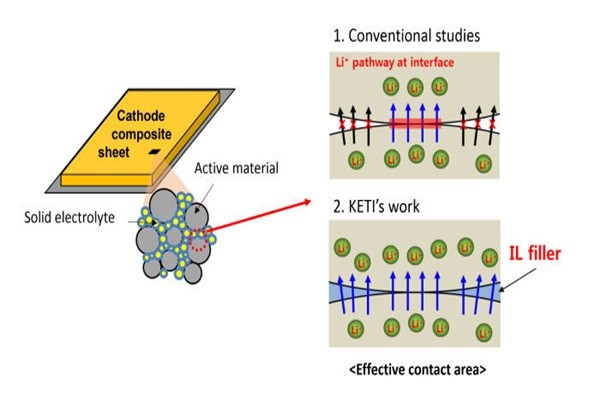 Because ionic conduction is difficult for an all-solid-state battery due to a characteristic of solid, solid electrolytes are mixed with cathodic materials when an electrode is manufactured to make conductivity easier. Because current technology cannot make contact between particles smooth due to pores that are located between cathodic materials and solid electrolytes that are mixed inside of an electrode, it is difficult to implement appropriate battery performance due to low effective contact areas where lithium ions move.
KETI's Next-Generation Battery Center utilized ionic liquid to maximize effective contact areas between cathodic material and solid electrolyte so that lithium ions can move smoothly. Ionic liquid has an ionic bond and is liquid at room temperature and it is a substance that allows conductivity by lithium ions when lithium salts are added during battery manufacturing process. By filling pores of electrodes through solid electrolytes that are coated with small amount of ionic liquid and effectively improving resistance when lithium ions are moving, KETI has secured up to 90% of capacity of current lithium secondary batteries even on large electrodes.
"All-solid-state battery is an optimal battery for an electric vehicle and we expect that it will be commercialized in the near future." said Senior Researcher Jo Woo-seok of KETI who had led this research. "We hope that there will be momentum in commercializing large all-solid-state battery with high energy density through our technology."
This research was performed as part of Ministry of Trade, Industry and Energy and Korea Evaluation Institute of Industrial Technology's Materials and Parts Technology Development Project.
Staff Reporter Jung, Hyeonjung | iam@etnews.com