Samsung Electronics has not got out of its slump yet as it made about $5.11 billion (6 trillion KRW) in operating profit for two quarters in a row due to semiconductor market slump and low profitability from its Smartphone business. Degree of uncertainty of semiconductor market has gotten worse due to economic retaliation by Japanese Government. However, fact that its second quarter operating profit is slightly better than the first quarter operating profit and that there is a chance that semiconductor demands will be improved during the second half of 2019 are positive factors.
◊Semiconductor market continues to go through a slump
Samsung Electronics' operating profit in the second quarter was $5.53 billion (6.5 trillion KRW) that is 56.29% decrease from its operating profit in the second quarter of 2018.
Although Samsung Electronics has yet to announce performance of its individual business sector, it is predicted that most of operating profits that were reduced were responsible by its semiconductor business. While its operating profit in semiconductor business from the second quarter of last year was $9.88 billion (11.61 trillion KRW), it is estimated that Samsung Electronics made about $2.81 billion (3.3 trillion KRW) during this second quarter. It lost more than $6.81 billion (8 trillion KRW) in operating profit just from its semiconductor business.
Issue is when performance of its semiconductor business will make an improvement. Because semiconductor is highly responsible for overall performance of Samsung Electronics, recovery of semiconductor business indicates an increase in overall performance of Samsung Electronics.
There are different predictions towards the forecast of semiconductor market. Semiconductor industry is predicting that global IT businesses are in the final stage of adjusting their semiconductor inventories. As a result, it predicts that semiconductor price will improve as there will be more demands for memories starting from the second half.
However, fact that memory price continues to drop is a negative factor. Also, foreign variables such as trade conflict between the U.S. and China and Japanese Government's regulation on exportation of semiconductor materials remain as uncertainties.
As a result, most of stock firms predict that although Samsung Electronics' performance will improve somewhat during the second half, it will be difficult for Samsung Electronics' performance to make a huge leap.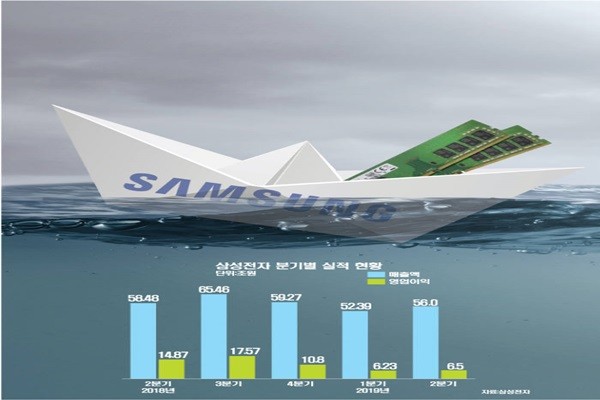 ◊Samsung Electronics hoping Galaxy Fold and Galaxy Note 10 will help its Smartphone business to rebound
Low profitability from IM (IT and Mobile) sector also had an impact on Samsung Electronics' performance in the second quarter. Low profitability from its Smartphone business especially had the most impact.
Although its 'Galaxy S10' was a bigger hit than Galaxy S9, it could not prevent profitability of Samsung Electronics' Smartphone business from going down. Although entire sales volumes of Smartphones increased, this increase was due to an increase in sales of low-end and medium-end Smartphones and it resulted in lower ASP (Average Sales Price) and profitability.
"Sales of Galaxy S10s are lower than our estimation." said Daishin Securities. "Although sales volumes of Smartphones increased due to popularity of Galaxy A series, operating profit ultimately decreased."
Although Samsung Electronics was benefiting from the U.S. Government's sanction on Huawei within certain European countries, it was mostly seeing an increase in sales volumes of low-end and medium-end Smartphones.
Its strategic Smartphones that will be released during the second half will be the keys to rebound of Smartphone business. It is expected that its Galaxy Note 10 and Galaxy Fold will carry performance of Smartphone business. Commercialization of 5G network within global markets such as the U.S., Europe, Japan, and China is also expected to contribute to improvement of Smartphone business as it will increase ASP of a Smartphone and increase exportation of 5G network equipment.
◊Consumer Electronics sector expected to grow continuously during the second half
Performance of Samsung Electronics' CE (Consumer Electronics) sector somewhat improved due to positive sales of TVs and home appliances.
Positive sales of QLED TVs and increased supplies of TVs starting from the middle of the second quarter had positive impact on Samsung Electronics' TV business. Premium home appliances such as air conditioner, refrigerator, and washing machine achieving positive results in domestic and foreign markets had carried the performance of Samsung Electronics' home appliance business.
How Samsung Electronics' strategy on increased supplies will operate will determine the performance of its TV business. Samsung Electronics is planning to carry out its strategies on sales of premium products and increased sales of entry-level models at the same time. For home appliance business, it is going to continue to strengthen its profitability by focusing on sales of premium products.
Staff Reporter Kwon, Geonho | wingh1@etnews.com & Staff Reporter Park, Jungeun | jepark@etnews.com