South Korea's biggest nano-technology exhibition 'Nano Korea 2019' is being held at KINTEX until the 5th. Nano Korea is an international event that displays latest research in nano field and various state-of-the-art applied products and is seen as world's three biggest nano events along with 'Nano Tech Japan' and 'TechConnect World'.
Nano-technology (NT) indicates a technology that can control a certain material in nanometer level. Because a material creates unique characteristics once it is divided into nanometer size, NT can develop various materials that surpass limitations of current materials. NT is essential to implement functional materials that are required in next-generation industries such as semiconductor, display, AI, 5G, AR (Augmented Reality), 3D printing, and battery.
Nano Korea, which is holding its 17th exhibition, is the biggest exhibition in its history. Exhibitions on six different fields such as nano-centered micro-nano system, laser processing, state-of-the-art ceramic, smart sensor, and adhesion, coating, and film are being held together. 436 businesses from 12 different countries are displaying technologies and products at 650 booths. Number of booths of this year's exhibition is increased by 19.5% compared to the number of booths from last year's exhibition. Out of all technologies and products, participating businesses are emphasizing technologies and products on industries such as new nano-materials, electromagnetic wave shield, and nano-printed electronics.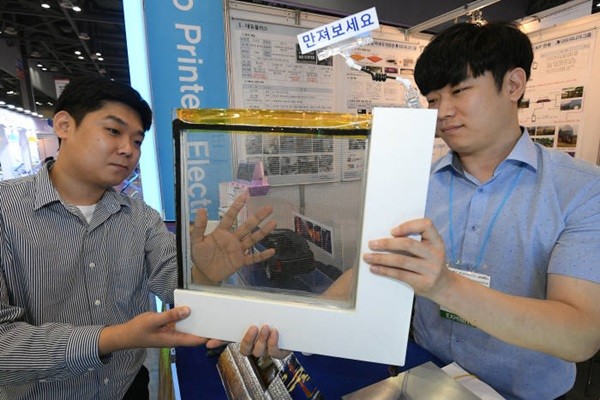 New nano-material indicates recently developed high-functioning new material that can be applied in various forms. Some examples are nano-cellulose, graphene, silver nano-wire, and quantum-dot. Graphene, which is seen as a 'dream new material', especially is being commercialized on full-scale. Samsung and LG introduced their graphene-related technologies. Samsung Advanced Institute of Technology introduced graphene that can be applied in various applications while LG displayed CVD (Chemical Vapor Deposition) graphene production technology that can produce graphene continuously through roll-to-roll method. CN&T introduced nano-cellulose; DaeHa ManTech introduced nano-micro capsule.
Technologies that can block or absorb electronic wave (noise) that is caused by various electronic products and related materials and parts have also drawn huge interests. Gratube introduced graphene shielding film and coating solution. CNT Solution and Bioneer introduced CNT (Carbon Nanotube) shielding sheet and 'copper nano-wire' respectively.
Exothermal technologies that can effectively expand heat caused by mobile devices and electronic devices that are becoming smaller and lighter and related materials and parts are also displayed. Various products such as nano-alumina fiber, high-exothermal nano-grease, and CNT exothermal plastic are displayed.
Nano-printed electronic is also an industry that is drawing attention. Printed electronic technology is an important technology that can be utilized in various areas such as solar battery, display, lighting, and PCB (Printed Circuit Board) and it is able to create synergy along with NT. Nano-printed electronic special room comprised of 25 booths by 17 businesses is set up at Nano Korea and it displays printed electronic technology that is necessary to manufacture devices for wearable and IoT (Internet of Things) devices and various applied products. AMOGREENTECH introduced high-precision nano-ink. Nuri Vista and PSTEC introduced nano-copper RFID and nano-pattern photonic sintering instrument respectively.
Staff Reporter Jung, Hyeonjung | iam@etnews.com