As relationship between South Korea and Japan has quickly deteriorated due to Japanese Government's new regulation on exportation of semiconductor materials, level of animosity by South Korea is growing towards Japanese businesses and products. Japanese businesses that are stationed in South Korea are showing growing concerns. As level of anti-Japanese sentiments has heightened, some are voicing 'boycott' towards relevant Japanese businesses.
A petition for 'retaliation by South Korean Government towards Japanese Government's economic sanction' was posted on the Blue House's online bulletin board for national petitions on the 2nd. This petition states that the people in South Korea should first boycott against Japanese products and tourism and that South Korean Government should look for various measures for retaliation. This petition is quickly gaining consents by other people.
Experts also agree that boycotts will be effective.
"It will be more effective for civic groups to take stands towards unnecessary sanctions." said Professor Jang Jung-ook of Matsuyama University on CBS Radio. "Japanese Government will not know what to do if civic groups take stand and boycott against Japanese products."
Actually, many voice their opinions online by saying that they should actively boycott Japanese products. There are many boycott-related posts on various communities and SNS as well.
South Korean Government also expressed its disappointment towards Japanese Government and it stated that this sanction can lead to boycott against Japanese cars and tourism in Japan.
"This sanction by Japanese Government will only hurt Japanese businesses and the people in Japan." said Chairman Cho Jung-shik of Democratic Party of Korea's Political Committee. "This can have negative impact on sales of Japanese cars, number of South Korean tourists in Japan that reaches 7.5 million annually, and successful hosting of Tokyo Olympics."
As national sentiment has grown cold towards Japan, businesses that are directly and indirectly have ties to Japan are growing more anxious because there is a higher chance of reduced consumption based on anti-Japanese sentiments happening than ever before.
It is likely that consumer goods industry especially will receive immediate blow once there are boycotts on full-scale. These businesses are paying careful attention to this situation while saying that they have yet to see any visible signs of negative effects.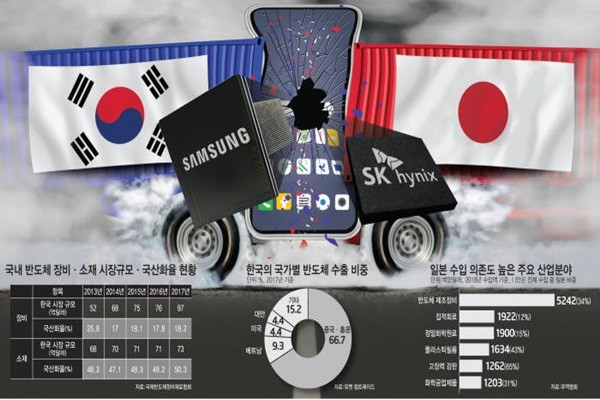 "There has yet to be any special order from our headquarters. There is also no special change to a report on risks of consumers in South Korea." said a representative for a Japanese house item retail shop called MUJI. "However, negative impact will be inevitable once South Korean Government comes out its own countermeasure towards Japanese Government's sanction and we are going to continue to observe this whole situation carefully."
"It will be difficult to find out possible change to our sales due to this issue yet." said a representative for a Japanese clothing brand called Uniqlo.
Previously, MUJI caused boycotts by South Korean consumers due to a controversy involving sales of plastic products from Fukushima. Uniqlo also cannot hide its sense of anxiety towards external variables as it had also gone through many difficulties due to advertisements and t-shirts with Rising Sun Flag.
Toyota Korea and Sony Korea are also taking a wait-and-see approach towards this issue. Relationship between South Korea and Japan has been affected significantly by activities of these two businesses. However, negative impact on sales of major products will be inevitable as long as there is conflict between South Korea and Japan. Resulting damage is similar to the damage received by major South Korean businesses in Japan.
Lotte is seen as one of major South Korean businesses tied to Japan. However, it has strong holdings system centered on Lotte Holdings and it was chosen as a key South Korean business that would make investments into the U.S. by President Trump. As a result, it is expected that it will not be much affected by possible boycotts.
However, because Lotte International and Lotte Shopping have 40% and 49% of shares of MUJI Korea, which is a joint South Korean corporate by MUJI, and shares of FRL Korea, which is a South Korean corporate of Uniqlo, respectively, valuation profit and loss of Lotte International and Lotte Shopping will face negative impact once there are boycotts against MUJI and Uniqlo.
It is likely that there will be boycotts towards tourism in Japan. Because 7.5 million people from South Korea visit Japan annually and this number is important for tourism industry in Japan, many are voicing their opinions towards limiting visits to Japan.
According to Hana Tour, 55,000 people from South Korea are currently scheduled to visit Japan between July and August. Number of tourists in Japan during the first half of this year was 30% lower than number of tourists during the first half of last year. Some predict that boycotts may have negative impact on number of tourists in Japan during this summer.
"It is normal for boycotts to occur whenever consumers face direct impact." said Secretary General Lim Eun-kyung of Korea National Council of Consumer Organizations. "Boycotts stemming from diplomatic conflict between countries are more serious than normal boycotts. As a result, possible boycotts prove that level of anger by the people in South Korea towards this situation is very high."
Staff Reporter Kwon, Geonho | wingh1@etnews.com & Staff Reporter Park, Junho | junho@etnews.com