Google and Apple that established an ecosystem for mobile games are bringing in new changes to gaming industry. Although their aims are slightly different from each other, their bases are the same. Gaming environment that focuses on UI (User Interface) and portable contents will be changed to console game experience. Business model will also be changed from F2P (Free to Play) model to subscription-based model.
Google is looking for a through streaming game platform. Google's 'Stadia' allows one to enjoy games on TVs and Smartphones through Cloud and does not require console or high-performance PC. Google is looking to eliminate limitations of touch control within mobile environment through controllers that are expected to be sold separately.
Its intention is clear through a lineup of AAA-level games that will be available through Stadia. Control and response are completely different from mechanism of current mobile games.
It is planning to secure its influence on consumers as well by having new games that are not released yet as killer contents and it is seeing every area of gaming platform as competition. It included Baldur's Gate 3', 'Football Manager 2020', and 'Just Dance 2020' to a list of games that will be available through Stadia. Fact that Google is trying to bring back Baldur's Gate 3, which is seen as one of the original CRPG (Computer Role Playing Game), is drawing huge attentions. Larian Studios, which emerged as a new star in CRPG market through 'Divinity Original Sin', will be in charge of development of Baldur's Gate 3. Football Manager that has strong ability to have a person immersed in it can also be played through Stadia. There is already a growing level of expectations towards Football Manager 2020 due to the fact that a player can become a coach regardless of a location.
Stadia will be introduced to the public in November starting with 'Founder's Edition'. Founder's Edition is priced at $129 and it includes a controller, Google Chromecast Ultra, and 3 months subscription. It will be available first in 14 countries such as the U.S., England, France, and Germany.
Rate system for Stadia will be based on subscription. Stadia 'Base' provides up to 1,080p resolution, 60fps, and stereo sound. Paid subscription service called 'Pro' provides up to 4,000p resolution, 60fps, and 5.1 surround service and it costs $9.99 per month. Even if a person subscribes to Stadia Pro, he or she cannot play every game for free as there will be games that can be purchased separately. However, subscribers will be able to play certain games for free periodically. They can also receive discount when they purchase exclusive games.
There are concerns for delay in input. Google explains that there will not be any issue in places where YouTube videos can be played without any disconnection. Although this issue remains to be seen, it is expected that number of Stadia users will grow in South Korea as connection delay issue can be somewhat resolved if Google Data Center Seoul Region is constructed in 2020.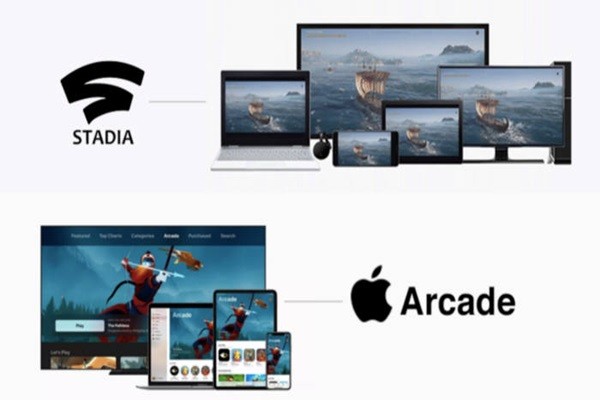 Apple partially opened its exclusive ecosystem for gaming experience. It changed iOS so that game controllers of other businesses can be used within iOS13. Previously, only MFi controllers worked for iOS.
It is trying to achieve improvement in qualitative experience in mobile games through 'Apple Arcade'. It is trying to enhance complexity and action while maintaining characteristics of mobile games rather than providing console-type games like Google.
Apple Arcade is App Store-based subscription-type gaming service that can be used through iPhone, iPad, iMac, and Apple TV. Its strength is royal customers that have 1.4 billion Apple devices in total. Main Apple Arcade users have tendencies to spend lots of money and seek for high-end products.
Popular studios and publishers such as Sega, Platinum Games, Developer Digital, and Konami are included in Apple Arcade. Starting with 'Fantasian', which is the new work of Sakaguchi Hironubu, Apple is planning to support wide range of genres that includes products of small developers and AR (Augmented Reality) games.
Staff Reporter Lee, Hyunsoo | hsool@etnews.com