South Korea's software (SW) and IT service businesses are starting to target new southern countries such as ASEAN (Association of Southeast Asian Nations) and India. New southern countries have emerged as new markets followed by Japan and China. Starting with Vietnam that has recently started to grow very rapidly, major new southern countries such as Singapore, Indonesia, and Cambodia are actively pushing for ICT (Information Communication Technology) policy. Corporates are also set up in these countries to support businesses in these countries and South Korea's major corporations that are looking to enter their markets. South Korean Government is also planning to provide stable support as number of South Korean SW and IT service businesses that are entering new southern markets increases.
◊New southern countries emerge as rising IT markets
In 2017, amount of exportation of South Korea's SW and IT services to new southern countries was $1.29 billion (1.5415 trillion KRW). There were 113 exporters at that time. Compared to 2016, amount of exportation and number of exporters increased by 15.8% and 56.9% respectively.
Industries expect that exportation to new southern countries will gain even more momentum as there will be more opportunities for South Korean businesses due to active policies established by new southern countries to promote ICT industry.
ASEAN prepared 'ICT Master Plan 2020'. ASEAN has the third most population with 650 million people. ASEAN countries are looking to develop new driving forces based on ICT and are pushing for necessary strategies. They are going to focus on expansion of IT infrastructures, establishment of Smart City, and promotion of ICT technologies that are familiar to South Korea's SW and IT service businesses.
Vietnam prepared strategies to support the Fourth Industrial Revolution and is investing into development of e-government, Smart City, and ICT human resources. Due to high distribution rate of mobile devices, Vietnam draws FinTech and e-commerce businesses. Singapore set 'Smart Nation' as its national vision. It is going to focus on AI, VR, and cyber security while carrying out relevant policies such as virtual Singapore and SNDP (Singapore National Data Platform). Indonesia and Thailand also set up their respective national visions and are pushing for relevant policies. They are planning to convert entire industries into digital industries by introducing new technologies such as e-commerce, cyber security, and self-driving.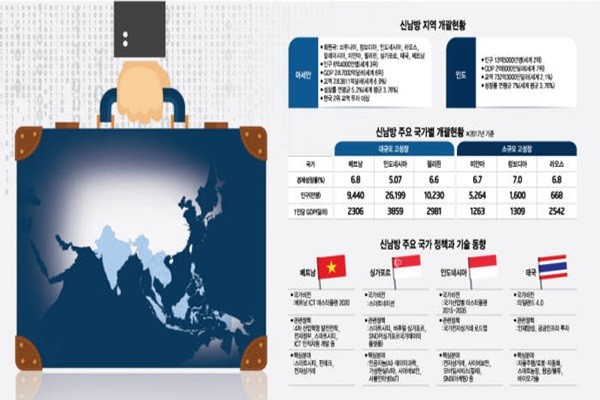 ◊South Korean businesses establish local corporates in new southern countries
As new southern countries are actively introducing ICT, South Korea's SW and IT service businesses are also actively entering these markets.
Vietnam is a prime example. South Korea's major corporations such as Samsung, LG, and POSCO entered Vietnamese market and have been pioneering relevant markets. Samsung SDS, LG CNS, and POSCO ICT already established corporates in Vietnam to support their businesses in Vietnam. Samsung SDS recently invested into stocks of Vietnamese IT service businesses and is trying to put more focus on Vietnamese and nearby markets.
Small and medium SW businesses are setting up corporates in major new southern countries to target their markets. Webcash, Namu Tech, and Saltlux are planning to set up their corporates in Vietnam by end of this year. Their plans are to target surrounding countries such as Indonesia and Thailand through their Vietnamese corporates. FORCS is going to establish a corporate in Singapore and target other new southern countries. It is expecting to see visible results from exportation as paperless market has opened up recently in new southern countries.
"While it was difficult to adjust SW price as circumstances in these new southern countries were not too promising even just few years ago, things have changed recently." said CEO Park Mi-kyung of FORCS. "We have secured profitability by increasing our investments into IT industry of these countries and we are expecting to see increased sales as a result."
South Korean Government is also going to support businesses that are planning to enter new southern markets.
NIPA (National IT Industry Promotion Agency) set up IT support centers in Singapore, Vietnam (Hanoi and Ho Chi Minh), and India to support South Korean businesses that are trying to establish themselves in these markets. In 2018, those businesses that had gone through NIPA's IT support centers in Singapore and Hanoi made $90.7 million through exportation. Due to increased number of South Korean businesses in Vietnam, NIPA also set up a support center in Ho Chi Minh City as well.
"We are going to analyze markets that are targeted in each country and support our ICT businesses in areas that they are strong in." said a representative for NIPA. "We are going to establish a system that quickly finds out and provides pool of local experts and information." This representative also added that small and medium businesses face many obstacles and that it will try to have them utilize its support centers like their foreign branches.
Staff Reporter Kim, Jiseon | river@etnews.com