Intel presented five future PC technologies and it is planning to implement various technologies through 'Project Athena' that began earlier this year to develop future laptops. Intel introduced a device that can easily replace a motherboard that is equipped with a CPU like a Lego block, 'ambient' computing technology that operates on its own depending on surrounding environment, and AI (Artificial Intelligence) algorithm that maximizes core function that performs arithmetic operation within a CPU.
Intel held an open house at 'COMPUTEX 2019' Exhibition that is currently being held in Taipei and presented future PC technologies.
Direction of its future PC technologies can be divided into five categories and they are modular computing, ambient computing, AI algorithm, Optane Memory, and Project Athena.
Intel introduced Intel NUC computing Element that is a modular computing product. This product modularizes motherboards that are equipped with CPU and Wi-Fi chip so that they can be replaced like Lego blocks.
PC manufacturers currently use motherboards that are different in size and specs. Intel NUC computing Element allows motherboards to be unified and simplifies PC upgrade or equipment production process even more.
"It is not difficult to replace this module if a person understands certain guideline provided by us." said a representative for Intel. "It can also be used to upgrade IoT (Internet of Things) home appliances."
It is going to supply this module to its partners such as JP during the second half of this year and start mass-production process sometime during the first half of 2020.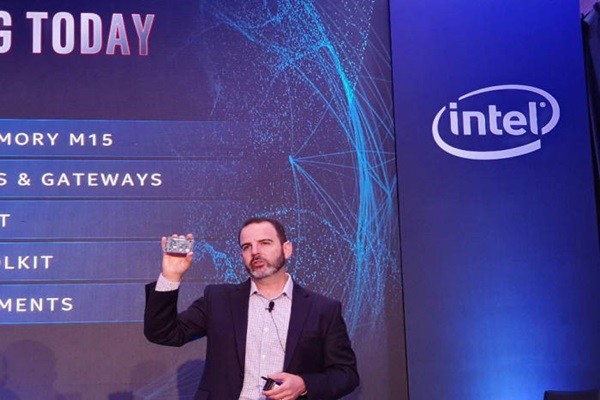 Intel also emphasized ambient computing PC.
For example, one can play music or check schedule through an AI assistant Alexa and without having to open a laptop. Also, it can find out what a person is going to work on through its camera and sensor or turn on or off on its own by sensing if there is a person in front or not.
Along with ambient PC, Intel also demonstrated maximizing performance of a PC through Optane Memory M15 and AI algorithm. For example, an AI algorithm can maximize calculation speed of cores whenever a person edits or plays large files. Cores can be seen as 'workers' for a CPU.
"We are going to implement a technology that utilizes an AI algorithm to vitalize every core of a CPU so that work speed can be accelerated." said a representative for Intel.
Intel is also working on Project Athena that was introduced at 'CES 2019'. It is working with other PC manufacturers such as Lenovo, HP, Asus, and Dell to develop battery technology that will help laptops to last longer and to design light and thin laptops.
"We are going to create a new ecosystem and introduce new computing performance to our users." said Vice-President Jim Johnson of Intel.
Staff Reporter Kang, Haeryung | kang@etnews.com