Amount of new investments that flowed into South Korea's FinTech market surpassed that of ICT (Information Communication Technology) manufacturing, electric, machinery, and equipment, chemical material, and gaming industries in just three years.
Digital financial where concept of cost was stronger than concept of profit has increased its value by combining AI, Cloud, and mobile payment and it has drawn more investments than hardware and equipment industries that had led South Korean economy. Amount of new investments is a surprising value even if this trend is an aberration.
Financial Services Commission (FSC) investigated and publicized trend of South Korea's FinTech industry from past ten years. Although there are many positive signals towards speed of growth, there are also tasks that need to be resolved. FinTech industry has become priming water of 'digital finance' as it is at a level now that can threaten traditional financial markets.
The Electronic Times compared and analyzed FSC's survey on FinTech industry.
◊Digital finance surpasses gaming industry
The Electronic Times analyzed current status on investments made by South Korean FinTech businesses. Amount of investments in 2008 was only $21 million (25 billion KRW). However, the amount increased rapidly to $151 million (180 billion KRW) in 2012 and it was $179 million (213.6 billion KRW) and $311 million (370.9 billion KRW) in 2013 and 2017 respectively. In just ten years, the amount increased by more than tenfold.
In 2017, amount of new investments within FinTech industry was higher than that of fields of ICT manufacturing ($131 million (156.6 billion KRW)), electricity, machinery, and equipment ($201 million (240.7 billion KRW)), chemical material ($106 million (127 billion KRW)), video, performance, and music ($241 million (287.4 billion KRW)), and game ($106 million (126.9 billion KRW)). Since 2012, there were 38 investments worth more than $8.38 million (10 billion KRW) and there were total of 195 investments.
Although difference in amount of investments is somewhat significant between years, it is shown that amount of investments has been rising quickly recently within payment and wire transfer fields.
◊Global FinTech market also goes through rapid growth
South Korea is not the only country that is making enormous amount of investments into FinTech industry centered on digital finance. As FinTech is being recognized as an important element within financial industries, traditional financial institutions are also trying to incorporate FinTech into their businesses.
Global FinTech market is expected to be worth close to $838 billion (1,000 trillion KRW) this year. FinTech market, which was worth $243 billion (290 trillion KRW) in 2013 based on mobile electronic payment market, is quickly eating away other industries by showing growth rate of 28%. Number of FinTech investments by global private equity (PE) funds exceeds 138 cases annually.
While FinTech was seen as a method that was supplement to traditional financial industries in the past, it has emerged as a 'profitable industry' due to rapid innovation of digital channels recently. FinTech industry is also divided into many markets resulting in higher possibility of growth.
Payment and wire transfer markets, fund procurement and loan markets, asset management market, mini-insurance market, and P2P (Peer to Peer) insurance markets have started to gain momentum.
South Korea has secured an upper hand in FinTech market out of Asian countries due to increase in amount of investments since 2016.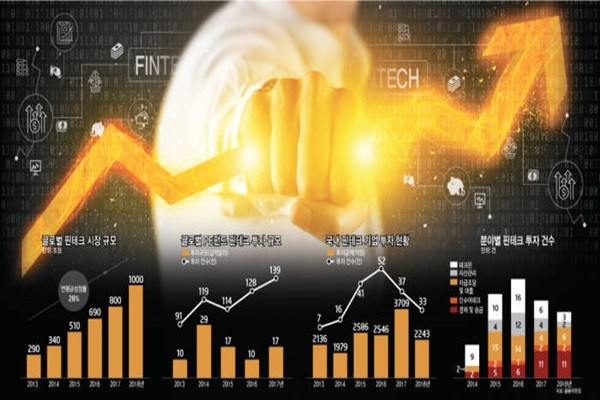 ◊Appearance of platform businesses within FinTech industry
South Korea's FinTech industry either eliminates pawn system within financial services or replaces infrastructures and is quickly innovating entire financial services. Current financial services are also on the verge of going through huge changes.
FinTech industry can be divided into five categories, and there are South Korean platform businesses that have upper hands in each category.
First, there is a new neobank called internet-only bank. Kbank and Kakao Bank have established themselves despite concerns around industries. They made visual results such as opening 6.94 million accounts in just 14 months of establishment.
Payment and wire transfer fields are also drawing huge interests due to simple payment market. There are various simple payment services such as Samsung Pay, LG Pay, Naver Pay, Kakao Pay, and Toss. Younger generations prefer handling their banking accounts through Smartphones rather than having to personally visit a bank branch.
Fund procurement and loan markets have arrived through P2P loans and crowd funding. There were 57 new P2P businesses in 2018 between January and December. Loan balance surpassed $838 million (1 trillion KRW).
AI-based investment consulting businesses are quickly expanding within asset management market. There have been 'super startups' such as Banksalad and QB Asset Management with fearsome platforms that can replace current financial market.
Lastly, there is Insurtech market that is currently reorganizing insurance industry. There have been surprising insurance products that are centered on customers rather than products. In addition, some insurance businesses have started to introduce chatbots, Big Data-based automatic evaluation, and simple claim service.
Platforms are the ones that affect FinTech industry, which is preparing to develop into TechFin industry.
◊Arrival of TechFin market
Experts believe that there is a high chance that South Korean businesses will be under foreign businesses with current FinTech system in South Korea. Although there have been deregulation and increase in number of businesses, there has yet to be any business with infrastructures that can surpass global platforms. On top of that, FinTech businesses are only beginning to cooperate with financial institutions.
Popularization of Smartphones is the main reason for growth of South Korea's FinTech industry. Fact that conditions have been set up to develop relevant industries due to increase in number of financial transactions through mobile channels has been very important.
According to ROA Consulting's survey, there are twelve, eight, and two unicorn FinTech businesses in the U.S., China, and England respectively. Netherland, Sweden, and India each has one. However, there is not any unicorn business in South Korea. In other words, there is not a key player that can grab an upper hand in FinTech ecosystem that does not have borders. There is a high chance that South Korean FinTech businesses will remain in domestic market just like regular manufacturing businesses.
This indicates that South Korean market can be dependent on foreign markets when global businesses form consortiums or standardize their businesses.
There is not any South Korean FinTech business that can deal with Google's Google Wallet, Apple's Apple Pay, Alibaba's Ali Pay, and Amazon's Amazon Payment. Some say that South Korean businesses need to develop differentiated business models and target niche markets first.
Prime examples are Stripe and TransferWis. Stripe commercialized a service that pays payment in seven days for members who insert its application programming interface into applications. Payments can be made through currencies in 139 countries and Bitcoin and Ali Pay. TransferWis match foreign remittance clients and trustees to their countries and provide a fast foreign remittance service without having to go through actual cross-border wire transfer process. It only collects 0.5% of total amount as wire transfer fee except for few countries. They are viewed as businesses that surpassed normal financial businesses.
"Establishment of an ecosystem that is comprised of financial authorities that have control over regulations, research institutes that provide technological and monetary support, businesses that provide services, and financial businesses is urgent in order for South Korea's FinTech industry to take the next step." said Director Kim Jong-hyun of Korea Investment Partners.
Staff Reporter Gil, Jaeshik | osolgil@etnews.com