Lawsuit that was filed by LG Chem against SK Innovation in the U.S. regarding infringement of trade secrets is now causing controversy on protection of national important technologies. There will be a controversy surrounding roles of South Korean Government as it manages and arbitrates national important technologies. LG Chem is planning to apply for an approval on exportation of national important technologies to Ministry of Trade, Industry and Energy (MOTIE) to submit necessary documents needed for its lawsuit. When LG Chem applies for an approval, MOTIE will hold a committee meeting and examine whether corresponding materials correspond to national important technologies and ask Industry Technology Protection Committee to either approve exportation or not.
Unlike lawsuits in South Korea, lawsuits in the U.S. require strong 'discovery' procedure. Before a trial, both sides are required to submit enormous amount of evidences related to corresponding lawsuit. Some are concerned that South Korean businesses' trade secrets and national important technologies can be leaked during this procedure.
Technologies related to design, process, manufacturing, and evaluation of medium and large-sized high-energy density lithium secondary batteries (more than 250Wh/kg based on pouch-type battery) for electric vehicles and others are set as national important technologies according to 'laws related to protection and prevention of industrial technology leak'. "Because both sides, court, law firms, and private experts publicize information when evidences are presented, there is a chance that information can be leaked." said SK Innovation. On the other hand, a representative for LG Chem dismissed SK Innovation's statement by stating that there is no chance of technology leak as it is impossible for third parties to access information and there are procedures for protecting trade secrets.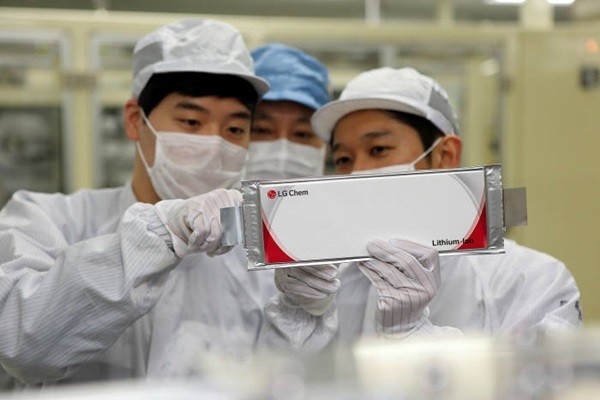 In 2018, there was also a controversy surrounding protection of national important technologies regarding study on measurement of working environment. At that time, MOTIE concluded that the report included national important technologies and decided to modify protective devices to prevent from technologies of semiconductor industry, which is one of South Korea's main industries, getting leaked to foreign countries.
Some point out that there need to be proactive measures within battery industry that is seen as one of next-generation's driving forces for South Korea. Because competitive edge of both LG Chem and SK Innovation can be weakened and there can be national loss when this lawsuit is prolonged, South Korean Government must think about ways to mediate conflicts and to protect technologies.
It is heard that South Korean Government held a meeting with MOTIE, National Intelligent Service, and the Korean Intellectual Property Office and discussed about the lawsuit between LG Chem and SK Innovation. However, South Korean Government is going to be careful and minimize any intervention until there is clear court decision as it can bring advantageous results to a particular business if it intervenes now. "It is not meant for us to intervene a lawsuit between businesses regarding technology leak as it is an issue between these businesses." said a representative for MOTIE. "When legal procedures are carried out and there is a request from a particular business, we will hold a committee meeting and discuss about protecting documents that are submitted."
"There can be technology weak as LG Chem and SK Innovation have to submit every relevant document and explain about their fundamental technologies." said an expert from an academic circle. "It is more desirable to come up with a settlement between them before a trial."
Staff Reporter Byun, Sanggeun | sgbyun@etnews.com & Staff Reporter Jung, Hyunjung | iam@etnews.com