Semiconductor and SMT equipment manufacturer INTERCEM Korea Ltd. (CEO Jucheon Lee) will participate in '2019 Electronics Manufacturing Korea (henceforth referred to as EMK 2019)', which will be held at COEX from the coming 15th(Wed) until the 17th (Fri), to showcase their FUJI Chop Mounter.

INTERCEM Korea has significantly contributed to the fields of manufacturing and equipment, meeting the requirements of the customers, based on their high-technology and know-how of the semiconductors/SMT business. It had been receiving especially favorable reviews from numerous client companies, and both in Korea and overseas, it has been growing steadily.

An official of the company said, "With the increase in SiP production volume in the semiconductor packaging industry, the demand for high-speed chip mounters has been growing, which is optimized for ultra-small chip mounting, as the 008004 (0201) size chips are starting to be mass-produced in earnest," and they went on to reveal, "It is expected to highlight the superior performance of FUJI' NXTII I' equipment. This model, with specialized specifications for semiconductor packaging with mounting accuracy up to 15 microns, can attach 0201 parts at full speed to maximize production capacity. This remarkable difference in production capacity is a big part of why FUJI high-speed mounters are being selected."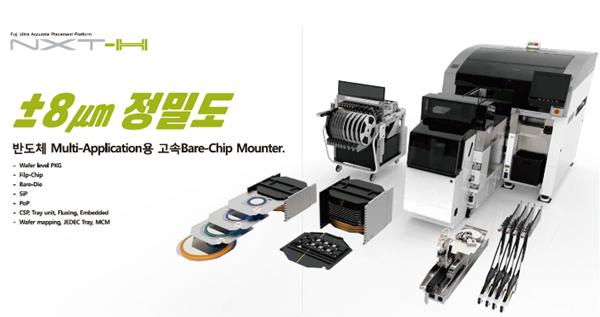 Electronic Times Internet Reporter Eunjung Judy Yu(judy6956@etnews.com)