7th generation Wi-Fi (Wi-Fi 7) is the best work that has evolved from wireless LAN technology and comes close to 5G network. It is being recognized as a next-generation technology that will push forward the Fourth Industrial Revolution.
Development of relevant technologies and political support are must for South Korea to secure global leadership of Wi-Fi 7 technology.
◊What is Wi-Fi 7?
IEEE (Institute of Electrical and Electronics Engineers) established an 'IEEE 802.11be Task Group (TG)' this month and started working on development of Wi-Fi 7 technology. In South Korea, a consortium that is comprised of SK Telecom and WILUS Group started working on development of Wi-Fi 7 technology at the same time as IEEE.
IEEE presented maximum speed of 30Gbps, expansion of operating frequencies (2.4GHz, 5GHz, and 6GHz), utilization of up to 320MHz through CA (Carrier Aggregation) technology, improvement in data transmission efficiency through H-ARQ (Hybrid Automatic Repeat Request) technology, better performance through multi-cooperative telecommunication between wireless access points, and utilization of up to 16 antennas between devices and access points as possible functions of Wi-Fi 7.
These functions are same as applying requirements of 5G technology to wireless LAN.
Compared to previous generation (Wi-Fi 6, 802.11ax), Wi-Fi 7 has three times faster transmission speed and it can use more than double the number of frequencies.
It has also shorter delay when it sends tangible contents and it provides stable network through intelligent technology even in a crowded environment that is occupied with devices and access points.
Wi-Fi 7 is expected to become a must technology for 5G contents and it can become a reliable complementary good by breaking up 5G traffic.
◊Why is Wi-Fi 7 needed?
It is certain that there will be limits to accommodating traffic with just network infrastructures of mobile network providers within 5G generations where data traffic per person is going to be hundreds of gigabytes.
It is expected that Wi-Fi 7 will become a must infrastructure to provide media services without any break.
Wi-Fi 7's transmission speed is appropriate for sending contents such as 8K ultra-high-quality videos and ultra-high-resolution VR (Virtual Reality) and AR (Augmented Reality).
People usually use mobile network when they are outside of homes and Wi-Fi inside their homes to reduce their data charges. Wi-Fi 7 narrows such difference in environments and provides stable service despite locations.
Wi-Fi 7 is also important to break up traffic of mobile network providers. Mobile network providers break up their traffic by setting up Wi-Fi network in areas where there are many people. However, traffic can become even worse during 5G generations. In case of high frequency bandwidth, coverage is low as it is difficult for radio wave to pass through a wall. Considering environments and characteristics, mobile network providers can choose femtocell or Wi-Fi 7 to provide stable services.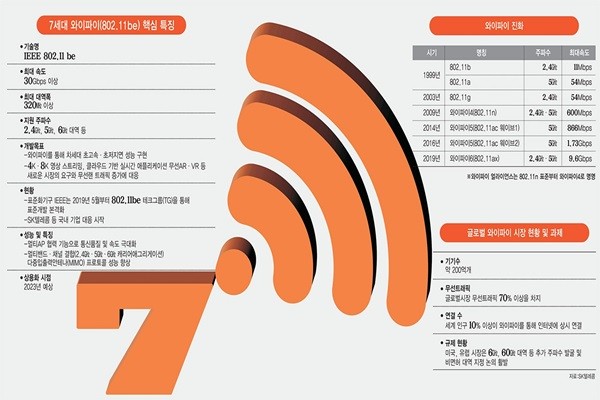 ◊Forecast and possible tasks of Wi-Fi 7
When Wi-Fi 7 is commercialized, it is expected that Wi-Fi 7 can become a platform that can be used for various additional services.
There are already various innovative services involving Wi-Fi.
Wi-Fi is expected to expand its application as it is applied to various devices besides Smartphones and tablets.
According to Wi-Fi Alliance, about 20 billion devices with Wi-Fi were released in 2018. Wi-Fi takes up more than 70% of global wireless data traffic.
Developing Wi-Fi 7 not only brings in new source of profits, but it also commercializes innovative ideas.
Regulatory agencies from various countries are requesting for additional supply of non-licensed frequency bandwidths so that Wi-Fi 7 and other technologies can be vitalized.
Apple, Google, Intel, and Qualcomm submitted a proposal to FCC (Federal Communications Commission) about designating 6GHz bandwidth (5,925 to 7,125 MHz) as non-licensed bandwidths.
South Korean Government also needs to supply additional frequencies and prepare standards to take proactive actions towards global trends.
"Wi-Fi 7 is not going to just expand network infrastructures, but it will become a platform that can provide various additional services." said a representative for SK Telecom.
However, Wi-Fi tends to be weaker in stability and security compared to mobile network as it utilizes non-licensed bandwidths. As a result, there will be limitations to ultra-sensitive services such as Smart Factory. This is something that needs to be overcome.
Staff Reporter Park, Jisung | jisung@etnews.com