"Because more than 70% of parts for semiconductor equipment are localized, there are not places anymore to receive parts. We need to diversify domestic parts for semiconductor equipment." said CEO Seo In-hak of Lam Research Korea.
Presidents of South Korean semiconductor businesses gathered at the 9th Semiconductor & Display Jeju Forum, which was held at Jeju National University on the 10th, and they agreed that localization of parts of semiconductor equipment will be the next driving force for South Korea's semiconductor industry.
CEO Seo believes that it is urgent to promote markets for domestic parts for semiconductor equipment. CEO Seok established Lam Research Manufacturing Korea, which produces equipment for Lam Research, in Osan-si in 2011. He purchased domestic parts worth $247 million (290 billion KRW) last year and he is looking to replace 72% of entire parts with domestic parts this year.
However, he is concerned that there are not domestic parts anymore that he can purchase. On top of that, rest of 30% of parts is the one that needs to go into semiconductor equipment as it is the one that brings in profits.
"Although it has been almost 50 years since South Korea's semiconductor industry began, semiconductor equipment manufacturers receive 100% of necessary parts from foreign countries." said CEO Seo. "A business can make $1 billion in annual sales if it is able to manufacture well-made valve that goes into a semiconductor equipment and it is sad that there isn't one in South Korea." He also added that South Korean Government, relevant industries, and universities must work together and prepare long-term investments to localize important parts for semiconductor equipment.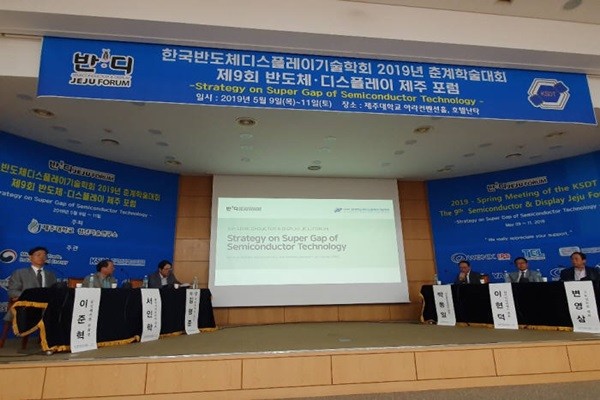 CEO Lee Hyun-deok of WONIK IPS also agreed with CEO Seo. "Manufacturing own parts for semiconductor equipment is the main way to narrow the gap between global equipment manufacturers and South Korean equipment manufacturers." said CEO Lee. "South Korean equipment manufacturers and semiconductor parts manufacturers have grown to a point where they can develop products together and they will develop further once they are able to manufacture their own products."
Honorary Professor Kim Hyung-joon of Seoul National University, CEO Lee Hyun-deok of WONIK IPS, CEO Byun Young-sam of SK Siltron, Vice-Chairman Lee Joon-hyul of Dongshin Semichem, and Department Head Park Dong-il of Ministry of Trade, Industry and Energy's Materials & Parts Department attended the forum and shared various opinions.
CEO Byun Young-sam of SK Siltron picked poor conditions of South Korean testbeds as the main problem. "Although there are nano-fabs where research on semiconductors can be done, it is almost impossible to develop next-generation semiconductors due to poor conditions of these fabs." said CEO Byun. "It was sad to see testbeds being made through political logic and we need testbeds that are able to share information with relevant businesses such as a Belgium semiconductor research institute called IMEC."
In addition, nurturing of personnel, better treatment for research developers of small and medium semiconductor businesses, and improvement in government tasks were discussed as well. Representatives also plead for continuous support from South Korean Government.
"South Korean Government is also putting in efforts to strengthen South Korea's semiconductor technologies and it is going to arrange an occasion in the future to listen to difficulties of semiconductor businesses.
Staff Reporter Kang, Haeryung | kang@etnews.com