SK Telecom, KT, and LG Uplus confirmed possible success of their 5G mobile services, which were commercialized on the 3rd of April, by attracting 260,000 members within just one month.
However, some say that their 5G services are only 'half-successful' as consumers complain about unstable coverage and service of their 5G mobile services.
Securing trust from consumers through stable network and finding profitable models through 5G convergence services have emerged as important tasks for these mobile network providers to commercialize complete 5G mobile services. Some also say that there needs to be reformation to relevant policies and regulations in a long run to vitalize 5G mobile service.
◊Half-successful 5G mobile services
In just one month from commercialization of 5G mobile services, 260,000 consumers joined 5G mobile services. Although this number of people is somewhat small when it is compared to the time when LTE Smartphones were commercialized in 2011, it indicates that 5G mobile services have secured awareness from consumers as innovative services.
Since early days of 5G mobile services, mobile network providers have been focusing on marketing such as a shocking unlimited data plan for $68.46 (80,000 KRW) per month (KT) or promotions (SK Telecom and LG Uplus).
They also provided VR (Virtual Reality) devices and contents at prices that make these products practically free. It is also unusual for them to carry additional promotions such as 50% discount for families (LG Uplus) and additional data (SK Telecom) after just one month from releasing 5G mobile services.
However, it has been difficult for them to avoid criticisms for focusing their competitions on marketing. There have been many complaints towards limited coverage and undifferentiated contents.
260,000 early members are 'innovators' that do not meet even 0.5% of entire market. These are consumers that are more interested in new technologies rather than services. This indicates that it is still too early to see that 5G mobile services have begun to be popularized.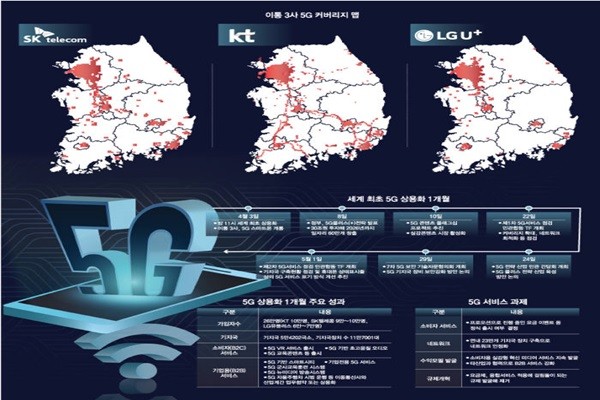 ◊Mobile network providers faced with securing trust from consumers
"Looking at the past when 3G Smartphones and LTE coverage were commercialized, evaluations that are made when there are at least 1 million 5G mobile services members will determine how fast these services are spreading." said ICT (Information Communication Technology) expert.
Mobile network providers and South Korean Government agree that securing trust from consumers through stable network and services is the main thing that will help 5G services from spreading.
Ministry of Science and ICT (MSIT) formed a '5G service inspection private and public joint task force' with three mobile network providers, Smartphone manufacturers, and network equipment manufacturers and had held two meetings so far to discuss about potential measures that they can take.
Although lack of coverage will be inevitable in early days, it is difficult to deny the fact that lack of coverage is lowering level of trust from consumers.
To minimize level of inconvenience from consumers, it is essential for mobile network providers to provide accurate information. MSIT made it an obligation for mobile network providers to provide 5G coverage maps and it decided to continue to inspect membership procedures.
Release of additional stable 5G Smartphones to improve amount of selections for consumers is also an important task to solve.
There need to be careful network connection tests with 5G Smartphones such as Galaxy S10 5G, V50 ThinQ 5G, Galaxy Fold, and Galaxy Note 10 to improve quality of these Smartphones.
◊Urgent need for development of business models
It is important for mobile network providers to develop business models to be able to say that they are the first ones to commercialize world's first 5G mobile services.
There has been rapid movement of partnership between mobile network providers and industries within B2B (Business to Business) field.
SK Telecom is planning to establish '5G Mobility City' with Incheon-si while LG Uplus is planning to establish '5G Smart Police' with Siheung-si. KT announced its plan to target B2B market by releasing '5G for corporates'. Mobile network providers also signed MOUs to apply 5G mobile services to Smart Factory, new media, construction and medicine, and self-driving car.
It is essential for them to actually develop practical B2B models and apply them to different markets. Within B2C (Business to Consumer) field, they are looking to develop innovative contents that allow consumers to feel super-fast speed and super-low delay that are only provided by 5G network.
MSIT established 5G+ strategy to support vitalization of 5G convergence industries. $25.7 billion (30 trillion KRW) will be invested into different fields such as self-driving car, healthcare, Smart City, and Smart Factory.
Long-term strategies to innovate regulations are also necessary so that path to 5G convergence service market is not blocked off by any obstacle. Cooperation between private businesses, South Korean Government, and The National Assembly is a must in this process.
"South Korean Government, The National Assembly, and industries need to establish cooperative foundation for 5G convergence industries." said Professor Kim Dong-gu of Yonsei University. "They need to discuss about ways to reform regulations in detail in addition to strategies to vitalize 5G convergence industries."
Staff Reporter Park, Jisung | jisung@etnews.com & Staff Reporter Kim, Yongjoo | kyj@etnews.com