There is a 'popular home appliance' that is growing in popularity in rapid speed despite economic depression and it is beauty home appliance that can be over $875 (1 million KRW). Beauty home appliance is a device that is used to improve one's skin conditions of face and body and it can also be called as home beauty or self-beauty. Some of most popular beauty home appliances are LED mask, vibrating cleanser, and epilator. These beauty home appliances have become very popular as they were only available at dermatologist offices in the past. There have been various new beauty home appliance products in the past two years ranging from tens of dollars to thousands of dollars. Many home appliance manufacturers are either jumping into this market or making necessary preparations to jump into this market.
◊2019 to be an exciting year for beauty home appliance industry
According to price comparison site called Danawa, amount of sales of beauty home appliances during this first quarter is 941% higher than the amount of sales during first quarter of 2017. Even though this huge jump is understandable considering the fact that beauty home appliance market was very small before 2018, beauty home appliance market has shown significant amount of growth in the past two years.
Many experts believe that consumers are continuing to invest into looks despite recession. According to a survey by EMBRAIN Trend Monitor, consumers show highest level of concern into their skin to manage their appearance.
"Beauty home appliance market has grown significantly as consumers talk amongst themselves that it is more effective and cost-effective to manage their skin at home rather than going to beauty shops." said Professor Heo Kyung-ok of Sungshin Women's University's Consumer Department. "It is likely that this market will continue to grow in the future."
'LED mask' is the clear-cut product that is in charge of growth of beauty home appliance market. LED mask is drawing huge amount of popularity due to advertisements and rumors that say that one can enjoy whitened, wrinkle-free, and elastic skin once a LED mask is just placed on a face. Based on sales, LED mask is responsible for about 60% of entire sales within beauty home appliance market. According to L.POINT's research platform called Lime, sales of LED masks jumped by more than 140% from second quarter of 2018 to third quarter of 2018.
There are various LED masks on market.
LG Electronics' LG Pra.L LED Mask, which was released at the end of September of 2017, is the most popular LED mask on market.
"It is not an exaggeration to say that beauty home appliance market was pioneered on full-scale starting from the release date of LG Pra.L LED Mask, LG Electronics contributed to growth of entire beauty home appliance market through its marketing." said a representative for a home appliance distributor. "After LG Pra.L was released, there has been a huge increase in sales of beauty home appliances."
CellReturn, which usually sells products through home shopping, started selling LED masks even before LG Electronics. Fujifilm Korea also introduced 'Incentive LED Mask' in March.
Eco Face and Bomirai are focusing all their capabilities into Eco Face's Eco Face LED Mask and Bomirai's Far Infrared Mask that are known for their affordable prices and effects in skin improvement to secure customers.
Businesses try to have popular entertainers as their models to secure more customers.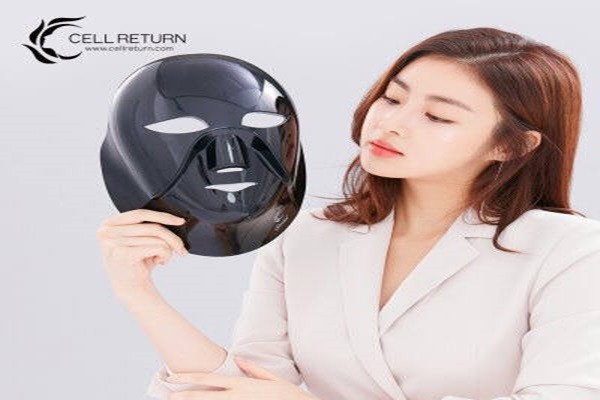 ◊Beauty home appliance businesses focus on securing safety of their products
It is important for beauty home appliance businesses to secure safety of their products as these are electronic devices that are in direct contact with skin. In case of a LED mask, it can cause burn or damage skin if it is made out of cheap parts.
Beauty home appliances are basically devices that are used by dermatologists and doctors at hospitals. Because they are used by regular people and not professionals, they are not high power products like the ones that are used at hospitals. Businesses focus on developing products that can exhibit maximum effects while not causing any side-effect.
There are also safety features within these products. LG Pra.L LED Mask is designed so that it only operates when it touches skin to prevent any eyesight loss when LED light is shot directly at one's eye.
There is an increase in number of businesses that are jumping into this market as majority of industries believe that technological entry barrier is not very high for beauty home appliance industry.
Consumers who are interested in beauty home appliances are willing to pay large money to manage their skins and this is the reason why LED masks that cost more than $875 are being sold left and right. It is expected that growth of beauty home appliances that are establishing themselves as 'must items' for businesses will continue for some time.
"Some businesses even carry out unnecessary marketing or bring in cheap imported products to grab upper hands of beauty home appliance market." said a representative for the industry. "Beauty home appliance market will continue to grow as long as K-beauty receives attention globally."
Staff Reporter Park, Sora | srpark@etnews.com