An era where hundreds of millions of dollars worth of tax evasion can be prevented is set to begin by storing payments that are made in offline stores into blockchain.
Mobile payment service that is made directly regardless of various simple payment methods is also set to be commercialized.
An IT startup company called The Real Marketing (CEO Son Jong-hee), which handle electronic receipt business for major corporations such as Tom N Toms, Lotte Members, and LG Uplus, announced that it developed South Korea's first 'blockchain receipt platform'.
This platform issues a receipt whenever mobile payments such as Zero Pay and Kakao Pay are made by utilizing an IoT (Internet of Things) device and it is a blockchain-based system.
Through infrastructures, it processes information on electronic receipts that are received and utilizes them to analyze patterns of consumers and to create statistics.
"Our blockchain receipt platform creates blocks into POS (Point of Sales) devices that are installed in stores through PoS (Proof of Stake) method and it can finish processing payments less than 7 seconds." said CEO Son Jong-hee. "We already finished developing mobile payment simple electronic scanner, software (SW), transaction detection module, and distributed ledger module.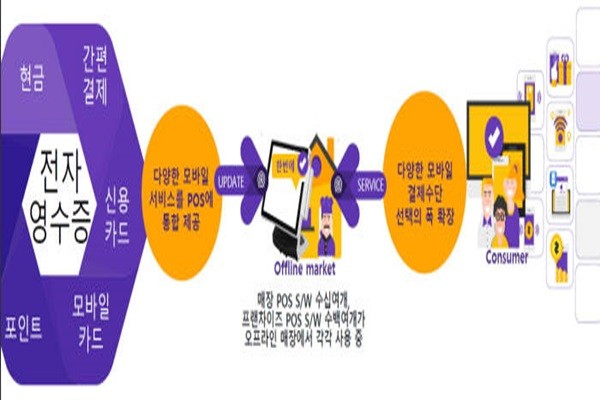 The Real Marketing explains that this platform allows simple payment matching service between a store and a customer and that it can detect unusual transactions and financial frauds through blockchain technology.
It is planning to establish a testbed by end of this year at the earliest and test the platform.
"We are currently developing a transaction authentication service that is needed for cryptocurrency payments." said CEO Son. "We are planning to provide this service to mobile payment service providers, credit card market, and government agencies."
The Real Marketing is planning to apply for patents on mobile payment and virtual currency-based payment platform and transaction authentication service shortly. Its goal is to apply its payment platform module to current POS systems and drastically reduce economic costs and time costs.
"We are planning to vitalize process of issuing cash receipts through our blockchain-based electronic receipts." said CEO Son. "We are going to present a global payment authentication standard that covers every payment method such as credit card, FinTech, and cryptocurrency."
Staff Reporter Gil, Jaeshik | osolgil@etnews.com