Money 20/20 Asia started its first day on the 19th at Marina Bay Sands Hotel in Singapore.
Money 20/20 Asia is made up of designs and characters that resemble arcade games. Main event hall called 'The Matrix' has drawn eyes of spectators through a screen that resembles a movie Matrix and an arcade at the same time. Before a keynote speech, there was a starting screen of an arcade game on the screen and a phrase 'Transfer bitcoins to play' underneath the screen.
"Money 20/20, which used to be held in the U.S. and Europe, is being held in Asia for the second time in 2019." said President Tracey Davies of Money 20/20. "Challenger banks, platform ecology, cyber security, and digital asset will be discussed for the next four days."
Money 20/20 Asia began with a survey on why Hong Kong is trying to accelerate a license to a virtual bank.
Virtual bank indicates a bank that provides financial services through internet.
Audience was able to participate in the survey through Slido application. Some answered to promote Chinese businesses such as Alibaba and Tencent while others answered to draw attention. Some of the audience thought Alibaba and Tencent, which already operate internet-only banks, will also gain upper hands within virtual bank market in Hong Kong.
Actually, 29 businesses including Tencent, Alibaba (Ant Financial), ZhongAn Insurance, Ping An Insurance, Xiaomi, and HSBC Hong Kong already applied for a license from Hong Kong Government.
After drawing interest through a topic 'Challenger Banks', a debate on 'digital asset' took place. Henri Arslanian from PricewaterhouseCoopers was the host for this debate while Founder Jed McCaleb of Stellar and Jesse Lund, who is the head of IBM Blockchain, participated as panels.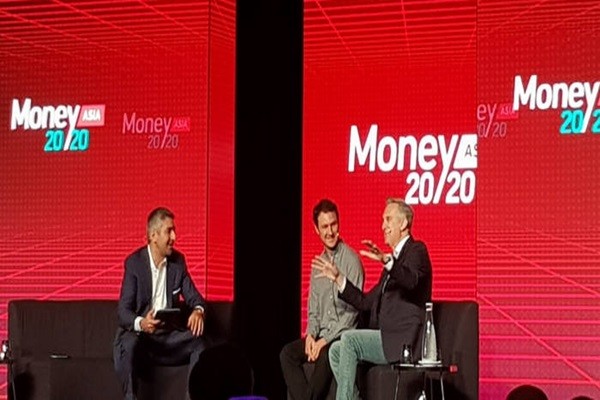 Jed McCaleb and Jesse Lund were confident that digital asset would become a new payment system for 2 billion people in the world as there are 2 billion people in the world who do not have bank accounts or cannot use current financial systems. They emphasized that Stable-Coin would be commercialized within 6 months.
One Stable-Coin is normally set as one dollar, and Tether (USDT) is a prime example of Stable-Coin.
Jesse Lund focused on JPM Coin out of Stable-Coins. JPM Coin, which is issued by JP Morgan, is the first Stable-Coin issued by an international bank. "JPM Coin will become an excellent foundation for mobile digital assets to be commercialized." said Jesse Lund. "Because Stable-Coin can eliminate any friction that can occur from cross-border payment, it will have huge impact on banking systems that have been steady for the past 50 years.
Jed McCaleb pointed out that Stellar is specialized for payments and this is what separates Stellar from Ripple and Dash. Stellar can truly implement 'cross-border payment' as it allows exchange of cryptocurrencies between different blockchain through swap function.
Time for questions and answers was comprised of many light and interesting questions. Regarding a question on what Jesse Lund and Jed McCaleb want to study if they were to go back to college, they answered 'economics' and 'physics' respectively. Regarding a question on fields that they are interested in aside from cryptocurrency and blockchain, McCaleb answered 'AI (Artificial Intelligence) like AlphaGo' while Lund answered 'surfing' that drew laughs from the audience.
Staff Reporter Ham, Jihyun | goham@etnews.com