It is expected that 'online commercial business early settlement' market is expected be worth $444 million (500 billion KRW) in 2020. P2P (Peer to Peer) and e-commerce industries are launching early settlement services one after the other.
When early settlement services that do not affect credit rating started to make their appearances in 2018, they drew interests from online commercial transaction businesses. E-commerce companies are also active in early settlement services due to the fact that they can reduce liquidity problem.
According to distrubtion industry, three social commerce companies such as WEMAKEPRICE, TMON, and Coupang are going to start 'online commercial early settlement service' by working with Funda.
Funda is a P2P financial company that specializes in small businesses.
There has been problem with liquidity with online commercial businesses as settlement period usually takes between 15 days and 60 days. However, time it takes until payment can be reduced to one to two days when early settlement service is introduced.
Funda is expanding its 'early settlement service', which was introduced through WEMAKEPRICE while working with a savings bank, to TMON.
"We are currently discussing contract terms with Funda and we expect that we will introduce its service sometime during the first half of this year.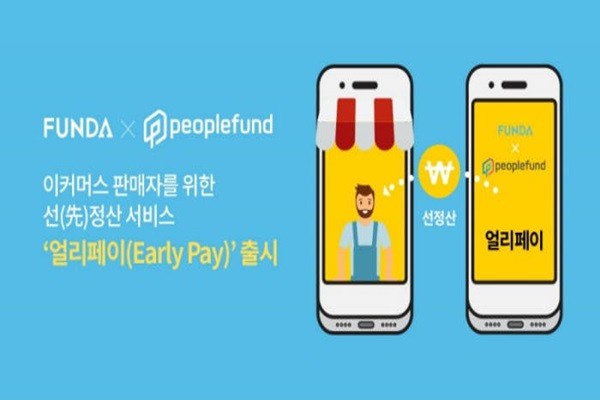 Currently, amount of SCF bonds handed by P2P industry within e-commerce is $88 million (100 billion KRW). Industries estimate that this amount will grow by five times until next year considering growth rate of industries that provide early settlement services and monthly turnover of e-commerce.
Since last year, Funda, Peoplefund, and Honestfund introduced SCF bond services within e-commerce. Funda and Peoplefund and Honestfund introduced 'Early Pay' and 'SCF Basic' through WEMAKEPEOPLE respectively. Peoplefund and Honestfund launched 'Free Pay' and 'SCF Plus' through TMON respectively.
Services of Funda, Peoplefund, and Honestfund are very popular as reuse rate of their services exceeds 90% on average. SCF bond is different from a loan as a P2P company purchases bonds of transactions that are already completed and pays corresponding costs. It also does not affect credit rating. SCF bond is a good news for line commercial businesses that had to use high-interest loans or deposit securities.
"It seems that early settlement service will show positive trend as it contributes to smooth flow of funds for online businesses." said a representative for the P2P industry.
Staff Reporter Ham, Jihyun | goham@etnews.com & Staff Reporter Yoon, Heeseok | pioneer@etnews.com