Viva Republica's 'money back' event, which gives back 10% cashback annually, is surrounded by controversies as it is suspected of copying another FinTech company's business model and avoiding paying interest income tax.
According to industries, Viva Republica recently carried out 'money back' event that rewards 10% of Toss Money annually.
When a person has balance in Toss Money, he or she will be rewarded up to 10% of corresponding amount. Because cashback can be used as actual cash, Viva Republica put out an advertisement that its 'money back' event is like interest on deposits.
When a person deposits money into Toss Money at least a year, he or she can receive cashback up to 10% of whatever is in Toss Money.
Depending on balance, cashback is accumulated 0.183% daily and is paid weekly.
However, a suspicion is being raised that this reward program has copied Finnq's 'Finnq Cashback'. Some are heavily criticizing Viva Republica, which has been critical of stealing technologies from large corporations, for using a business model from a startup FinTech company.
"It seems that a startup FinTech company is copying a business model from another FinTech company." said a representative for a simple payment provider. "Because it is illegal for an advance payment provider to give an interest, Viva Republica turned this into a reward program."
Although Finnq found many aspects that are similar to its business model, it is hesitant to take a legal action against another FinTech company.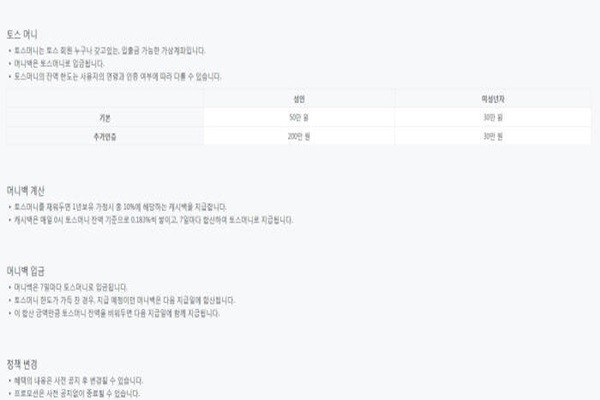 Viva Republica's event is also surrounded by a controversy regarding interest income tax.
Because its reward program is paying interests, some are stating that there has to be payment of fourteen-hundredths of interest income tax. They are saying that Viva Republica did not apply such tax rate to its reward program.
"Interest income tax must be paid for profits made by non-business loan." said a representative for National Tax Service. "Tax must be paid by the 10th of the following month and there is no exception even if it is a temporary promotion." However, National Tax Service added that it needs to look into this issue little bit more.
Based on current tax rate regarding income from interests, one has to pay twenty-five-hundredths of income from non-business loans and fourteen-hundredths of income from other interests.
It is confirmed that there was not any evaluation by financial authorities regarding Viva Republica's terms on this promotion.
Viva Republica is stating that it feels victimized and that there are many aspects that are actually different from the truth.
"Our promotion is not an annual event and it is a temporary promotion that gives back cashback." said a representative for Viva Republica. "We are only carrying out this event until March."
"We understand that because our event is a temporary event, it is not an object of taxation." said Viva Republica. "If it causes a problem somehow, we will look into it closely and improve necessary issues."
Staff Reporter Gil, Jaeshik | osolgil@etnews.com & Staff Reporter Yoo, Seonil | ysi@etnews.com