KT (Chairman Hwang Chang-kyu) announced that it has become the first South Korean business to apply Cloud-based BaaS (Blockchain as a Service) to its inner services.
KT developed Cloud-based BaaS platform to provide an environment where South Korean companies can easily develop blockchain services.
Its platform has a function that automatically forms blockchain nodes within u Cloud without having a separate server. Companies that want to apply blockchain technology can utilize KT's BaaS platform and reduce costs to establish necessary servers and time to develop necessary facilities. It also provides APIs (Application Programming Interface) that allow companies to easily implement and utilize Smart Contract without having blockchain developers.
Although blockchain market is expanding globally, technologies, costs, and time that are needed to apply blockchain technology are high barriers for many companies. KT considered itself as a joint that allows other companies to easily use blockchain infrastructures through its BaaS platform.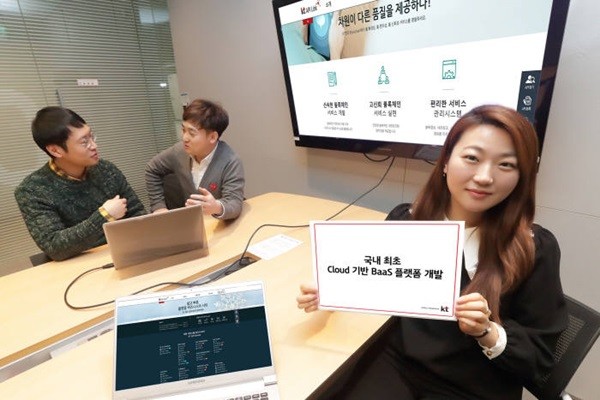 KT is predicting that it will have to compete with foreign companies such as Microsoft, IBM, and Amazon as it enters corporate blockchain market.
For this, it launched its first BaaS platform within KT Group. After going through a pilot project in February, it is going to officially provide this platform for outside companies that want to develop blockchain.
"Our BaaS platform will help those companies that are having difficulties in applying blockchain technology." said Director Seo Young-il of KT Blockchain Biz Center. "We hope that our BaaS platform will popularize blockchain and ultimately help South Korea to become a top blockchain industry in the world."
Meanwhile, KT is also working on establishing 'blockchain local currency platform' to issue blockchain-based local currency that is worth $8.94 million (10 billion KRW). It is expected that various blockchain projects will take place as KT has jumped into relevant markets."
Staff Reporter Gil, Jaeshik | osolgil@etnews.com