A venture capital (VC) called 'BTC Investment', which was established by Bithumb's holding company called BTC Holding Company, has put its company name under Ministry of SMEs and Startups' list of VCs.
As it is officially registered as a VC, it will receive various tax benefits such as corporate tax, income tax, and security transaction tax. It is also possible for BTC Investment to participate in fund of funds investment projects.
According to Ministry of SMEs and Startups (MSS), BTC Investment was registered as a VC at the end of last year. It took BTC Investment about 5 months to be registered as a VC.
A VC is an incorporated company according to commercial law that has to register itself through MSS and focuses on investments into founders and venture companies. Its major tasks are investments into venture companies and startup companies, establishment of business incubation centers, and technical support for small and medium companies' management.
A company can register itself as a VC after satisfying conditions such as paid-in capital, full-time professional personnel, and social credibility of major shareholders. MSS does not recognize funds that cannot prove breakdown of procurement as paid-in capital. BTC Investment met the requirement for paid-in capital with its own capital of $4.44 million (5 billion KRW).
BTC Investment also met requirements for full-time professional personnel. CEO Kim Jae-hwan of BTC Investments an investment expert who used to work as the president of KOLON Investment's U.S. Branch and the CEO of a Canadian VC. Vice-President Kim Dong-kyu who oversees VC investment has many experiences in initial investment, accelerating, and CVC investment. Besides these two, BTC Investment is also composed of CPAs, analysts, and others who have experiences in evaluating investments.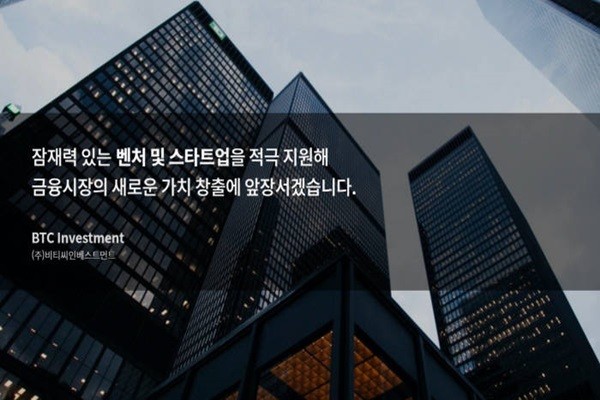 However, BTC Investment needed to go through additional reviews when it came to 'social credibility of major shareholders' which required more time for it to be a registered VC than other normal VCs.
According to current laws, major shareholders of VCs must not have any record of paying fine or receiving a criminal penalty in the past 3 years for violating laws related to finance or fair trade. they also must not have any record of default or designation of insolvent financial institutions and cancellation of business approval according to finance-related laws.
BTC Holding Company or Bithumb do not have any issue that may contradict requirements that are stated by MSS. However, MSS still considered social impact caused by cryptocurrency frenzy and various hacking incidences that had taken place in early 2018. Timing also overlaps with when MSS pre-announced legislation of a revised enforcement ordinance that excluded cryptocurrency exchanges from venture companies.
"Evaluation process for BTC Investment took relatively longer than usual not because something went wrong with BTC Investment." said a representative for MSS. "We just had to be extra careful since we had to look into social recognition of cryptocurrency exchanges due to its major shareholder being Bithumb."
BTC Investment is planning to invest into various areas such as AI (Artificial Intelligence), Bit Data, distributed system and service, consumer product, and financial service from initial stage to growth stage.
"By utilizing our network, we are going to connect venture companies and startup companies with founders, investors, universities, and industrial experts." said a representative for BTC Investment. "We are going to contribute to creating a positive cycle that produces more jobs and venture companies by young generation."
Staff Reporter Park, Jungeun | jepark@etnews.com