South Korean game developers are looking for new businesses in 2019 by diversifying genres and platforms. They are also looking for positive results by enhancing new technologies such as AI and blockchain.
According to industries, it is expected that games based on strong IPs (Intellectual Property) will remain strong in 2019 just like last year. Nexon, which made positive results in 2018, is going to focus on its IPs with high level of understanding. It is going to release 'Dungeon & Fighter Mobile', 'Crazy Arcade BNB M', 'Tales Weaver M', and 'Mabinogi Mobile' and it is also going to release games such as 'Traha', 'Spirit Wash', and 'Lyn: the Lightbringer' that are based on new IPs and 'DAVE', which shows Nexon's experimental mind. It is planning to grab leadership of mobile game market that drifted apart since it released 'Hit'. It is also working on 'Project BBQ', which is the sequel to Dungeons & Dragons PC version that is ranked in second in sales globally.
NCSoft has marked 2019 as the year of 'Blade & Soul'. It is planning to release Lineage 2M during the first half of 2019 and release 'Blade & Soul 2', 'Blade & Soul M', and 'Blade & Soul S' by end of this year. It is developing these games with a mindset of tearing down boundaries and being free of platforms by giving official numbers to mobile games.
Netmarble has been focusing on expanding genres and platforms, promoting its IPs, and developing AI games and it is hoping to make positive results in 2019. 'The King of Fighters All Star', 'Seven Knights 2', 'A3: Still Alive', 'BTS World', 'The Seven Deadly Sins', 'Yo-kai Watch Wars', 'Magu Magu', and 'Catch Mind' are all games based on its IPs or popular IPs.
'BTS World', which is based on Bangtan Boys, combines KPOP and game and it includes 10,000 photos and more than 100 videos. Netmarble is planning to crease number of BTS World users by including undisclosed songs of Bangtan Boys and it is also working on a different game based on Bangtan Boys. It is going to continue to expand its business by releasing 'Seven Knights' and 'Little Devil Inside' on Nintendo Switch and Steam respectively.
Neowiz is planning to release a Xbox-version 'Bless Unleashed' in 2019 and it is also planning to release PC-version 'Army and Strategy' and 'Figures War' by end of this year.
Action2quare, which released 'Blade 2' last year but did not make significant performance, is planning to turn things around in 2019. It is going to release 'Gigantic X' and introduce 'Three Kingdom Blade' and 'Blade MMORPG' in China. It is also going to release new games on Steam and Switch.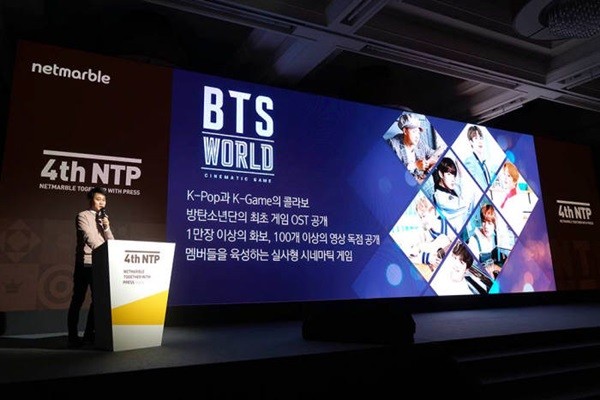 Com2uS is planning to release 'Skylanders Ring of Heroes' and 'Summoners War MMORPG'. Gamevil is going to continue to expand its business to foreign markets through 'Elune', 'NBA NOW', and 'Project CARS GO'. Sundaytoz is currently working on 4 to 5 new games while YD Online is planning to turn things around by going overseas. Wemade and Webzen are expected to see their businesses grow faster as tension between South Korea and China starts to die down.
Besides developing and operating new games, South Korean game developers area also focusing on securing competitive edge for the future by expanding their businesses. AI is a prime example as they look to secure retention by providing interesting points through AI that corresponds to the level of a user. Netmarble, Nexon, and NCSoft are working on enhancing their AI technologies through 'Netmarble AI Revolution Center', 'Intelligence Labs', and 'Game AI Lab' respectively.
South Korean game developers are also utilizing blockchain. Actoz Soft and HanbitSoft are working on their own platforms. Neowiz is planning to expand its lineup of blockchain-based battle-type games by establishing NBLAB (Neowiz Place Studio Blockchain Labs).
Wemade, which has close relationship with Chinese Ministry of Culture, is planning on strengthening its sales from IPs. Sales from license loyalty are already a big part of Wemade's sales. Devsisters' toy business will continue in 2019. Devsisters is planning to decide on the direction for its business in 2019 based on its performance from pop-up store in 2018.
"It is important for game developers to see whether they have effective IPs." said a representative for the game industry. "Those that do not have effective IPs will fall behind from competitions."
"A company can either utilize its current IPs or enhance its IPs that are in its possession." said the same representative. "It is most effective to expand platforms and release new games."
Staff Reporter Lee, Hyunsoo | hsool@etnews.com